How James Comey's 'October Surprise' Doomed Hillary Clinton's Candidacy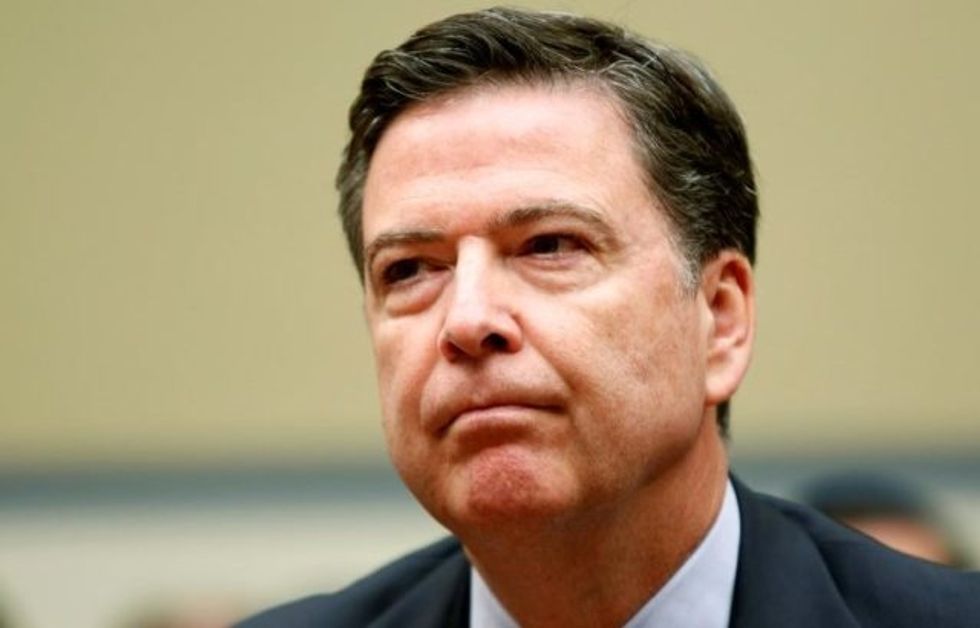 Reprinted with permission fromAlterNet.
Do you remember how you felt last October after you heard that FBI Director James Comey was reopening the FBI's investigation into Hillary Clinton's possible illegal handling of classified communiqués while Secretary of State — just 11 days before the presidential election?
That news, which left me with a sinking feeling that all but erased the confidence I had in Clinton's prospects after the three presidential debates, was the moment that Donald Trump won the election, according to an analysis released this week by a data firm that tracks the psychological elements below patterns of consumer behavior, moods, and sentiment.
"Many Americans—and particularly those of us working in data-driven businesses—would like to see a credible, fact-based explanation for why the polls seemed to indicate a Clinton victory, but the election instead produced President Trump," wrote Brad Fay, an executive with Engagement Labs, in the Huffington Post. Fay notes that pollsters were not all wrong, as Clinton won the popular vote by nearly 3 million votes. "But I do believe it was possible to show that the possibility of a Trump victory was rising more rapidly in the final week than opinion polls—and related prediction models—showed."
Fay said his firm's behavior-tracking model found what many voters and analysts have suspected, that Comey's "October surprise" was the tipping point that turned voter sentiment away from Clinton—because people inclined to give Clinton the benefit of the doubt lost their enthusiasm, just as Comey's announcement buoyed Trump voters.
"We are using a survey to measure behavior rather than opinion data," Fay explained. "Although it is not our main line of business, every four years since 2008, we have added a few special questions to pick up the daily conversation about presidential candidates during the General Election campaign. Only after Election Day last year did we go back to see what the data showed, and it was startling. The first thing to know is that people were talking very negatively about both Trump and Clinton, in contrast to the mostly positive conversations we see for products and brands."
"While both candidates were always firmly in negative territory, Clinton nevertheless enjoyed a persistent lead over Trump that opened up after the first debate," he said. "Both candidates experienced significant drops in the immediate aftermath of the infamous audio recording of Billy Bush and Donald Trump [boasting of sexual assaults], although Clinton still had the advantage."
But then came Comey's unprecedented interference in the election, which registered on a much deeper level than the political polls were probing, Fay said.
"Immediately afterward, there was a 17-point drop in net sentiment for Clinton, and an 11-point rise for Trump, enough for the two candidates to switch places in the rankings, with Clinton in more negative territory than Trump," he said. "At a time when opinion polling showed perhaps a 2-point decline in the margin for Clinton, this conversation data suggests a 28-point change in the word of mouth 'standings.' The change in word of mouth favorability metric was stunning, and much greater than the traditional opinion polling revealed."
"Based on this finding, it is our conclusion that the Comey letter, 11 days before the election, was the precipitating event behind Clinton's loss, despite the letter being effectively retracted less than a week later," Fay continued. "In such a close election, there may have been dozens of factors whose absence would have reversed the outcome, such as the influence campaign of the Russian government as detailed by U.S. intelligence services. But the sudden change in the political conversation after the Comey letter suggests it was the single, most indispensable factor in the surprise election result."
His analysis noted that traditional polling does not take into account how people often react en masse: "behavior predicts behavior," "the invisible offline conversation matters," and "humans are a herding species."
It's not that traditional political polls aren't to be trusted, but rather that they expect people to act more rationally than is the case in reality; in other words, they put too much stock in believing what those polled say and too little stock in tracing what those polled may do.
"Political consultants and commercial marketers alike have relied on a model that presumes voters and consumers act according to rational, individual choices that they can express and explain," Fay said. "What we are learning is that emotion and peer influence play much bigger roles in influencing behavior than previously understood."
Fay's takeaway is not just that the FBI director's interference single-handedly tipped the election away from Clinton and to Trump, but also that if you experienced that announcement as a gut-punch moment, you weren't alone — and your political instincts were correct.
Editor's note: Mother Jones' Kevin Drum wrote a more condensed report on this analysis on March 8.
Steven Rosenfeld covers national political issues for AlterNet, including America's democracy and voting rights.
IMAGE: FBI Director James Comey testifies before a House Oversight and Government Reform Committee on the "Oversight of the State Department" in Washington U.S. July 7, 2016. REUTERS/Gary Cameron