#ComeyGate White House Protest Kicks Off Nationwide Push For Independent Investigation At Senate Offices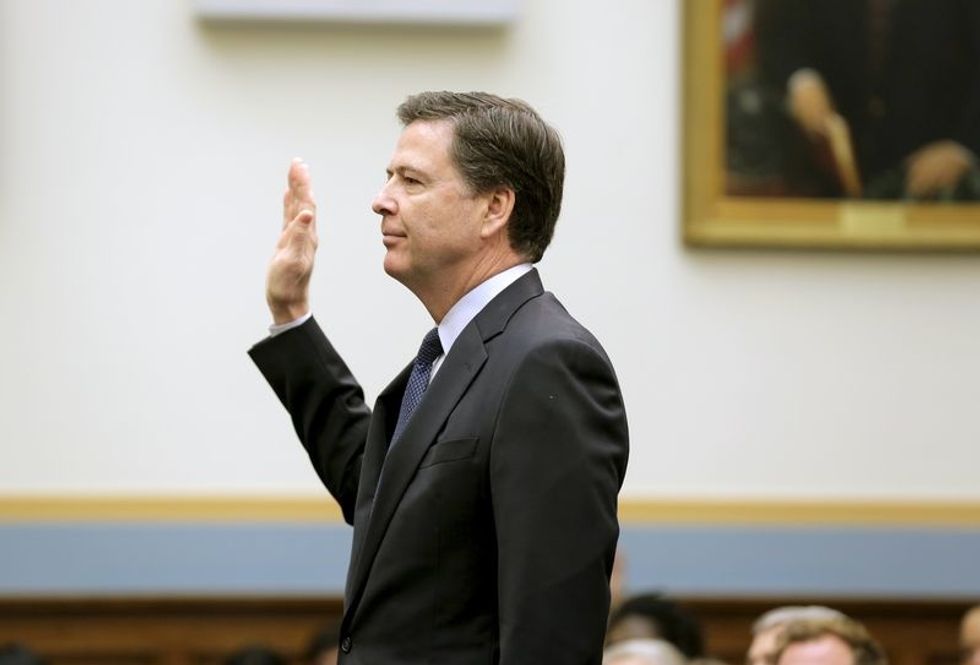 Reprinted with permission from Alternet.
Donald Trump's abrupt firing of FBI director James Comey Tuesday has spurred heated controversy from both sides of the aisle. Following Preet Bharara and Sally Yates, Comey was the third official to be dismissed while investigating the president and his associates. And Democrats' disapproval of Comey for souring the electorate on Hillary Clinton was suddenly overshadowed by Trump's tyrannically Nixonian action.
By early Wednesday, groups like MoveOn.org and Indivisible were already preparing to "Sound the Alarm" at Senate offices at 5pm EST nationwide.
We protested @ the White House & now it's your turn. Join a rally near you @ 5 p.m. TODAY: https://t.co/BuG8Au7GSg#SoundtheAlarm#ComeyGatepic.twitter.com/5shlIIKjeT

— MoveOn.org (@MoveOn) May 10, 2017
"Our ask: Congress must establish an independent commission to investigate Trump. (One that he can't fire!) This isn't business as usual, and we'll make ourselves heard," the MoveOn.org site read.
Attendees were advised to bring pots and pans and convey their outrage via cacerolazo, a popular Latin American protest method in which people call attention to an issue by making noise.
"We cannot trust the Trump administration to investigate itself. The American people deserve the full story behind Russian interference in the 2016 U.S. election," added Indivisible's Recess Toolkit. "But the public cannot trust that Republican MoCs (Members of Congress) with close ties to Trump and his campaign will investigate the facts thoroughly and impartially."
As of Wednesday morning, nearly two dozen protests were scheduled.
#TrumpRussia#ComeyGate#SoundtheAlarm@MoveOn@RISETogetherPT@RISETogether_NCpic.twitter.com/KTrN8Cd6ds

— RISE Together PT (@RISETogetherPT) May 10, 2017
#SoundTheAlarm This is how people show up in Santa Rosa & demand an independent hearing #Comeygate@IndivisibleSoCo@IndivisibleTeam Pls.RT pic.twitter.com/xiZ5h78ytX

— Indivisible Petaluma (@IndivisibleLuma) May 10, 2017
#ShutDownTheSenate#ComeyGate#SoundTheAlarm@MoveOn Senators Office #NYC@SenSchumer@SenGillibrand#TrumpLiesMatterpic.twitter.com/4oQwYFJGB6

— LovelyLowEnd (@LovelyLowEnd) May 10, 2017
Alexandra Rosenmann is an AlterNet associate editor. Follow her @alexpreditor.
This article was made possible by the readers and supporters of AlterNet.