Comey's Testimony Stumps Fuming And Fumbling Trump Defenders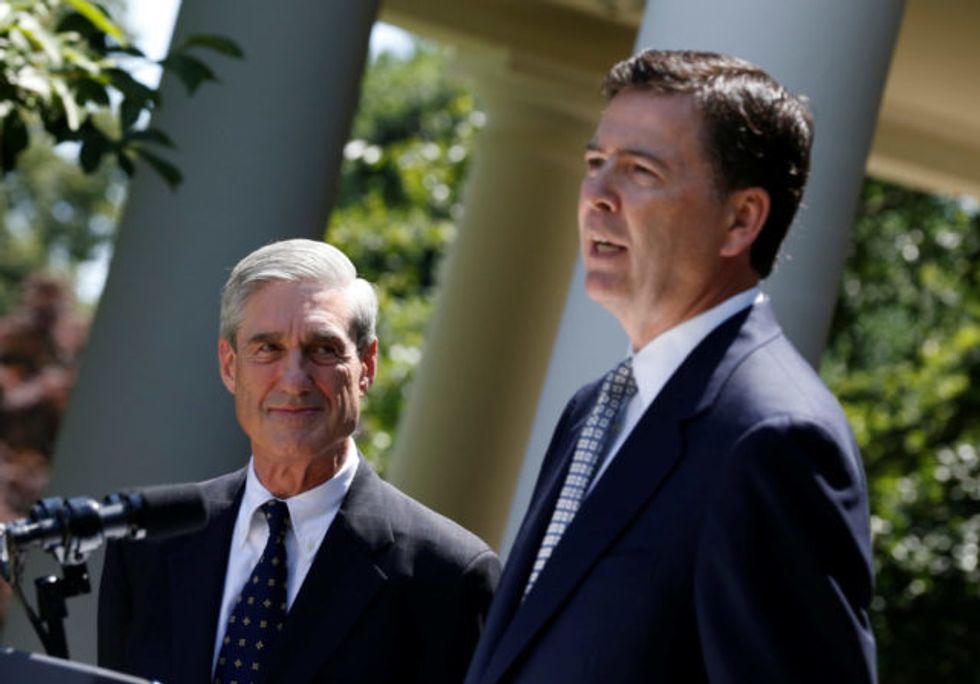 In his historic appearance before the Senate Intelligence Committee, James Comey explained calmly and cogently how he had approached his fraught relationship with the new president: From day one, the former FBI director said he treated Donald Trump as someone with a propensity to lie.
Whatever anyone thinks of Comey and his conduct during last year's election — for which he was criticized harshly in these pages — his offenses did not include lying. The same obviously cannot be said of Trump, the president whose utterances have made his name synonymous with "Pinocchio."
Facing the calm, patient, and respected veteran of law enforcement, Senate Republicans could scarcely fabricate a plausible defense of the president. Comey's testimony about Trump's repeated attempts to intimidate him into killing the investigation of Mike Flynn, the former national security adviser, was detailed and damning.
Senator James Risch (R-ID) made the most amusing attempt to exculpate Trump. According to Risch, Trump couldn't be charged with a crime for telling Comey that he "hoped" the FBI director would "let Flynn go," rather than prosecute the ex-national security adviser.
"Do you know of any case where a person has been charged for obstruction of justice, or for that matter any other criminal offense, where they said or thought they hoped for an outcome?" demanded Risch. Unable to name a case offhand, Comey patiently explained, "I took it as a direction. This is the President of the United States with me alone saying, 'I hope this'. I took it as this is what he wants me to do. I didn't obey that but that's the way I took it."
But in fact, defendants who expressed that kind of "hope," under such highly suspicious circumstances, have not only been charged with obstructing justice but convicted of that same crime.
Just last year, the U.S. Court of Appeals for the Fifth Circuit upheld the conviction of a Dallas police officer on four federal obstruction counts. He was found guilty of trying to suppress evidence that he had exchanged law enforcement intelligence with a prostitute for sexual favors. When the FBI was closing in, the crooked cop had told the young lady in a recorded conversation: "I'm just hoping you haven't told anyone anything." The appeals court opinion said that such circumstantial evidence was sufficient to prove that the cop had "acted with the intent to impede that investigation." (As an attorney, Risch should have been able to look up this and similar cases before posing his silly question.)
With equally compelling logic, the Republicans hinted that Comey should have arrested Trump for obstruction of justice in the Oval Office — as Attorney General Jeff Sessions loitered outside, after being invited to leave so Trump could make his pitch to Comey. Having failed to do so, they argued, Comey must not have thought that Trump did anything wrong.
Of course, the FBI director made careful notes of those improper conversations and reported them to his subordinates and other Justice Department officials because he knew Trump's pressure on him was improper at best. Still, as Comey admitted, he might well have pushed back harder. But it is ridiculous for the Republicans to suggest that because he didn't instantly report Trump's improper conduct as a potentially impeachable offense, to either the Attorney General or the Congress or both, then the president must be innocent.
That argument is like claiming that because nobody called the police in time, Kitty Genovese was never murdered. The failure to report a crime doesn't retroactively exonerate the suspect, nor does it prove that the crime never occurred.
When asked whether he believes that the president obstructed justice, Comey properly deferred to Robert Mueller — the special counsel to whom he has turned over his carefully preserved evidence, with full confidence that Mueller will evaluate whether Trump's misconduct was criminal.
So if Trump was not personally under investigation in the earlier phases of the Russia investigation, he is now. And the president is in legal jeopardy not just because Comey documented his initial attempts to kill the Flynn case, but because he reacted to Comey's recalcitrance by dismissing him — and then boasted to the Russian ambassador and foreign minister, in the Oval Office, that he had fired the "nut job" FBI director and relieved the "great pressure" of the Russia investigation.
Now Comey's testimony has publicly set forth the disturbing context of that extraordinary confession. What he told us cannot be ignored or diminished unless we care nothing for the rule of law.