In Trump's Unusual Cabinet, Commerce Secretary Will Run Trade Policy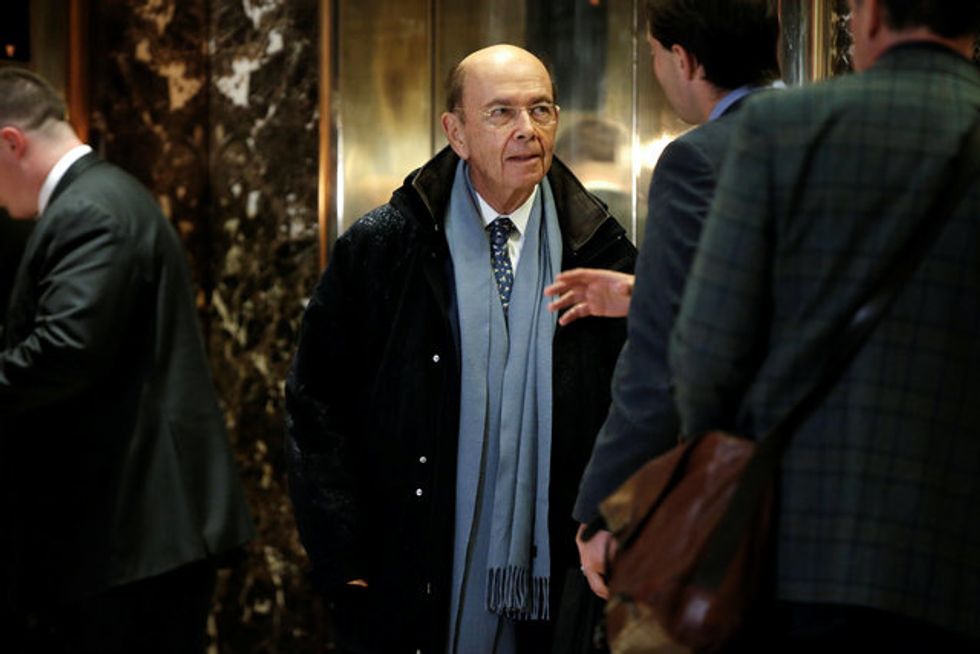 WEST PALM BEACH, Fla./WASHINGTON (Reuters) – U.S. President-elect Donald Trump plans to put his pick for Commerce Secretary, billionaire investor Wilbur Ross, in charge of his get-tough trade policy, a transition team spokesman said on Tuesday.
It is a signal of how Trump, who is also interviewing candidates to be the U.S. Trade Representative (USTR), plans to elevate a crackdown on competitors in the world market and the overhaul of trade deals that he says have hurt U.S. factory jobs.
The USTR will not be merged with Commerce, but Trump transition team spokesman Jason Miller made clear that most trade policy decisions would be steered by Ross, who made a good part of his fortune by investing in distressed steel companies that benefited from stiff import tariffs imposed by former President George W. Bush in the early 2000s.
"Mr. Ross not only has negotiated some very good deals over his lifetime, he's also the person who worked closely with the president-elect on crafting his trade policy over the administration," Miller told reporters during a daily transition briefing. "Mr. Ross will be playing a big role in any trade particulars in this administration."
The move also marks a notable shift from how President Barack Obama ran his trade policy.
"It looks like the USTR office is being downgraded and subordinated to Commerce," said Derek Scissors, a trade expert at the American Enterprise Institute, a right-leaning think tank in Washington.
"That's a big change because USTR is this small elite trade agency right across from the White House."
Trump, who takes office on Jan. 20, blamed multilateral trade deals with Mexico and China for the loss of U.S. jobs, a core message during his campaign, and said he would push to renegotiate the agreements.
Trump's administration is expected to crack down on Chinese trade practices with enforcement cases, which has raised fears Beijing would retaliate.
He has also pledged to hit companies that shift production from the United States to other countries with a 35 percent tax on their exports into the United States — legislation he said his team would soon "write up."
INTERVIEWS FOR USTR
Trump has picked more than 20 nominees for his cabinet so far, packing his team with billionaires from the business world, retired generals, and loyalists.
He is continuing to interview candidates for his cabinet this week at Mar-a-Lago, his Palm Beach resort, where he will spend the Christmas holiday — including potential picks for the USTR job.
Elevating Ross' role as Commerce Secretary could make the USTR job less attractive to potential candidates with top-tier trade expertise, said Scissors at the American Enterprise Institute.
Traditionally, the USTR takes the lead on negotiations for trade deals, while Commerce, a massive sprawling agency, handles enforcement actions including anti-dumping and anti-subsidy investigations of low-cost imports.
On Tuesday, Trump was slated to meet about the USTR position with Jovita Carranza, a consultant who worked to attract support from Hispanic voters during the campaign.
Carranza was a deputy administrator with the Small Business Administration in the George W. Bush White House.
Trump has also discussed the USTR job with Robert Lighthizer, a former deputy USTR during the Reagan administration, and Dan DiMicco, former CEO of steel producer Nucor Corp.
In 2012, Obama proposed to combine Commerce and the USTR with the Small Business Administration, Export-Import Bank, Overseas Private Investment Corporation and U.S. Trade and Development Agency in one streamlined department – a plan that was rejected by Congress.
Trump has no plans to merge Commerce with the USTR, Miller said.
(Writing by Roberta Rampton; Editing by Andrea Ricci)
IMAGE: Billionaire investor Wilbur Ross, chairman of Invesco Ltd subsidiary WL Ross & Co, arrives at Trump Tower to meet with U.S. President-elect Donald Trump in New York, U.S., November 29, 2016.   REUTERS/Mike Segar