Undocumented Communities Ready To Fight Trump's Mass Expulsion Orders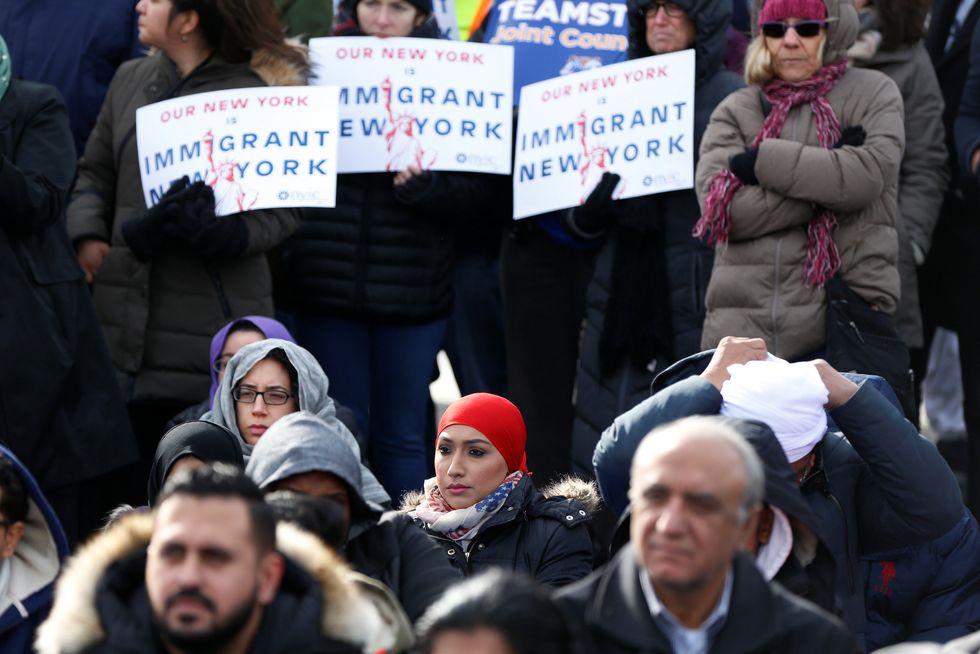 Reprinted with permission fromAlterNet.
The Trump administration's campaign of hate and mass expulsion targeting immigrants is being met with sustained resistance by the very communities caught in the crosshairs.
Thousands of Wisconsin residents refused to go to work or school and shuttered their business on February 13 to participate in a state-wide Day Without Latinos, Immigrants, and Refugees. According to the Wisconsin-based advocacy organization Voces de la Frontera, the aim was to "resist Trump's executive orders on immigration and the resulting wave of immigration raids sweeping the country, and to stop Milwaukee County Sheriff David Clarke from enrolling his department in the federal 287(g) program, which would deputize his sheriffs to act as immigration agents."
Germán Sanchez, an Omro, Wisconsin dairy worker who walked off the job with five coworkers, said in a press statement: "We love what we do, but we are organized and ready to fight against people like Trump, Clarke, or any politician who attacks our families. We have power. Trump needs to know that if he is putting Latinos at risk, he is putting the dairy industry and the whole economy at risk."
On February 16, thousands of people nationwide followed suit, as workers walked off the job, shut down their stores and restaurants and stayed home from school to participate in an immigrant strike to protest Donald Trump's deportation policies. Mass demonstrations swept cities and towns across the country, among them San Francisco, Chicago, Raleigh, and Austin. According to news reports, at least 100 people were fired from their jobs for staying home.
Meanwhile, people have been using their bodies to attempt to stop the deportation of their community members. Earlier this month, Phoenix residents staged a 15-hour direct-action protest against the deportation of Guadalupe García de Rayos, a mother of two who had been living in the United States for 21 years. Protesters, including her own son and daughter, sat in the street holding hands to stop an ICE vehicle from taking her away, resulting in an hours-long stand-off captured on live-stream. Protesters gathered outside of the ICE regional office and thousands of people contacted Sen. John McCain and the ICE field director, urging them to stop the deportation. Despite the outpouring organized by the group Puente Arizona, García was deported to Mexico.
Anticipating an ongoing escalation of deportations, activists are fighting to expand the sanctuary movement, calling for protection of all communities targeted by the Trump administration, including undocumented, Muslim, LGBTQ, black, and poor communities. Immigrant-led organizations are partnering with the Movement for Black Lives to build and support local campaigns to call on mayors and city councils to "stand up and defend our cities." The aim is not merely to return to the policies of the Obama era, which saw unprecedented deportations and the highest rates of imprisonment in the world, but to demand an improvement on what came before.
Critically, the fight to defend and expand sanctuary is not centered only in large cities, but is heating up in places like Richmond, Virginia, which is seeing ongoing rallies. Meanwhile, activists in Louisville, Kentucky, are waging their own campaign to expand sanctuary, calling on the mayor and local lawmakers to say "no to Executive Orders that hurt immigrant families, refugees, black communities, LGBTQ youth, the disabled, and low-income and working people."
People can find and connect with their local sanctuary campaigns by plugging their zip codes into a resource produced by Mijente. In addition, Mijente has released a new crowd-sourced guide on how to "defy, defend and expand" the fight for sanctuary.
While fighting to expand sanctuary, movements are also preparing to defend their neighbors and communities from a rise in deportations. Starting next week, Mijente plans to kick off its Protect and Defend training series, focusing on how to respond to raids and build response networks.
The last week of February will also see escalating direct actions to build awareness about the upcoming general strike on May 1, also known as May Day and International Workers' Day. Carlos Rojas Rodriguez, a spokesperson for Movimiento Cosecha, told AlterNet, "This week we have around 30 cities across the country who will be promoting May Day through banner drops."
"Movimiento Cosecha feels tremendous excitement that our message around boycotts and strikes is resonating heavily with immigrant families," Rodriguez continued. "Banner drops are essential to promoting May Day. In Latin America and Africa, movements rely heavily on street art and political writings to promote their messages with directly affected communities. Banner drops allow us to capture the attention of immigrant families with clear and direct call to action."
More organizations are throwing their weight behind the May 1 call for a general strike, among them the organizers of Wisconsin's state-wide actions. "Following Monday's Day Without Latinos, Immigrants, and Refugees in Wisconsin, we are witnessing a spontaneous groundswell of immigrant workers, small business owners, and our supporters taking similar bold action to demand an end to Trump's deportation raids," said Christine Neumann-Ortiz, executive director of Voces de la Frontera. "Monday, May 1st, 2017, must be a national Day Without Latinos, Immigrants, and Refugees to demand Trump rescind all of his executive orders on immigration."
Sarah Lazare is a staff writer for AlterNet.
IMAGE: People participate in prayers during an interfaith event and the Jummah prayer outside Terminal 4 at John F. Kennedy Airport in New York, U.S., February 3, 2017. REUTERS/Shannon Stapleton