Companies Labor To Get Visas For Skilled Foreign Professionals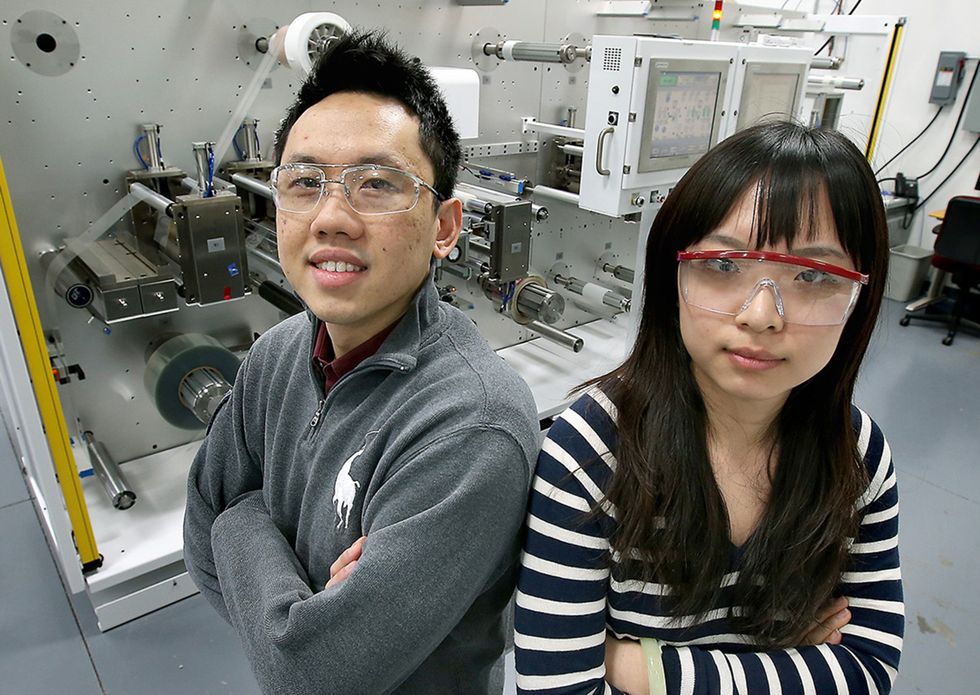 By Mila Koumpilova, Star Tribune (Minneapolis) (TNS)
MINNEAPOLIS — William Dinauer, president of laser maker LasX Industries, had no doubts about hiring Chinese-born Yahui Zhang this year.
She has a doctorate in industrial engineering and experience working for a larger device manufacturer. She was open to the posted salary, geared toward a candidate with a bachelor's degree. Dinauer's only misgiving: Can he keep her?
At the first opportunity, White Bear Lake, Minnesotta-based LasX recently applied for a three-year H-1B visa for Zhang — the most common type of work visa for college-educated professionals. Dinauer knew the company had to move fast. Five business days later, applications topped the annual limit for H1-B visas, and the government said it will once again hold a lottery to dole the visas out.
This spring, the H-1B program is the focus of intense debate in Congress and keen interest in Minnesota, where companies have come to rely more on the visas in recent years.
Supporters of the program say easing the annual rush on the visas would help employers find highly skilled candidates for hard-to-fill positions. Opponents counter many companies use the program for cheaper, more pliable labor, bypassing qualified American workers.
"This debate is very essential and a healthy one," said Minneapolis immigration attorney Dyan Williams. "It's not all black and white."
In the past three years, United States Citizenship and Immigration Services stopped accepting applications five business days after the application season begins. Last year, the agency received more than twice as many applications as the 85,000 visas available under the cap; 20,000 of those are earmarked for applicants with advanced degrees from U.S. universities.
In recent years, Minnesota employers have made growing use of H-1B visas. In 2013, the most recent for which state data is available, they lined up more than 5,500 H-1Bs, a more than 40 percent increase in five years. Rochester-based Mayo Clinic — exempt from the cap as a nonprofit educational and research institution — has 400 H-1B employees from 66 countries out of 59,000 on its campuses nationwide.
LasX, which under government H-1B requirements did pay Zhang more than the bachelor-level salary it had posted, got nearly 40 applications for that job. Still, Dinauer says his 70-employee company competes with larger manufacturers in the Twin Cities and beyond for "that one top engineer." Five years ago, LasX sponsored a Malaysian engineer who's since helped design laser equipment to make a new medical diagnostic device.
"Having a lottery to select people seems silly to me if they want to live here and contribute to our economy," he said.
At Duluth's North Point Geographic Solutions, a digital mapping company, owner Carolyn Adams hired Chinese native Xue Gao in February after a six-month search that involved tweaking and reposting an opening that went unfilled. Adams says recruiting and training a new employee takes time, and the uncertainty of the lottery process is tough on small companies: "From a business perspective, this is really stressful."
The H-1B program has long provoked debate in Congress, where lawmakers perennially ponder raising the visa cap or, on the flip side, putting new restrictions on the program. This winter, Mark Krikorian of the Washington-based Center for Immigration Studies thought this would be the year when Congress acts to increase the cap. To Krikorian, the prospect was troubling. He deems H-1B "a cheap labor program" that, because visa recipients are largely tied to their employers, yields "white-collar indentured workers."
"I am yet to be convinced we should have an H-1B program at all," he said. "If we do, it should be restricted to truly exceptional talent."
An H-1B increase is tied up installed efforts to pass comprehensive immigration reform, including a path to citizenship for immigrants without legal status. Bipartisan momentum was building to tackle the high demand for work visas and work-based green cards separately.
The I-Squared Act of 2015 would increase the H-1B cap to as many as 195,000 visas based on market demand, among other changes. The legislation drew key Republican backing and endorsements from the likes of Google Chairman Eric Schmidt. But it also met with major pushback in committee, where critics highlighted a study suggesting a relatively high number of U.S. science and technology graduates do not work in their fields as evidence there is no shortage of American job candidates.
A recent controversy involving Southern California Edison didn't help: The power company planned to lay off hundreds of workers while enlisting Indian companies that supply workers to U.S. employers and snap up many of the available H-1B visas.
Attempts to compare salaries for H-1B workers and their American counterparts have yielded much conflicting research over the years. A recent study by the nonprofit American Institute for Economic Research found H-1B status accounted for no statistically significant difference in pay in occupations that draw the bulk of those visas.
Williams, the Twin Cities attorney, agrees — but she also sees the potential for abuse. She believes a debate about increasing the visas should come with a look at "checks and balances," such as raising the prevailing wage, a state-by-state estimate of compensation earned by most workers in a given field, which H-1B ­sponsors must offer at a minimum to foreign employees.
"If you're going to increase the cap," Williams said, "you really need to look at whether you are indeed hiring the best and the brightest."
Debjyoti Dwivedy, vice president of the advocacy group Immigration Voice and a Twin Cities data storage engineer, says his organization doesn't support boosting visa numbers — unless there is a proportionate increase in work-based green cards, which allow workers the flexibility to switch employers and start their own companies.
Dwivedy, who earned a master's from North Dakota State University, is allowed to work on his student visa for up to 27 months before lining up an H-1B — a longer period for technology grads like him. So after striking out in last year's lottery, he gets a second chance to apply this spring.
"The U.S. government spent a lot of money on me," said Dwivedy, who studied on a full scholarship. "Now it's my turn to serve this country."
Photo: Elizabeth Flores via Minneapolis Star Tribune/TNS