Compared To Current Candidates, Obama Is Looking Good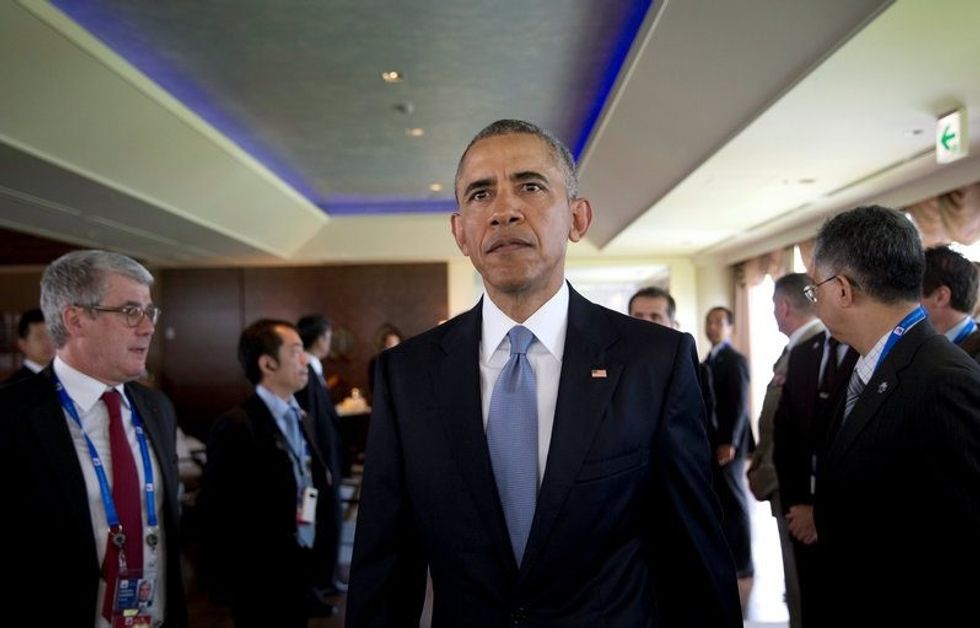 Small wonder that President Barack Obama is enjoying his highest approval rating — now at 51 percent, according to a Wall Street Journal-NBC News poll — since his second inaugural. Voters need only take a cursory survey of the shenanigans on the campaign trail to conclude that the man occupying the Oval Office deserves respect, admiration and appreciation.
But it isn't just in comparison to the current crop of candidates that Obama's political and intellectual gifts are clear. Judged against the panorama of American presidents, Obama will come out in the topmost tier — a leader with courage, tenacity, wisdom, character, even glimmers of brilliance.
He came into office in 2009 riding a wave of giddy enthusiasm about his election as the nation's first black president. But that enthusiasm was soon overwhelmed by an equally potent backlash fueled by resentment, racism and fear of the demographic change — the challenge to white privilege — that his election represented. That backlash has supplied formidable opposition to every single initiative Obama has proposed, a force of resistance, reaction and repression that has been willing to damage the country to jeopardize his presidency.
Historians will reckon with that force when they judge Obama's accomplishments. Despite resistance, he dealt ably with the worst economic downturn since the Great Depression, a financial near-collapse that forced hundreds of thousands of people into foreclosure, that bankrupted businesses and individuals alike, that propelled unemployment into the double digits. While wages are still stagnant (they've been stagnating for decades), unemployment is now down to 5 percent, near a historic low.
Perhaps Obama's greatest domestic accomplishment was pushing through the Affordable Care Act, the biggest expansion of health care since Medicare was passed. Democrats have been attempting to expand access to doctors and hospitals since the era of Franklin Roosevelt; Bill and Hillary Clinton tried to push through an expansion in the 1990s but failed. While Obamacare is hardly perfect, it has given millions of Americans access to health care and aided economic security.
As for foreign policy, Obama is the president who finally brought down Osama bin Laden, the terrorist who was the architect of the 9/11 atrocities. He's also employed a policy of drone strikes that has alienated some on the left and caused no small amount of heartburn in foreign capitals. But he doesn't shy away from making tough calls.
Still, Obama's decision-making on national security and foreign policy has met more criticism from moderate thinkers and centrist pundits than any other element of his presidency. He is out of step with the hawkish "Washington consensus," as The Atlantic's Jeffrey Goldberg recently reported. The president thinks before he speaks. He appreciates nuance. He isn't high on saber-rattling. He doesn't believe the might of the U.S. armed forces, considerable though it may be, can solve every problem.
Count me among those who believe a break from the "Washington consensus," which approved of the invasion of Iraq, is a very good thing.
Obama snubbed that groupthink to negotiate a historic deal with Iran, a bold bet to try to halt their efforts to produce nuclear weapons. It will be years, if not decades, before foreign policy experts can assess its consequences, but the president was wise to try. And he got it done over the outlandish theatrics of a Republican-dominated Congress.
None of Obama's many accomplishments would have been possible were he not a man of stellar integrity. His enemies have been greatly disappointed that they have not been able to sniff out scandal in his administration.
The president and his wife, Michelle, also display even-tempered and well-grounded personalities that resist pettiness and petulance, anger and affront, even in the face of vicious insults. And while most of the singularly offensive rants have come from the right wing, a few have been lobbed from the left. College professor and professional provocateur Cornel West has called Obama a "Rockefeller Republican in blackface."
The Obamas have been a lovely antidote to the politics of personal destruction. By the time they leave, the president's approval ratings should be higher still.

Cynthia Tucker won the Pulitzer Prize for commentary in 2007. She can be reached at cynthia@cynthiatucker.com.
Photo: U.S. President Barack Obama arrives late to participate in a G-7 Working Session in Shima, Japan, Friday, May 27, 2016, during the G-7 Summit. REUTERS/Carolyn Kaster/Pool