Compromise Won't Work: Obama Needs To Talk Over Republicans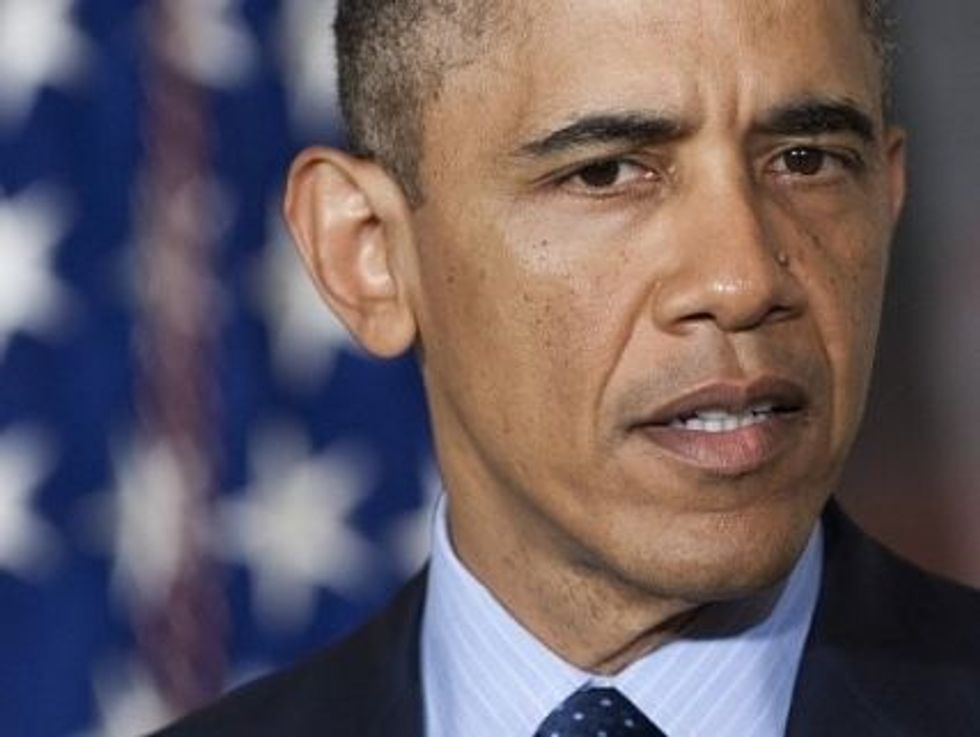 Fat lot of good it's done Barack Obama to pose as The Great Compromiser. The more "Grand Bargains" he's proposed, the further Republicans have fled in the opposite direction. Is it really possible that Obama mistook the U.S. government for the Harvard Law Review, where his reputation as a fair-minded mediator earned him universal respect?
With yet another round of budgetary hostage-taking and government shutdowns threatened this autumn—throwing Americans out of work and stifling the economy—isn't it time Obama adjusted to GOP radicalism?
Historian Rick Perlstein (the author of Nixonland) put it this way to MSNBC's Steve Kornacki:
The reason Obama's rhetoric and his whole strategic approach to his presidency fails is because going back six years or more, he fundamentally misunderstands the Republican Party. He doesn't understand [how] they behave, this kind of Leninist cell waiting in the mountains, waiting for the final apocalypse…

Barack Obama is constitutionally incapable of saying, 'we have adversaries.' That every time a Democratic president comes in that they handle the government more effectively. Every time a Democratic president comes in, they create more jobs than the Republicans. But to say that would be constitutionally impossible for Obama because he needs to tell this story about reconciliation—there is no Red America, there is no Blue America.
Nobody made Obama endorse deficit-cutting as the centerpiece of his economic policy. But he ought to notice that with the federal budget deficit shrinking at an unprecedented rate—the FY2013 shortfall will be less than half of the $1.3 trillion gap George W. Bush left behind—GOP leaders keep falsifying reality. On Fox News Sunday, House Majority Leader Eric Cantor brazenly insisted that Congress should be "focused on trying to deal with the ultimate problem, which is this growing deficit."
Which is worse? Whether Cantor knows he's blowing smoke, or doesn't know?
Neither did anybody make Obama embrace the misleading metaphor about how in tough times governments need to tighten their belts like families.
However, almost every family borrows to finance long-term purchases; government needs to invest for the future too.
Unlike your family, the government can create money. It's precisely when private enterprises can't invest that government should. By accepting the "belt tightening" metaphor, Obama even made it harder to credit the (too small) 2009 stimulus bill's role in halting the economy's free fall.
With an allegedly "Socialist" president talking like a GOP banker, the radicalism of the Republican right has become invisible to many. In Arkansas, we have a Washington libertarian hero named Tom Cotton running for the U.S. Senate. Tax-hating billionaires are promoting him like an American Idol contestant. He announced from his (childhood) home in Yell County—one county west of where I live.
Previous to World War II, this bucolic paradise was basically the Third World. Like much of the rural South, Yell County had hardly any paved roads, and no electricity, telephones or public utilities. Also no physicians, dentists nor even veterinarians. People grew what they ate using horse and mule power. They raised chickens, butchered hogs and steers, canned vegetables, made their own clothing, music and booze. Education was rudimentary. It's easy to be nostalgic about this kind of life if you're never tried it.
Then came the accursed federal government with its highway- and bridge-building, its rural electrification, sewer and water grants, its agriculture agents and crop insurance, its Social Security, Medicare and Medicaid, its Ozark and Ouchita National Forests, its Arkansas River navigation system and Lake Dardanelle. Along with state parks, public universities, Pell grants, student loans, food stamps, and more.
All a terrible mistake, judging by Cotton's rhetoric: wasteful government spending, encouraging parasitism and sloth. His campaign slogan may as well be: "Back to 1935." He even voted to slash food stamps, although nearly 25 percent of his Yell County neighbors—nearly all white—receive assistance. He'd decimate government expenditures to restore a libertarian paradise that never existed.
You'd think even a mushmelon like Arkansas' Democratic Sen. Mark Pryor could make Cotton look foolish.
But only if he talks like a Democrat, which brings us back to President Obama. There are signs that the president may be coming around. In recent speeches, Obama has called for the kinds of public investments that once made this country the envy of the world.
"We've got more than 100,000 bridges that are old enough to qualify for Medicare," he said in Illinois. "And yet, as a share of our economy, we invest less in our infrastructure than we did two decades ago."
At a time when corporations are squeezing workers dry, Obama also called for a sharp increase in the minimum wage.
No, House Republicans won't vote for any of this. They won't support anything sensible or realistic. So Obama needs to talk over their heads. People have forgotten the economic policies that made America great.
It's the president's job to remind them.
AFP Photo/Saul Loeb