'Concussion' Film Stirs NFL Brain Injury Debate
@reuters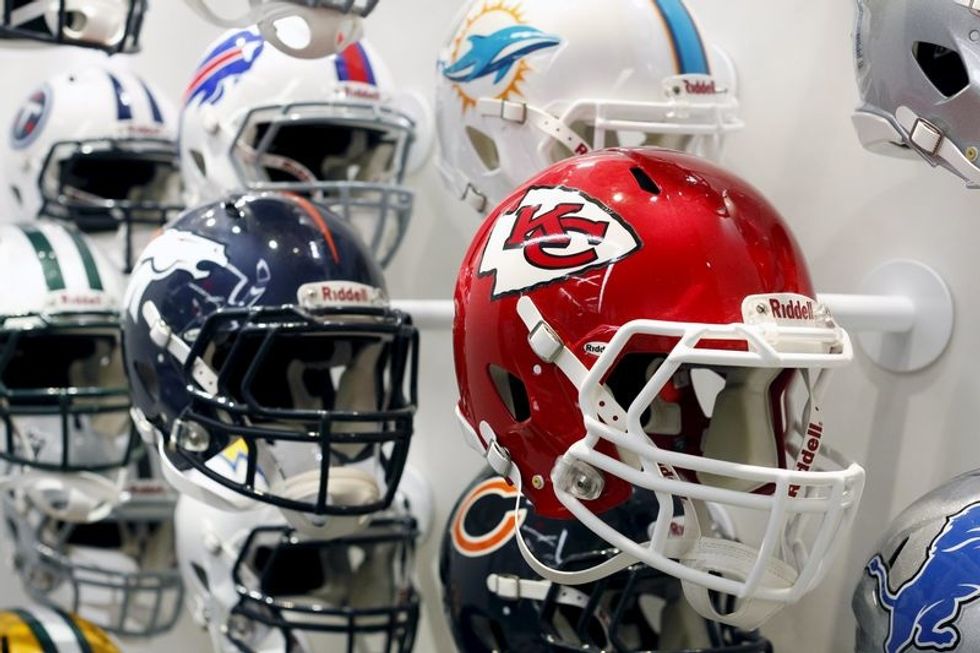 By Steve Ginsburg
WASHINGTON (Reuters) – The film Concussion, tracing a forensic pathologist's quest to expose the truth about brain injuries in the NFL, casts a spotlight on an issue that has roiled America's most popular sports league.
The movie also may give parents pause, according to the filmmakers and some former players, about allowing their sons to play the violent sport of football.
"I love football. It's graceful. We have a lot of beautiful football in this film, purposefully," said Peter Landesman, the director and writer of the movie, due in U.S. theaters on Dec. 25. "We're not trying to wag our finger and say, 'Don't do it.'"
Landesman added, "Sometimes the things that we love in life are the things that kill us. We just have to make difficult decisions about what we do with that."
Rick Walker, who played nine seasons in the National Football League including on the Washington Redskins team that won Super Bowl XVII in January 1983, said he hopes women, particularly mothers, see Concussion because they have the ability at the grassroots level to make the sport safer.
"Dads have already been aware of the situation, and most men will play no matter what," said Walker, now a sports commentator in Washington. "When you're young, moms are taking you to Pee Wee and Pop Warner (youth leagues)."
"Mothers can be such a big influence. If they combine their forces, they have the power to bring about change. They will protect their babies. But with dads, it's always a macho issue," Walker added.
The movie tells the story of Dr. Bennet Omalu, played by Will Smith, who fought the NFL's campaign to conceal his research on the brain damage suffered by football players who sustain blows to the head during games and practice.
Several dozen of the game's top players, including Hall of Famers Mike Webster and Junior Seau, have been diagnosed after they died with chronic traumatic encephalopathy (CTE), a progressive degenerative brain disease associated with repetitive blows to the head. CTE currently is diagnosed only through brain examinations after death.
'TREND IN THE RIGHT DIRECTION'
Jeff Miller, the NFL's senior vice president of health and safety policy, said he would be happy if the film spurs conversation on how to prevent brain injuries.
Miller said recent rules changes, such as penalizing helmet-to-helmet hits, have helped reduce the number of concussions in regular season games by 34 percent over the past three years.
"While that number does not represent success in our minds, it certainly is a trend in the right direction," Miller said.
Miller said when the NFL changes rules or makes it a "point of emphasis" to limit the amount of head contact in a game, colleges, high schools and even youth leagues take note.
The league's concussion policies came under renewed scrutiny last month when St. Louis Rams quarterback Case Keenum was allowed to continue playing after suffering a concussion in a game. The NFL said it would review why Keenum was not taken off the field for evaluation by a team doctor or an independent neuro-trauma physician as required by its concussion protocols.
Some 5,000 former players sued the NFL over brain injuries, claiming the multibillion-dollar league concealed the dangers of repeated head trauma. The players agreed to a settlement that could cost the league $1 billion, but the settlement remains tied up in the courts.
Smith, nominated for a Golden Globe award for his performance in Concussion, said that as a football dad, he was conflicted about starring in the movie because he had been unaware before meeting Omalu of the scientific research.
"I had watched my son play football for four years, and I didn't know. And just as a parent I felt like I had to be a part of this," Smith said.
Smith said Omalu's quest for the truth "become our quest also to deliver the truth. People have to know," Smith said.
In 2011, lawyer Jason Luckasevic filed the first two lawsuits against the NFL on behalf of more than 120 retired players over their brain injuries.
"This is not the story of the guy who is crying the blues about his one concussion," Luckasevic said. "This is the story of guys like Mike Webster who suffered repeated trauma, practice after practice, day after day, game after game."
Luckasevic said in light of the movie "people will now have to make their informed choices knowing that football is not really different from boxing, that you can get (brain injuries) from hitting your head thousands of times during the course of a season."
Walker, who retired from the NFL after the 1985 season, said the league "is filthy rich and needs to focus on the survival of its players."
All three of his boys played football. "I know I'm happier that they're no longer playing," Walker said.
(Reporting by Steve Ginsburg in Washington; Additional reporting by Piya Sinha-Roy in Los Angeles; Editing by Will Dunham)
NFL team helmets are displayed at the NFL Headquarters in New York December 3, 2015. REUTERS/Brendan McDermid