Confederate Flag To Be Removed From South Carolina Capitol Grounds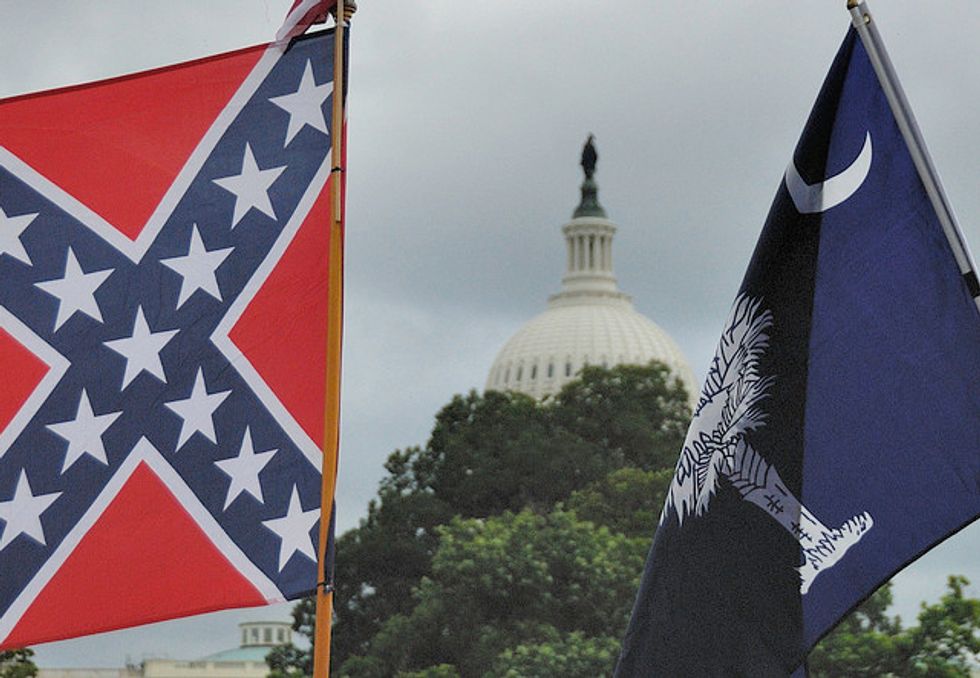 South Carolina governor Nikki Haley (R) announced Thursday that the Confederate flag will be removed from the State House grounds Friday morning at 10 a.m., three weeks after the killing of nine black parishioners in a Charleston church by a white man who had posed in photographs with the Confederate flag and other white-supremacist symbols.
Governor Haley signed a bill to take down the flag after the state's legislature overwhelmingly approved the measure earlier this week. She was joined at the signing ceremony on Thursday by family members of those killed in the Emanuel AME Church on June 17, and former South Carolina governors who supported the flag's removal.
The Confederate flag outside the State Capitol building will be taken down Friday morning and moved to a museum.
"May we never forget the actions that those people took to get us to this point today," Haley said, referring to the shooting victims' family members, before giving them each one of nine commemorative pens used in the ceremony.
She also gave a pen to former governor David Beasley, who many say lost a re-election campaign due to his support for removing the flag from the Capitol dome and relocating it to the flagpole on the State House grounds.
"South Carolina's leaders first flew a Confederate battle flag over the Statehouse dome in 1961 to mark the 100th anniversary of the Civil War. It remained there to represent official opposition to the civil rights movement," The Associated Press reports.
On Thursday, on the State House grounds, people both celebrating and protesting the flag's removal gathered, some waving Confederate flags and others honking car horns to signal their approval of the flag's removal.
The South Carolina House voted 94-20 on Thursday in favor of removing the flag, after a 13-hour debate that went late into Wednesday night. The state Senate approved the flag's removal by a vote of 37-3 on July 6.
Proclaiming the occasion of the bill's signing a great day for South Carolina, Haley said, "We are now looking forward to the future and the future of our children."
Photo: Andrew Aliferis via Flickr