Confederate Monuments And The Fourth Of July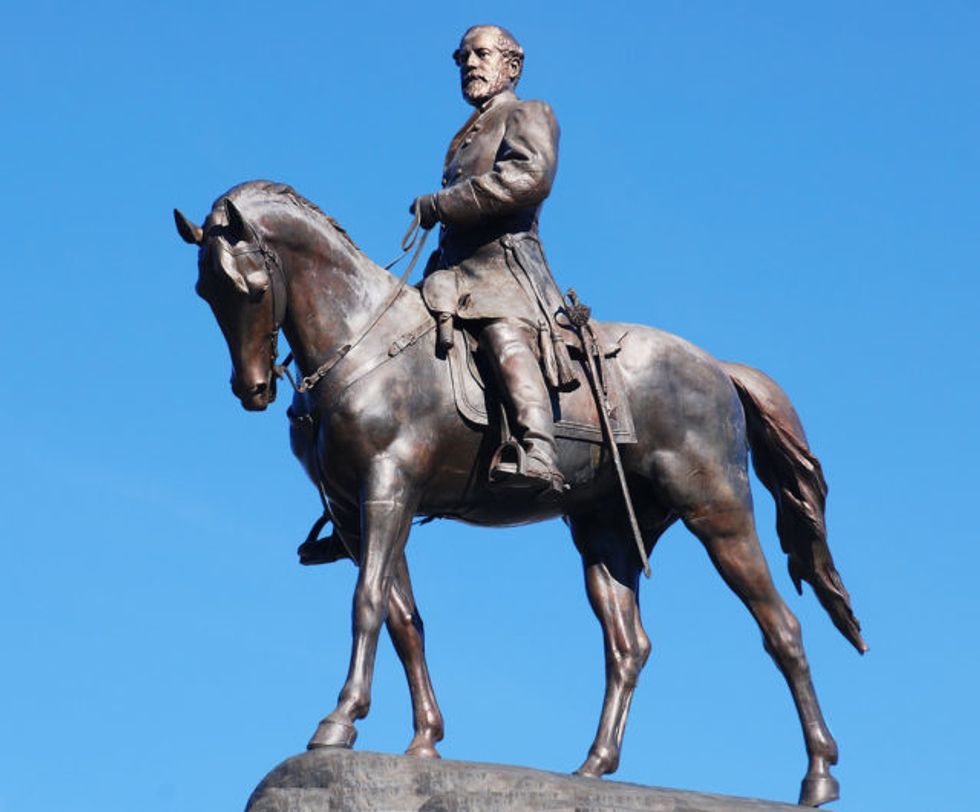 Reprinted with permission from Creators.
In 1871, the city of Richmond, Virginia, publicly celebrated the Fourth of July. It was an unfamiliar experience. There had been no general commemoration of Independence Day since 1860 — before Virginia had seceded from the nation that was formed in 1776.
Other Southern cities were not ready to resume participation in our national ritual. Cheraw became the first place in post-Civil War South Carolina to do so, in 1891. Jackson, Mississippi, waited until 1901 to hold a reading of the Declaration of Independence on the occasion. Vicksburg, Mississippi, didn't join the party until 1945.
Staunch supporters of the Lost Cause had little fondness for the United States. The Stars and Stripes was the banner of their enemy. When Union troops occupied Richmond in April 1865, the first thing they did was hoist the American flag over the capitol.
The die-hards recognized what some Southerners miss: the deep contradiction between loving America and revering the Confederacy. The struggle over what to do with monuments to rebel leaders is a conflict between those who think what they did was admirable or heroic and those who think it was disgraceful.
My long-dead relatives include several men who fought for the South. One was Gen. Leonidas Polk, who commanded troops in several major battles before being killed in action. He was not the last person to illustrate that fallibility runs in the family.
In 1961, when I was a boy in the West Texas city of Midland, a new high school opened. It was named after Robert E. Lee, for reasons that are obvious: White resentment of the civil rights movement had produced widespread nostalgia for the Confederacy. San Antonio's Lee High School opened in 1958; Houston's in 1962.
Midland Lee called its sports teams the Rebels and used the Confederate battle flag as its symbol. Black students didn't mind, because there weren't any. They attended a segregated black school.
The general did have a connection to Texas. His last U.S. Army command before the Civil War was at a fort in the Hill Country town of Mason — which has no Lee monument. Gerald Gamel, editor of the Mason County News, ascribes the omission to strong anti-secession sentiment in Mason. That tells you something about why other places honor Confederate heroes.
The town had good company in its resistance. Gov. Sam Houston, who fiercely opposed secession, was removed from office because he refused to take an oath to the Confederacy.
His role comes to mind because of a recent rally in defense of a statue of him in Houston, which supposedly was under threat from leftists because he owned slaves. Armed counter-protesters, many expressing secessionist views, showed up on the appointed date. But the threat was a hoax, and Houston's self-styled defenders apparently didn't know that he saw disunion as treason.
It was. Yet grand memorials were erected across the South to celebrate what the traitors did. The monuments were built by whites at a time when blacks had no political power — a condition those whites were desperate to preserve.
They failed, and they deserved to fail. It's only fitting that Southerners who reject the legacies of slavery, secession and Jim Crow would prefer to be rid of these tributes to them.
It's not a symptom of modern political correctness. Days after the Declaration of Independence was signed, a New York mob destroyed a statue of King George III.
If the men and women of the Revolution were eager to be rid of the images of those who had oppressed them and made war on America, why should African-Americans in the South feel differently about statues of leaders who fought to keep their race in chains?
For a long time, American history was owned by white men and minimized the treatment of blacks, women, Indians and Latinos. Accommodating our public spaces to their full citizenship doesn't erase history. It fills in parts that had been shamefully omitted.
The Confederate monuments belong not in places of honor but in museums, as artifacts of past error. They were put up to enshrine an interpretation of the past that has been discredited. Taking them down and putting up different statues is a reminder that in understanding the past, we shape the future.
If there's a statue of my relative Leonidas Polk honoring his Confederate leadership, I'm willing to see it pulled down. In fact, I'd like to be there to help.
Steve Chapman blogs at http://www.chicagotribune.com/news/opinion/chapman. Follow him on Twitter @SteveChapman13 or at https://www.facebook.com/stevechapman13. To find out more about Steve Chapman and read features by other Creators Syndicate writers and cartoonists, visit the Creators Syndicate website at www.creators.com.