West Point Wakes Up At Last -- And Decides To Stop Honoring Traitors
@LucianKTruscott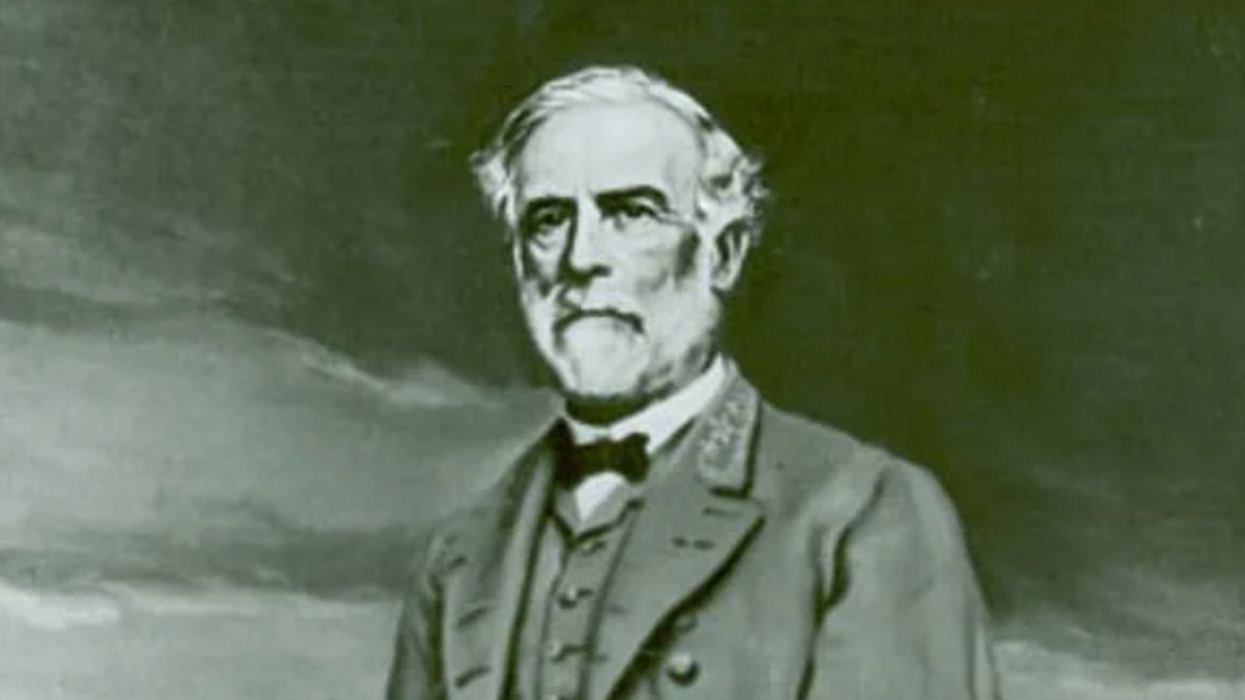 Image from National Portrait Gallery, Smithsonian Institution
This is free to all subscribers to my Substack columns. To receive both my paid and free columns on American politics, the Ukraine war, and more, please consider becoming a paid subscriber to my Substack here.
Yes, folks, that's a portrait of slave owner and Confederate General Robert E. Lee. Oh, wait a minute, it's not just a portrait of Lee. It's a portrait of General Lee in his confederate uniform hat also shows one of his slaves holding his horse, Traveler, just behind him. It should be noted that we know the name of Lee's celebrated horse but not the name of his slave.
Take a deep breath and try not to fall out of the chair you're sitting in, because I'm here to tell you that this portrait, of one of the biggest traitors ever to the United States Army and our Constitution, has been hanging in the Cadet Library at West Point, the United States Military Academy, for 70 years.
This week, it was announced that West Point is removing the portrait of Lee and several other confederate symbols and imagery, including a stone bust of Lee and a bronze triptych depicting figures of note in America's history that includes a depiction of a Klu Klux Klan member in full Klan regalia wearing hood and carrying a rifle with "KKK" emblazoned under it. Over a period of the next few months, other buildings and roads and one of the Academy's main gates named after Lee will be renamed after Academy graduates who were not traitors.
Why has it taken so long for West Point to remove these symbols of figures who were a disgrace to our nation? That's a good question, and the Academy should set up a commission to study why graduates who disgraced the West Point and the nation have been given places of honor for so many years.
I've got a place for them to start: West Point hewed for many years after the Civil War to a strict policy that neither the Confederacy nor any of its leaders who were graduates were to be honored on the grounds of the Academy. Then in 1898, when a monument to all West Pointers killed in American wars was erected on Trophy Point, former officers who served the Confederacy were invited to the ceremony. Around the country, the Daughters of the Confederacy had been erecting statues to Confederate heroes, and in the 1930's, West Point succumbed to their entreaties along with other parts of the nation and began allowing graduates like Lee to be commemorated. Lee was a graduate of West Point and as a general in the United States Army served as the Academy's superintendent before resigning his commission and agreeing to command the Army of the Confederacy, which fought four years of battles with Union forces during which many of Lee's West Point classmates and other graduates were killed, along with hundreds of thousands other soldiers.
Lee's portrait and its depiction of one of his slaves will be put in storage somewhere. The bronze triptych portraying figures of American history – including a "carpetbagger," a derogatory term used by southerners after the war to describe northerners who had gone to the south to help enforce the new laws that banned slavery and discrimination against Black Americans – will be taken down from a prominent location on the wall of one of West Point's main class buildings and placed "in a more suitable location," according to a statement put out by the Academy.
Also to be removed is a quote from Lee displayed on West Point's "honor plaza." Somehow, the West Point class that commissioned and paid for the "honor plaza" saw fit to include a statement on honor by one of West Point's most dishonorable graduates.
There is a reason West Point has been so slow to wake up to the discriminatory and dishonorable imagery of the Confederacy that has graced its grounds. It's because during the years that the lies about the "lost cause" were spread throughout the nation, southerners were coming to the fore as leaders in the army of the United States once more. Even though West Point's classes include, by law, cadets from every state in the Union according to the states' representation in Congress, the South crept into dominance in its officer corps.
When I was in the army, about 30 percent of officers were from states in the Deep South, far above what their populations as a whole would have indicated. Self-selection for service in the military is one reason for this, but conservative politics also played a role. A 1985 poll of the officer corps in the army found that more than 80 percent of officers described themselves as Republicans, with most of that number claiming to be "very conservative" Republicans.
When conservatism became synonymous with racism is for others to study and document, but at West Point, Black cadets were "silenced" by fellow cadets for decades, at least into the 1950's. Being "silenced" meant that a Black cadet was assigned to a single room and lived by himself, ate at a table in the mess hall by himself, and was not spoken to by any white cadets at the Academy.
Finally, in 2015, West Point named a new barracks after General Benjamin O. Davis, who graduated in 1936 after being silenced for four years. He was the first Black graduate of West Point since 1889.
None of the changes at the Academy regarding figures of the Confederacy like Lee came from within the Academy itself. All have been imposed by the congressionally-mandated Naming Commission, which was formed after the Black Lives Matter summer when George Floyd was killed. The Naming Commission has designated new names for all the army posts named after Confederate generals. The posts will have their names changed this year.
It's a definite mark of progress for the nation's oldest military academy to finally get woke about its history and ours. Now we can sit back and wait for the howls of protest from all the Usual Suspects, including no doubt, General Bone Spurs.
Lucian K. Truscott IV, a graduate of West Point, has had a 50-year career as a journalist, novelist, and screenwriter. He has covered Watergate, the Stonewall riots, and wars in Lebanon, Iraq, and Afghanistan. He is also the author of five bestselling novels. You can subscribe to his daily columns at luciantruscott.substack.com and follow him on Twitter @LucianKTruscott and on Facebook at Lucian K. Truscott IV.
Please consider subscribing to Lucian Truscott Newsletter, from which this is reprinted with permission.