Conflicts Surround GOP Mega-Donor Who May Become Our Next Education Secretary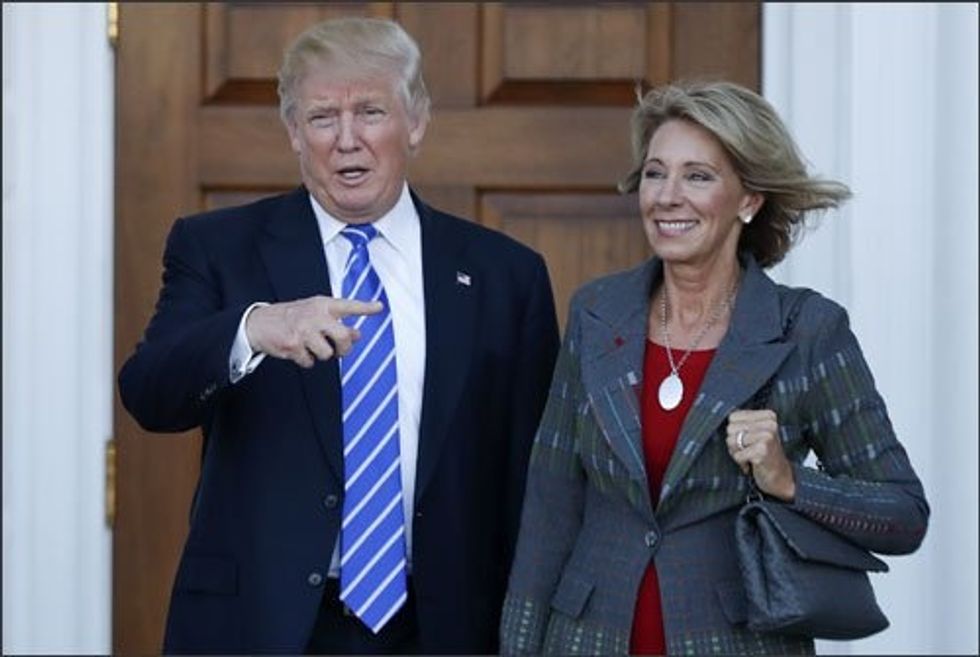 Reprinted with permission from AlterNet.
Preparing for a packed first week of confirmation hearings for Donald Trump's numerous controversial cabinet picks, Democratic politicians and advocacy groups had to decide which nominees they would focus their energy on opposing. With so many distasteful characters, several of whom have attacked the very agencies they've been nominated to lead, opposing all of them could spread resources too thin. Billionaire Betsy DeVos, Trump's pick to lead the Department of Education, is clearly one of the worst.
DeVos, chairman of an investment firm and wife of the heir to the Amway fortune, has spent the last few decades advocating and funding the school privatization movement. Her nomination to lead public education may seem curious, as DeVos has never worked in public education and supports diverting public funds to pay for kids to attend private, religious schools. But considering Trump's own eagerness to spend federal money on charter and private schools and DeVos and her family's generous political donations to the GOP, the decision isn't so curious after all.
DeVos' first Senate confirmation hearing was set for January 11, but her ethics review has not yet concluded and her financial disclosures are not public. The New York Times Editorial Board called her finances "a tangle that could take weeks to investigate," as she and her husband have investments in 250 companies registered to the same Grand Rapids, Mich. address.
The Senate delayed her hearing before the Health, Education, Labor and Pensions (HELP) committee until January 17, with its chair claiming the delay was "simply to accommodate the Senate schedule." The committee will vote on her confirmation January 24.
Advocacy groups, Democratic politicians and ethics experts have shot up red flags in recent days, strongly opposing DeVos' nomination.
Possible financial conflicts of interest
Norm Eisen and Richard Painter, former White House chief ethics lawyers who were recently named to lead the board of government watchdog Citizens for Responsibility and Ethics in Washington, explain why DeVos' hearing should not occur until all of her ethics and financial documents have been vetted and made public.
"Shortchanging the ethics review process in Congress jeopardizes nominees' ability to do their jobs if confirmed. The Senate, and all of us, need to know if nominees will, for example, sell investments that create conflicts. If not, will they recuse themselves from certain issues? Will they have so many recusals that they cannot reasonably perform their duties, or will they be running the constant risk of violating the anti-conflicts laws?"
DeVos is invested in a Michigan charter school, per Politico, and the Wall Street Journalexposed her indirect investment in an online student lending company. She was, and possibly still is invested in for-profit online charter school company K12, Inc.
"The notion that DeVos will be questioned before entering into an ethics agreement and disclosing it along with her financial holdings is absurd," write Eisen and Painter.
The Office of Government Ethics has not completed DeVos' ethics agreement, and her financial disclosure documents are nowhere to be found. Several other nominees are in the same boat, but Sen. Majority Leader Mitch McConnell—who requested that Obama's 2009 nominees complete both before Senate hearings—scheduled many of their hearings anyway. OGE director Walter Schaub expressed his concern over Senate hearings on nominees who haven't completed the ethics review process. The hurried and incomplete process "has left some of the nominees with potentially unknown or unresolved ethics issues shortly before their scheduled hearings," he wrote in a letter to two Democratic senators, adding that he was unaware of any instance like this since the OGE was created.
Unpaid campaign finance fines
Senate Democrats have asked DeVos to explain why her political group failed to pay a $5.3 million fine for breaking campaign finance laws in Ohio. In 2008, the pro-school choice All Children Matter illegally funneled $870,000 to its Ohio affiliate when that state's yearly cap on donations was $10,000. The group reportedly asked the state about contribution limits, was told what they were, and then proceeded to donate 87 times the maximum legal amount.
DeVos played a role in the 2010 U.S. Supreme Court's Citizens United ruling, which has allowed unlimited individual, corporate and union money into elections. EdSource's Louis Freedberg describes how DeVos was a founding board member of an institute set on ending restrictions on money in politics that hired attorney James Bopp as its chief counsel. Bopp would go on to successfully argue the Citizens United case.
Few issues have been "more central to the DeVos family's mission than eradicating restraints on political spending," wrote New Yorker investigative journalist Jane Mayer in her book, Dark Money.
Another Senate Democrat, Elizabeth Warren of Massachusetts, is also going after DeVos, having penned a lengthy letter to the nominee criticizing her lack of experience in public education (she has none) and providing 41 questions she wants answered during her hearing.
Donations to senators who will vote on her confirmation
In addition to giving nearly $200,000 to the Republican National Committee and millions more to super PACs aiding Trump and GOP senators' campaigns—including one founded by the Koch brothers—DeVos has donated directly to the campaigns of numerous senators who will vote on her confirmation. She and her husband Dick have given $265,000 to these numerous confirming senators over the years, and additional family members have pitched in even more.
No senators have indicated that they will recuse themselves from the vote, so two money-in-politics reform groups—Every Voice and End Citizens United—launched a public campaign January 6 to pressure the senators who have received donations from DeVos to do so. Over 20,000 people have signed the petition, and the groups are sponsoring digital ads targeting four members of the HELP committee who have received tens of thousands each in campaign donations from DeVos: Richard Burr (R-NC), Bill Cassady (R-LA), Lisa Murkowski (R-AK), and Tim Scott (R-SC).
In 1997, DeVos said that she and her family "do expect some things in return" when they make political donations.
"Pay-to-play politics has no place in our government," said Tiffany Muller, executive director of End Citizens United, in a press release. "Yet Betsy DeVos has said she expects something in return for her contributions—making it unethical for these senators to vote on her nomination."
Every Voice president and CEO David Donnelly said, "The only way to assure the American people that the Senate is not handing a high-ranking government position to the highest bidder is for senators who have benefited from DeVos' donations to recuse themselves from voting on her nomination."
'The most anti-public education nominee' 
Teachers unions, which see DeVos as a threat to the very institution of public education, are vociferously opposing her nomination. The National Education Association is mobilizing its members to urge their senators to oppose DeVos. Randi Weingarten, president of the American Federation of Teachers, said in a well-publicized speech on January 9 that DeVos, "the most anti-public education nominee in the history of the department," has a "drive to privatize education" that is "demonstrably destructive to public schools and to the educational success of all of our children."
Even the Massachusetts Charter Public School Association expressed concern over DeVos because of her advocacy for private school vouchers and her role in the "widely criticized" charter system in Michigan. DeVos has called traditional public education a "dead end" and an "industry."
Troubling LGBT record
DeVos and her family have donated tens of millions of dollars to organizations that oppose LGBT rights. On January 12, five Democratic congressmen, all co-chairs of the Congressional LGBT Equality Caucus, sent a letter to the leadership of the HELP committee, listing several anti-LGBT groups to which DeVos has given large amounts of money. Among them is Focus on the Family, to which the DeVoses have given $6.1 million and which promotes "conversion therapy" for students and opposes anti-bullying policies and basic workplace protections for LGBT people, among other discriminatory positions.
According to EdSource, DeVos' mother was the fourth-largest contributor to the Proposition 8 campaign, the 2008 anti-same-sex-marriage initiative that barely passed a ballot referendum in California.
Credo Action, the political group affiliated with Credo Mobile, has a petition with over 250,000 signatures urging Senate Democrats to vote against DeVos, whom it labels "an extreme right-wing bigot."
In response to DeVos' record and the GOP platform's attempt to weaken the protections of Title IX of the Education Amendments Act, the groups End Rape on Campus and Know Your IX launched a campaign called #DearBetsy, encouraging people to make videos urging the nominee to protect sexual assault survivors and LGBTQ students.
#DearBetsy, keep students safe. Enforce #TitleIX. Tell @BetsyDeVos why Title IX is important to you! https://t.co/2OaqahokC4@knowyourIX pic.twitter.com/FajZChzS78

— End Rape on Campus (@endrapeoncampus) January 9, 2017
Despite DeVos' potential conflicts of interest, political donations, anti-public education stance and financing of anti-LGBT organizations, many expect her to breeze through her confirmation, as Senate Republicans have a 52-48 majority and many share her views.
Alex Kotch is an independent investigative journalist based in Brooklyn, NY. Follow him on Twitter at @alexkotch.
IMAGE: Reuters