Confusion Over Trump's First Talks With Foreign Leader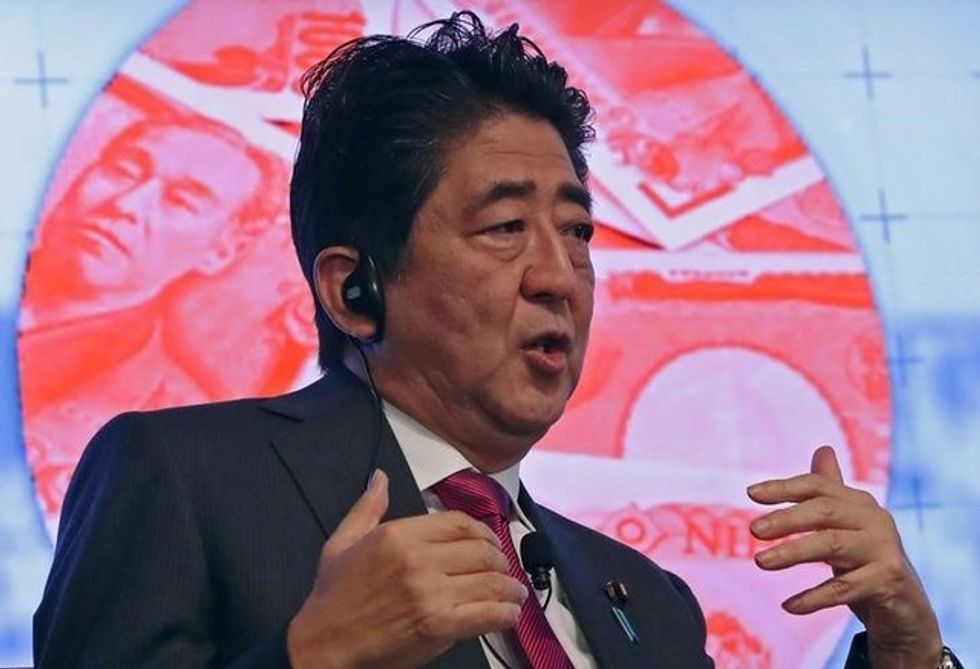 WASHINGTON (Reuters) – One day before U.S. President-elect Donald Trump's first meeting with a foreign leader, Japanese Prime Minister Shinzo Abe, Japanese officials said they had not finalized when or where in New York it would take place, who would be invited, or in some cases whom to call for answers.
Uncertainty over the talks shows the difficulties in turning Trump from a freewheeling businessman into a sitting president with a watertight schedule and a fully functioning administration by his inauguration on Jan. 20.
Japanese and U.S. officials said on Wednesday the State Department had not been involved in planning the meeting, leaving the logistical and protocol details that normally would be settled far in advance still to be determined.
"There has been a lot of confusion," said one Japanese official.
The meeting was only agreed to last week and Trump and his advisers have been busy in meetings at his headquarters in Manhattan's Trump Tower in recent days to work out who gets which job in the new administration.
While world leaders sometimes hold loosely planned bilateral meetings at regional summits, it is unusual for foreign leaders to hold high-level diplomatic talks in the United States without detailed planning. Abe is on his way to an Asia-Pacific summit in Peru.
State Department spokesman John Kirby said that to his knowledge, Trump's transition team had not been in contact with the department either to discuss the transition of government or to seek information ahead of his meetings with foreign leaders.
Trump is expected to use the Abe meeting to reassure Japan and other Asian allies rattled by his campaign rhetoric, advisers to Trump said.
But Trump, a brash outsider with no diplomatic or government experience, and Abe, a veteran lawmaker, have differences on policy issues such as free trade.
Several Trump aides did not immediately answer requests on Wednesday for comment about the Abe visit or contact between the transition team and the State Department.
TRANSITION SPECULATION
Speculation about top appointments to the Trump administration has intensified since the head of the team overseeing the transition, New Jersey Governor Chris Christie, was removed last week and replaced by Vice President-elect Mike Pence.
Transition team officials said on Wednesday night that Trump planned to announce "landing teams" on Thursday that would begin setting up staff in key agencies, like the State and Justice departments.
They added in a conference call with reporters that those who begin working on the teams would have to sign an agreement not to lobby for five years after they leave the administration, keeping with a Trump campaign promise to institute a ban on lobbying for executive branch employees.
Trump on Wednesday denounced reports of disorganization in the team, singling out the New York Times for saying world leaders have had trouble getting in touch with him since his upset victory over Democrat Hillary Clinton in the Nov. 8 presidential election.
The Republican real estate magnate said on Twitter he had taken "calls from many foreign leaders despite what the failing @nytimes said. Russia, U.K., China, Saudi Arabia, Japan."
The Times, a frequent target of Trump's Twitter blasts, said on Tuesday that U.S. allies were "scrambling to figure out how and when to contact Mr. Trump" and blindly dialing in to Trump Tower to try to reach him.
The newspaper said Trump was working without official State Department briefing materials in his dealings with foreign leaders.
"The failing @nytimes story is so totally wrong on transition," Trump tweeted, without specifying what it was in the article that was incorrect. "It is going so smoothly. Also, I have spoken to many foreign leaders."
Trump and Pence had spoken to 29 foreign leaders, the transition team said on Wednesday.
Trump has mostly stuck to normal practice for a U.S. president-elect with the order in which he has spoken to foreign leaders on the phone since his election victory.
But some of his contacts have stretched the limits of the usual procedure.
Egyptian President Abdel Fattah al-Sisi, an army general who seized power three years ago, appears to have been the first leader to speak to Trump after the election, ahead of closer allies like the leaders of Britain and Germany.
Sisi's office called Trump last Wednesday and the incoming U.S. president told him it was "the first international call he had received to congratulate him on winning the election."
Australian media reported that Prime Minister Malcolm Turnbull was the second leader Trump spoke to, after the Australian ambassador to the United States got Trump's personal phone number from Australian golfer and Trump friend Greg Norman.
Trump also talked on the phone to the leaders of Britain, Germany, Turkey and other allies.
But a phone call on Monday with Russian President Vladimir Putin, in which the two men agreed to aim for "constructive cooperation," raised eyebrows among Democrats and traditionalist Republicans worried about a resurgent Moscow.
Trump also met Britain's anti-EU Brexit campaigner Nigel Farage at Trump Tower last weekend, ahead of any meeting with British Prime Minister Theresa May.
State Department spokesman Kirby said: "There's been no outreach to date" from Trump's transition aides. "But it's not for us to approve or disapprove of conversations that the president-elect is having or may have in the future with foreign leaders."
'ONLY ONE WHO KNOWS'
Despite fevered speculation, Trump has yet to say who will fill Cabinet positions such as secretary of state, treasury secretary or defense secretary. His team said that was not unusual and was in line with the timing of the transition of Democrat Barack Obama to the White House after he won the presidency in 2008.
Trump could add son-in-law Jared Kushner as a top White House adviser, the Wall Street Journal reported on Wednesday. Kushner, who is married to Ivanka Trump, has been a central adviser during the campaign and transition. The Trump transition team has repeatedly denied it is seeking high-level security clearance for Kushner.
A federal anti-nepotism law prohibits a president from hiring family members to serve in his administration, but the Journal said it was not clear if the law applied to a position inside the White House. It added Kushner had indicated he would avoid the issue by not taking pay for any White House work.
Kellyanne Conway, a senior Trump aide who served as his campaign manager, said she did not think Kushner was seeking an official role in the White House.
"I just hung up the phone with Jared, and we didn't discuss that," Conway told reporters on Wednesday night. "I think he just wants to be incredibly helpful to his father-in-law as he's been all along."
South Carolina Governor Nikki Haley will meet with Trump on Thursday, the transition team said. She emerged on Wednesday as a potential candidate for secretary of state.
After speculation emerged that JPMorgan Chase & Co Chief Executive Jamie Dimon remained a contender for treasury secretary, the bank's stock price dropped.
(Additional reporting by Doina Chiacu, Susan Heavey, Idrees Ali, David Alexander, Lesley Wroughton and Eric Beech in Washington, and Emily Stephenson in New York; Writing by Ginger Gibson; Editing by Bill Trott and Peter Cooney)
IMAGE: Japanese Prime Minister Shinzo Abe speaks during a Reuters Newsmaker conversation in Manhattan, New York, U.S., September 21, 2016. REUTERS/Andrew Kelly