Congress: Barr Has 'No Legitimate Reason' To Withhold Mueller Report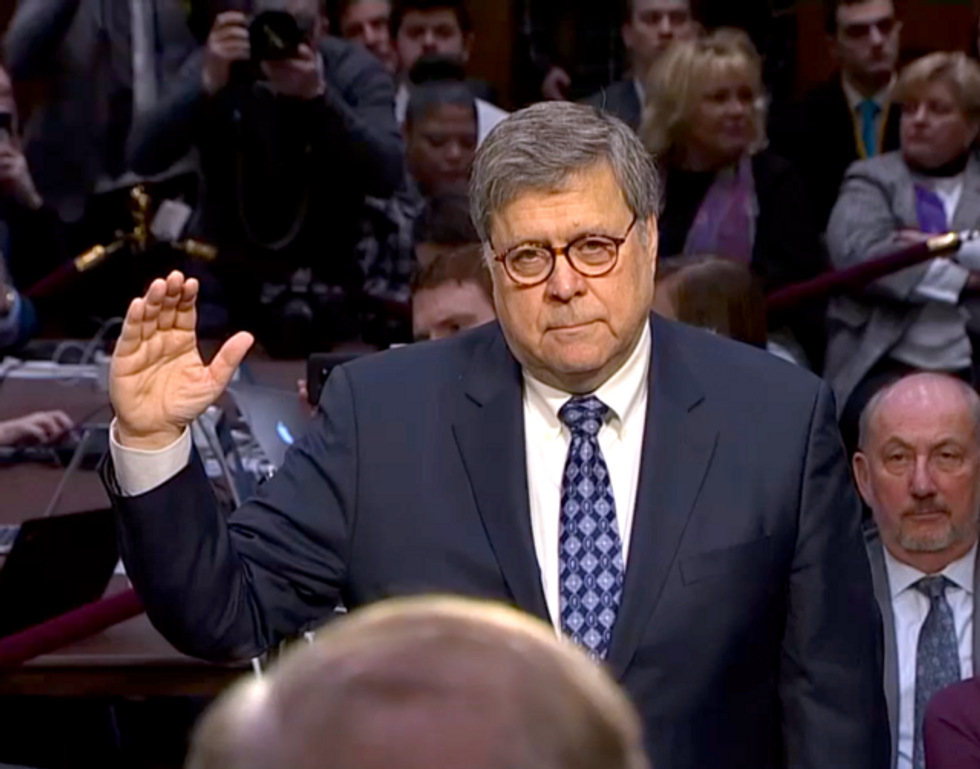 Congress deserves nothing short of the full, uncensored Mueller report. And that's the message congressional leaders sent to Attorney General William Barr in a Thursday letter regarding Barr's whitewashed version censored by Trump's handpicked minions at the Department of Justice.
"First, as a matter of law, Congress is entitled to the full report — without redactions — as well as the underlying evidence," the letter signed by House Speaker Nancy Pelosi, Minority Leader Chuck Schumer, House Judiciary Chair Jerrold Nadler, Senate Judiciary Ranking Member Dianne Feinstein, House Intelligence Chair Adam Schiff, and Senate Intelligence Vice Chair Mark Warner states.
The letter says Barr "has no legitimate reason for withholding these materials from Congress," while acknowledging "there may be legitimate reasons for withholding" portions of the report from the general public, such as classified information.
Special counsel Robert Mueller completed his investigation nearly a month ago, and Barr has thus far refused to share any information with Congress despite repeated requests for the report.
Rather than commit to full transparency, Barr said he will give Congress a censored version of the Mueller report, but he already missed the deadline Congress gave him to hand over the report.
The only information Barr has provided thus far has been a four-page summary described as an "elaborate public relations ploy," by Rep. Jamie Raskin (D-MD), a former constitutional law professor and member of the House Oversight Committee.
In the most recent letter, congressional leaders remind Barr that during previous Justice Department investigations into potential presidential wrongdoing, DOJ worked with Congress to ensure all materials, including grand jury materials, were provided to Congress.
"That has not happened in this instance, despite numerous direct requests, nor have you provided us with any legitimate reason for failing to follow the Department's precedent," the letter states.
The letter also highlights that when Republicans investigated "largely discredited conspiracy theories about Hillary Clinton and about the origins of the Special Counsel's investigation," the Department of Justice had no problem handing over nearly one million pages of information.
"We expect that you will be just as forthcoming with us now," the letter adds.
Barr has kept the Mueller report hidden from Congress for nearly a month, and Congress is quickly losing patience.
When Barr released his summary of the Mueller report, Raskin said the entire episode "smells of a whitewash." Every threat of censorship and each day of delay only gives more credence to Raskin's observation.
Published with permission of The American Independent.