Congress Negotiators Agree On Spending Bill To Avoid Shutdown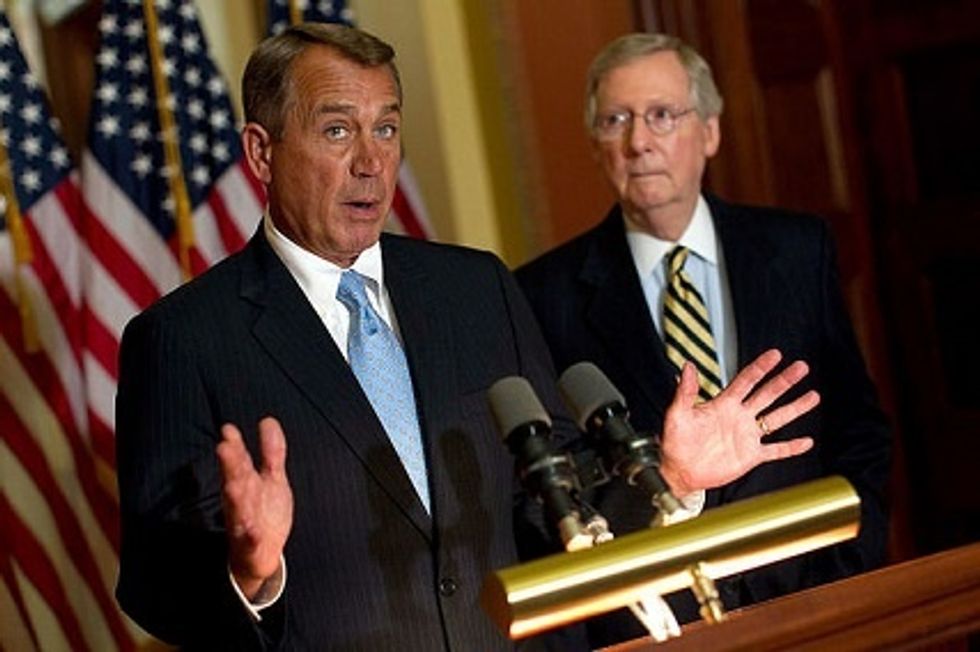 By Lisa Mascaro, Tribune Washington Bureau (TNS)
WASHINGTON — Pushing a tight deadline to prevent a federal shutdown, negotiators in Congress reached agreement late Tuesday on a $1 trillion bill to fund the government — but not before stuffing it with extras that drew deep opposition from both parties.
Tacked onto the spending bill are extra provisions that span the political spectrum, including easing rest rules for truck drivers, loosening financial derivatives regulations for Wall Street and meddling with aspects of a voter-approved marijuana initiative in the District of Columbia.
There is also $5.4 billion to handle the Ebola crisis in Africa and $5 billion to fight Islamic State insurgents. But there are also new reductions in social welfare programs, including a $93 million cut from the Women, Infants and Children nutrition program and $60 million trimmed from the Environmental Protection Agency.
New funding is provided for emerging needs, including $7 million to launch anti-heroin police task forces; $50 million for drought relief in the Western states; and $80 million to care for unaccompanied minors crossing the Southwest border. But there is no money for high-speed rail, including California's project intended to link Los Angeles with San Francisco, and no additional money for Obamacare.
At the same time, the bill would extend ongoing restrictions: a ban on transferring detainees from the Guantanamo Bay, Cuba, facility to the United States, a pay freeze for the vice president and no federal money for presidential portraits.
The legislation also would loosen some campaign-finance restrictions.
Federal workers would see a 1 percent pay raise.
"While not everyone got everything they wanted, such compromises must be made in a divided government," said a statement from the chief negotiators, Rep. Harold Rogers (R-KY) and Sen. Barbara A. Mikulski (D-MD), who head the House and Senate appropriations committees, respectively. "These are the tough choices."
The legislation would fund most of the federal government at levels Congress already approved through the 2015 fiscal year ending Sept. 30. But Republicans agreed to extend funding for the Homeland Security Department only until Feb. 27 as a protest of Obama's executive action to defer deportation of up to 5 million immigrants who are in the country illegally.
Because the package may not be able to clear the House and Senate before money runs out at midnight Thursday, congressional leaders were scrambling to round up support for a stopgap measure to keep federal offices open past the deadline. The round-the-clock negotiations produced the kind of massive, 1,603-page text that congressional critics say the lame-duck Congress should have avoided.
House Speaker John A. Boehner (R-OH), will need to rely on Democratic votes to pass the spending bill over the objections of some of his party's most conservative members, who want to take a stronger stance against Obama.
A House vote is likely on Thursday.
In the Senate, conservatives who oppose Obama's immigration action also have vowed to try to block funding for the program, but they appear hesitant to trigger a government shutdown over the issue. Last year a partisan battle over the president's health care law led to a 16-day shutdown, for which Republicans got most of the blame.
Sen. Jeff Sessions (R-AL), one of the key critics of the immigration plan, said Tuesday he had not yet decided on his next move.
But outside groups, including NumbersUSA, which favors limits on immigration, warned lawmakers that a vote for the spending bill would be counted as a vote for what they referred to as "amnesty" for immigrants living in the U.S. illegally.
Opponents do not appear to have the votes to derail the spending bill, but they could mount procedural roadblocks that would force the Senate to stay in session this weekend to complete its work.
At the last minute, negotiators yanked a provision that would have extended the Terrorism Risk Insurance Act, a federally backed program for companies buying insurance policies in the event of a terrorist attack.
The Terror Risk Insurance Program expires Dec. 31, but Senate Democrats objected to House Republicans' efforts to attach unrelated financial services provisions. The House will try to pass its measure this week, but its chances in the Senate remain uncertain.
Photo: Peter Stevens via Flickr