Congress Does Not Want Its War Power
@jacobsullum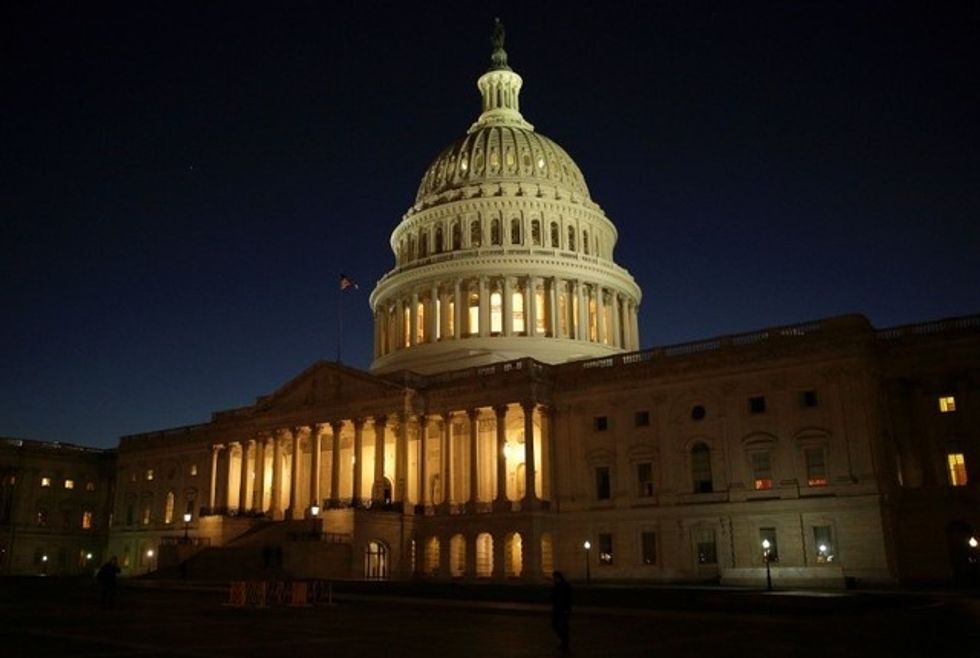 Reprinted with permission from Creators.
The short-lived CBS series Brain Dead, now available on Netflix, is a science-fiction satire about an invasion of Washington, D.C., by extraterrestrial bugs that crawl into people's ears and hijack their minds as part of a plot to conquer the world. But the most implausible aspect of the story is a dramatic Senate committee vote on whether to authorize military action in Syria.
In the real world, of course, no such vote is necessary, because the president does whatever he wants with the armed forces he controls while Congress abdicates its constitutional responsibility to decide when the country should go to war. Last week, 61 senators showed they are happy with that situation by tabling an amendment that would have forced a debate about endless, metastasizing wars that cost trillions of dollars and thousands of lives without making Americans any safer.
The amendment, introduced by Sen. Rand Paul, R, Ky., would have repealed the 2001 authorization for the use of military force against the perpetrators of the 9/11 attacks and the 2002 resolution approving the war in Iraq. The repeal would have taken effect in six months, giving Congress time to consider the justification for continued U.S. military involvement in Afghanistan, Iraq and the various other countries supposedly covered by those resolutions.
"The war in Afghanistan has gone on 16 years now," Paul said before the vote on his amendment. "We have people who will be fighting in the war…in the next year or so who were not yet born on 9/11. We have long since killed the people who perpetrated 9/11."
For years, Donald Trump opposed what has become America's longest war, calling it "a total and complete disaster" that has "wasted an enormous amount of blood and treasure." After becoming president, he changed his mind, reaffirming the U.S. commitment to remain in a country where, by his own account, "we don't know what we are doing." But as far as 61 senators are concerned, there is nothing to debate here.
Barack Obama said the 2001 AUMF should be repealed because it was dangerously obsolete. He nevertheless claimed it authorized military action against ISIS, which did not exist when the resolution was passed. Obama belatedly sought congressional permission for that war while insisting he did not need it. But as far as 61 senators are concerned, there is nothing to debate here.
Paul notes that Congress never approved U.S. intervention in Libya, Syria, Yemen, Nigeria or Somalia. As a presidential candidate, Trump criticized such ham-handed meddling in foreign civil wars. As president, not so much. But as far as 61 senators are concerned, there is nothing to debate here.
Obama opposed the war in Iraq. So did Trump, although not until after it started. Even Hillary Clinton, who as a senator voted for the war, eventually conceded it was a mistake.
"For years now," Paul noted last week, "some senators and candidates have lamented that they voted for the Iraq war." But as far as 61 senators are concerned, there is nothing to debate here.
Those 61 senators include every Republican aside from Paul, Mike Lee (Utah), and Dean Heller (Nev.), who opposed tabling Paul's amendment, and Marco Rubio (Fla.), who did not vote. Opponents of the amendment also included 13 Democrats, several of whom have publicly questioned Trump's fitness for office.
Sen. Claire McCaskill, D, Mo., thinks Trump is a "buffoon." Sen. Sheldon Whitehouse, D, R.I., says Trump is attacking "basic institutions of government…in unprecedented ways." Sen. Jeanne Shaheen, D, N.H., who last year remarked that Trump "doesn't seem to know what's happening outside of Trump Tower," recently worried that he "tries to make national security policy or foreign policy through tweeting."
These senators view the president as ill informed and reckless, if not mentally unbalanced. That they are nevertheless OK with granting him a blank check to use the world's most powerful military as he pleases suggests how desperate members of Congress are to dodge their duties.
Jacob Sullum is a senior editor at Reason magazine. Follow him on Twitter: @jacobsullum. To find out more about Jacob Sullum and read features by other Creators Syndicate writers and cartoonists, visit the Creators Syndicate Web page at www.creators.com.