Congressional Republicans Hope To Avoid Another Disaster Relief Debacle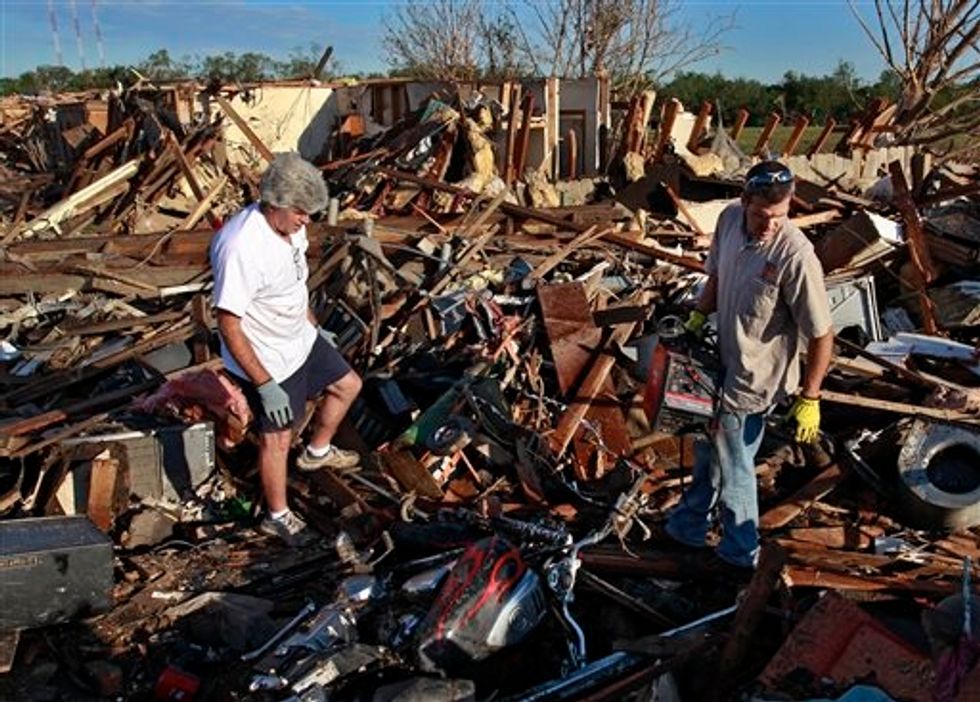 Republican leaders in Congress are insisting that they will provide immediate aid to the victims of the tornado that devastated Oklahoma on Monday, while hoping to avoid another heated battle such as the one that fractured the GOP caucus after House Speaker John Boehner failed to pass a Hurricane Sandy relief bill before the end of the 112th Congress in January.
Senator Tom Coburn (R-OK) first raised the specter of another bitter fight when he vowed to demand spending cuts to offset any disaster relief in the immediate aftermath of the storm. But since Coburn spoke out, many of his fellow Republicans have come forward to push back against the notion that disaster relief should be held hostage.
Jim Inhofe (R-OK), Okahoma's senior senator, insisted that although he opposed the Hurricane Sandy aid bill, the situation in his home state is "totally different."
Similarly, Arizona senator John McCain — who also voted against the Sandy relief package — told Politicothat "I'd love to offset [tornado relief], but the key item is to get it to them as quickly as possible…it should not be a reason not to provide aid."
Senate Minority Leader Mitch McConnell also declined to endorse Coburn's hardline position, telling reporters, "I think the first thing to do is finish the damage assessment, and then we'll figure out what the way forward is."
In the House of Representatives, Republican leadership appears to have learned a lesson from the Sandy debacle. House Appropriations Committee Chairman Hal Rogers (R-KY) told Politico, "I really don't think disasters of this type should be offset," adding, "We have an obligation to help those people. We'll worry about our budgetary items back here, but the aid has to be there."
Similarly, Boehner vowed that "We will work with the administration to ensure the people of Oklahoma get the assistance they need."
Perhaps the most telling comment came from Representative Peter King (R-NY). King, who memorably described Congress' refusal to provide swift relief to Sandy victims as "a knife in the back," explained his reasoning for supporting rapid tornado relief on Tuesday.
"I think they should get every penny they need. I've been through this. We can do the political games later on, the important thing is to get them the aid as quickly as they need it and not to make a political issue out of it," King said.
King's remark amounts to a condemnation of his own party's political strategy. By describing offsetting budget cuts as "political games" that can be brushed aside when Americans need help, the New York Republican is tacitly admitting what economists from both parties have long acknowledged: Balancing the budget just for the sake of doing so is a terrible idea.
Congressional Republicans won't have to put their money where their mouths are quite yet; the $11.6 billion currently in FEMA's disaster fund is expected to cover the immediate recovery costs in Oklahoma, although additional funding may be needed down the line.
AP Photo/Brennan Linsley