Congressman Claims To Have Lost Drunken Arm-Wrestling Match To Vladimir Putin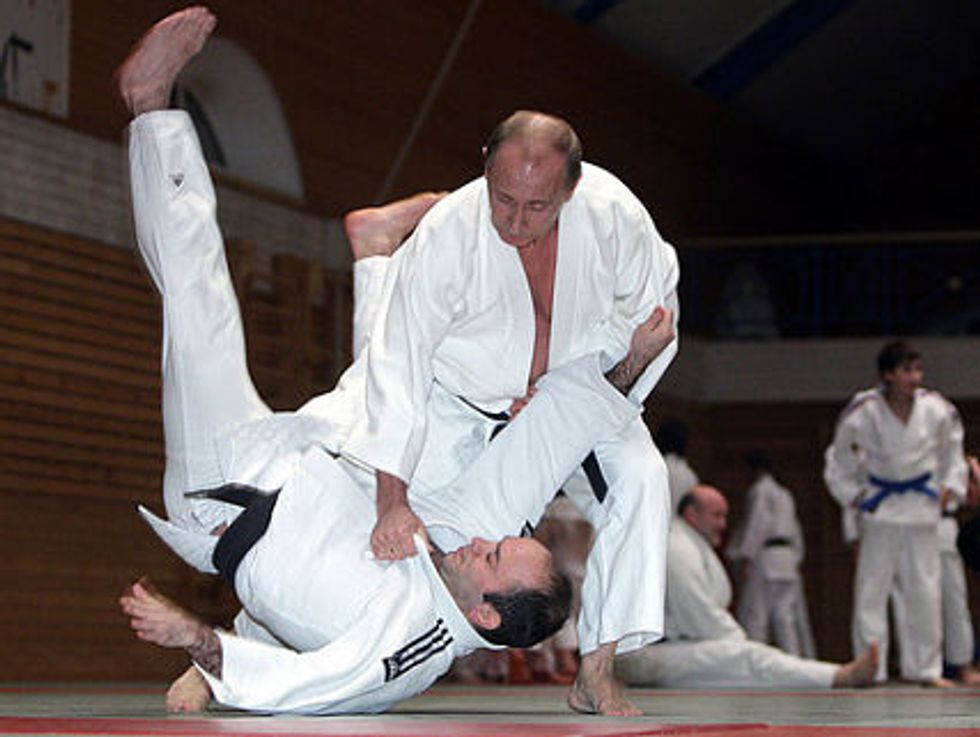 In an interview with Southern California radio station KPCC on Thursday, Representative Dana Rohrabacher (R-CA) recounted a story that should thrill the Putin-infatuated wing of his party: the time he lost a drunken arm-wrestling match to the Russian president.
In the interview, Rohrabacher recalled an early 1990s visit from a Russian delegation that included Putin, who was then deputy mayor of St. Petersburg. After Rohrabacher and "a bunch of [his] right-wing friends" — including Scooter Libby, the former chief of staff to Vice President Dick Cheney — played a game of football with the Russians, they then proceeded to a D.C. bar.
"We all ended up going to the Irish Times pub afterwards and we were having a little bit too much to drink I guess, but anyway we started arguing about who won the Cold War, et cetera and so we decided to settle it like men do when they've had too much to drink at the pub," Rohrabacher said.
"So we got down to these arm-wrestling matches, and I ended up being paired off with Putin. And he's a little guy, but boy I'll tell you, he put me down in a millisecond," the congressman continued. "He is tough … his muscles are just unbelievable. And then his bodyguard gets up and this buddy of mine and says 'oh I'll take him.' And my friend put his bodyguard down, so it was good."
Full audio of Rohrabacher's story is available at KPCC.
Photo of Vladimir Putin, who holds a black belt in judo, via Wikimedia Commons