Conservative Groups Search For Fraud In Mississippi Runoff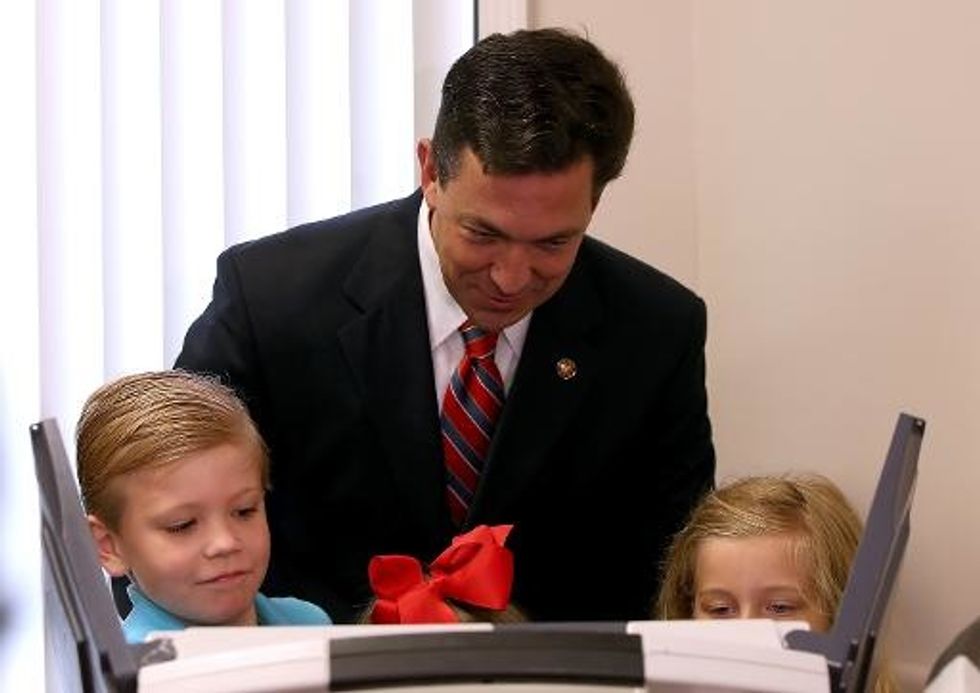 Some conservatives have a problem with the fact that Democrats were the reason that Mississippi senator Thad Cochran beat Tea Party challenger Chris McDaniel in the Mississippi Republican primary runoff — so they're doing everything they can to call the results fraudulent.
True the Vote, a group that works to hunt down any evidence of voter fraud — even though it's very rare — has filed suit with the state of Mississippi so the group can gain access to election records. True the Vote clearly leans Republican, and its directors also run King Street Patriots, a Tea Party group. True the Vote has also worked to stop the recall of Gov. Scott Walker (R-WI) and supported the Florida voter purge. Its record of uncovering actual fraud is weak, at best.
The group claims that it already has evidence of voters who illegally voted in both the Democratic primary and the Republican runoff. Mississippi has an open primary system, but voters cannot vote in both elections.
"True the Vote has been inundated with reports from voters across Mississippi who are outraged to see the integrity of this election being undermined so that politicos can get back to business as usual. Enough is enough," True the Vote president Catherine Engelbrecht said in a statement.
"This isn't about personality, party, or politics. Senators come and go." she continued. "What must withstand the test of time is the integrity of the process by which we elect our representatives and establish our government. No candidate or party should ever be allowed to twist election laws or subvert voters' rights in the interest of political ambition."
True the Vote cites the "unusual voter patterns" in the runoff as one of the reasons why there must have been voter fraud, as they don't think Mississippi Democrats should have anything to do with electing Republican candidates.
Chris McDaniel is also doing what he can to emphasize that he would have won the election if Democrats weren't involved. In an email to supporters, he wrote, "On June 24th, we won the Republican primary election. As you might have heard, we're not quite done. We are in the process of trying to ensure a fair and accurate election took place on Tuesday."
The McDaniel campaign is currently searching through election books in a futile attempt to find enough irregular votes to invalidate Cochran's win. So far, they claim that they've found more than 3,300 suspicious votes after examining less than half of Mississippi's counties.
The Cochran campaign dismissed these numbers. "Their numbers are wildly exaggerated," Cochran campaign spokesman Jordan Russell told the Sun Herald. "For instance, in one county where they say they found 200 illegal votes, only 37 Democrats voted on June 3."
But the McDaniel campaign's strategy isn't just to prove that there was voter fraud — it's to create enough of a frenzy to force yet another runoff election.
"We don't have to prove that we have 7,000 [invalid] votes … all there needs to be is enough doubt about the election, and we're confident about that," Noel Fritsch, McDaniel's press aide, said to Fox News.
So conservative groups are trying their best to create that atmosphere of "doubt." The Mississippi Tea Party says that it found at least 800 illegal votes in heavily Democratic Hinds County (where McDaniel's campaign says it's found 1,500 such votes).
Tea Party group FreedomWorks is calling on the Department of Justice and the FBI to investigate the Cochran campaign after RedState.com released an interview with a reverend who says that Cochran's campaign paid him to give black voters $15 to vote for Cochran. However, the reverend was paid to do the interview, and the Cochran campaign called his allegations "baseless and false."
Meanwhile, the far right's vendetta against Cochran and Mississippi Democrats will likely serve to continue to alienate minority voters.
AFP Photo/Justin Sullivan
Interested in U.S. politics? Sign up for our daily email newsletter!