Conspiracist Jerome Corsi Fears Perjury Indictment
@FAWFULFAN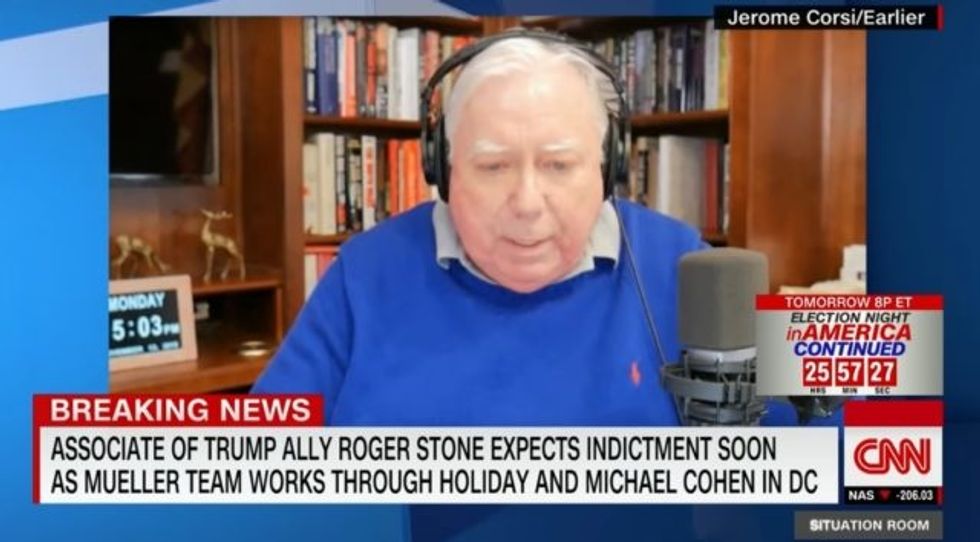 Reprinted with permission from AlterNet.
On Monday, Jerome Corsi, a conspiracy theorist and friend of former Trump adviser Roger Stone, told his supporters in his livestream that he expects special counsel Robert Mueller's prosecutors will charge him for perjury in a matter of days.
"I'm gonna be indicted," he said. "That's what we're told. I'm fully expecting it." He then begged his supporters to contribute money to his legal defense.
According to NBC reporters Anna Schecter and Ken Dilanian, Corsi confirmed his remarkst on air to the press. "When they have your emails and phone records … they're very good at the perjury trap," he complained.
This defeated attitude is a long way from the swagger that Corsi had previously demonstrated in March of this year at the prospect of getting a visit from Mueller, who has spent the past year and a half investigating possible ties between Trump's inner circle and Russia.
"I want to say to Mueller, let's go out in the backyard of the Justice Department," he said at the time on The Alex Jones Show. "You got to have some — let's duke it out. You want to behave like a thug? You want to behave like that? Well this is what you deserve. Let's duke it out. You're finished, you're a hack. The whole investigation is a criminal setup."
Corsi, a former senior staff writer for the far-right WorldNetDaily and Washington bureau chief for Alex Jones' conspiracy site InfoWars, has been a familiar face in fringe-right-wing politics for years. He co-authored the infamous "Swift Boat" attacks against John Kerry, claiming that he fabricated aspects of his military service in Vietnam. He was one of the original leaders of the racist "Birther" hoax, writing an entire book purporting to expose President Barack Obama's supposed origins in Kenya, claiming the Obama had "A false, fake birth certificate" and that it was a "lie" that he was born in the United States. He claimed Obama was only a member of Rev. Jeremiah Wright's church to provide cover for his secret homosexuality. And he promoted both the Pizzagate and QAnon conspiracy theories.
Given Corsi's track record, it may not be fully wise to take him at his word on anything. Nonetheless, it has previously been reported that last month, Mueller obtained evidence that Corsi had advance knowledge that Hillary Clinton campaign chairman John Podesta's emails had been stolen and passed along to WikiLeaks. Mueller has been aggressively questioning Stone and his associates for months about his relationship to WikiLeaks, the amount of insider knowledge he may have had and when and how he acquired it.
Mueller has so far either charged or secured guilty pleas or convictions from 35 people, including a number of Russian intelligence officers, President Donald Trump's former campaign manager, his national security adviser, and various members of his campaign.
Matthew Chapman is a video game designer, science fiction author, and political reporter from Austin, TX. Follow him on Twitter @fawfulfan.