Conspiracy Theorist Alex Jones Claims The CIA Is Trying To 'Assassinate' Trump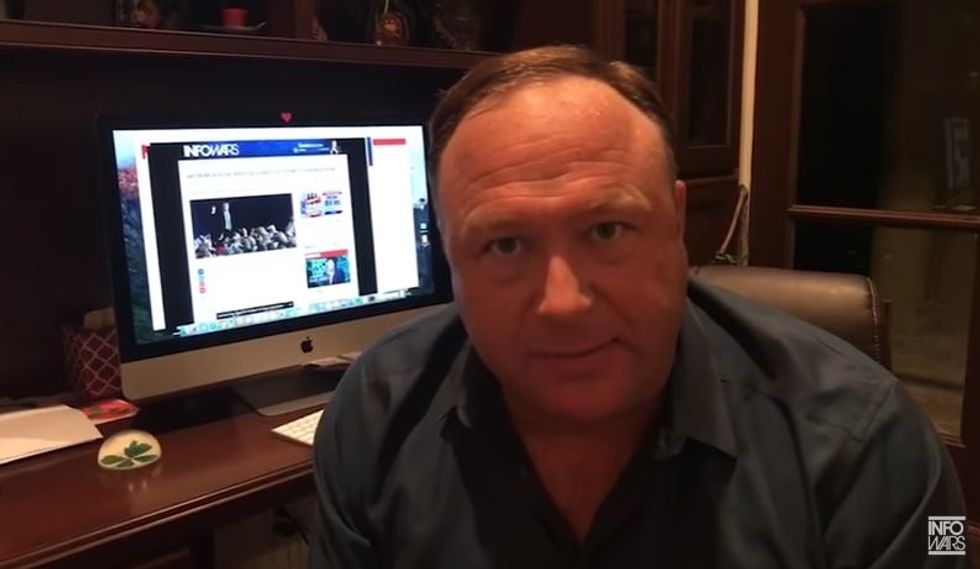 Reprinted with permission from Media Matters for America.
Conspiracy theorist Alex Jones has been repeatedly warning President-elect Donald Trump that "rogue elements" within the CIA are trying to "assassinate" him before he takes office. Trump, who has been publicly feuding with the CIA in recent weeks, reportedly speaks to Jones on the phone and watches his videos. He has previously echoed Jones' other conspiracy theories and rhetoric.
Jones is a toxic promoter of conspiracy theories, including that the United States government perpetrated the 9/11 attacks and the tragedies at Columbine, Oklahoma City, Sandy Hook, and the Boston Marathon, among others. He was also a leading promoter of the false "pizzagate" conspiracy theories that led a Jones listener to fire a gun inside a Washington, D.C., pizzeria.
Trump has mainstreamed Jones: He appeared on Jones' program in December 2015 and said he has an "amazing" reputation. Trump also called Jones after the election to thank his audience for supporting his candidacy and promised to appear on his program soon.
Trump reportedly watches Jones' program and he has repeatedly echoed Jones' ideas and rhetoric, prompting Jones to remark that it's "surreal to talk about issues here on air and then word for word hear Trump say it two days later." Top Trump adviser Roger Stone is also a contributor and frequent guest to Jones' program. He told Jones that Trump appreciates his work and "knows that you are the centerpiece of the resistance."
The CIA recently "concluded in a secret assessment that Russia intervened in the 2016 election to help Donald Trump win the presidency," according to The Washington Post. Trump has responded to the report by dismissing and attacking the CIA. The Post subsequently reported that Trump's attacks "will probably deepen an existing rift between Trump and the agencies and raised questions about how the government's 16 spying agencies will function in his administration on matters such as counterterrorism and cyberwarfare."
Meanwhile, Alex Jones has been repeatedly warning Trump that people within the CIA are "planning to assassinate" or "overthrow" Trump and that the agency is "thinking about bringing in outside mercenaries or other agencies" in order to do that.
Author Jon Ronson reported that Jones told him he and Trump speak on the phone and he also communicates with the president-elect through YouTube videos. Jones reportedly said: "I put a video out … a message to Trump. And then two days later he lays out the case. It's like sending up the Bat Signal."
Following the Post's CIA story, Jones issued an "emergency alert" video on December 11 warning Trump that the CIA is trying "to assassinate" the president-elect. From his December 11 video:
ALEX JONES: Why I'm really concerned is that this could be used inside government to trigger emergency systems under COG (continuity of government) that if a major leader like the president is actually a foreign agent they can then reportedly be taken out. And so to have the bold move of implying that a president-elect is being manipulated and controlled by the Russians is a very, very serious telltale sign that they could be thinking about bringing in outside mercenaries or other agencies to actually try to assassinate the 45th president of the United States, Donald Trump, before he even gets into office. Because remember: They are incredibly desperate right now.
Jones added later in his video that "criminal corporate elements inside the CIA and other agencies" are "moving right now to try to basically overthrow Trump."
On December 11, he issued another "alert" in which he accused the CIA of subverting Trump and the election. Jones said he "contacted the proper parties. I have run this intel up a lot of important, informed flagpoles, and they all concurred that there is a plan, which we now see is quite evident, to try to steal the election from the American people and Donald J. Trump." He added that "rogue elements of the CIA are planning to assassinate Trump if they can. They're definitely looking at it right now."
Jones also appeared live in an "emergency" Facebook video on December 12 under the caption "CIA Now Stealing Election Trump Must Go On Offense!" In a "message to the president," Jones told Trump, "I know you see some of my reports, but you've got to go on the offense" against perceived anti-Trump forces because "they're going to politically kill you, and your name first, then they're going to kill you." He then suggested that members of the CIA are "enemies" and encouraged him to "go all the way" against them.
Jones' YouTube channel has published numerous other videos accusing the CIA of trying to kill or "overturn" Trump's election. Headlines include "It's Official: CIA, Dems, MSM Planning To Overturn Trump Election!";"National Emergency: CIA Attempting To Overthrow Election"; "Entire MSM Promote Assassination Of Trump, In Prep For CIA Takeover"; and "CIA/Dems Move Forward With Plan to Steal Election From Trump."
Jones has accused the CIA of being involved in some of the worst terrorist attacks in recent history. Jones said roughly a week after September 11 that the attacks were "a federal operation" and he had "smoking gun evidence" that Osama Bin Laden was "a CIA asset" and "a CIA hireling doing his job" for the government.
He claimed that the CIA was part of a government cabal that bombed the Alfred P. Murrah Federal Building in Oklahoma City in 1995. Jones said, "Oklahoma City was a total false flag with NATO, the ATF, and the CIA and the FBI."
Jones claimed that Dzhokhar Tsarnaev, who was convicted of the Boston Marathon bombing, "was totally set up, ladies and gentlemen, to sell the police state." Jones also claimed that Dzhokhar's deceased brother, Tamerlan Tsarnaev, "worked for the CIA."
The conspiracy theorist also recently claimed that Facebook's new plan to fight fake news is a CIA plot and called on Trump to "unfund the CIA trying to run this."