Cop-Killer In Trump Video Was Released By Sheriff Arpaio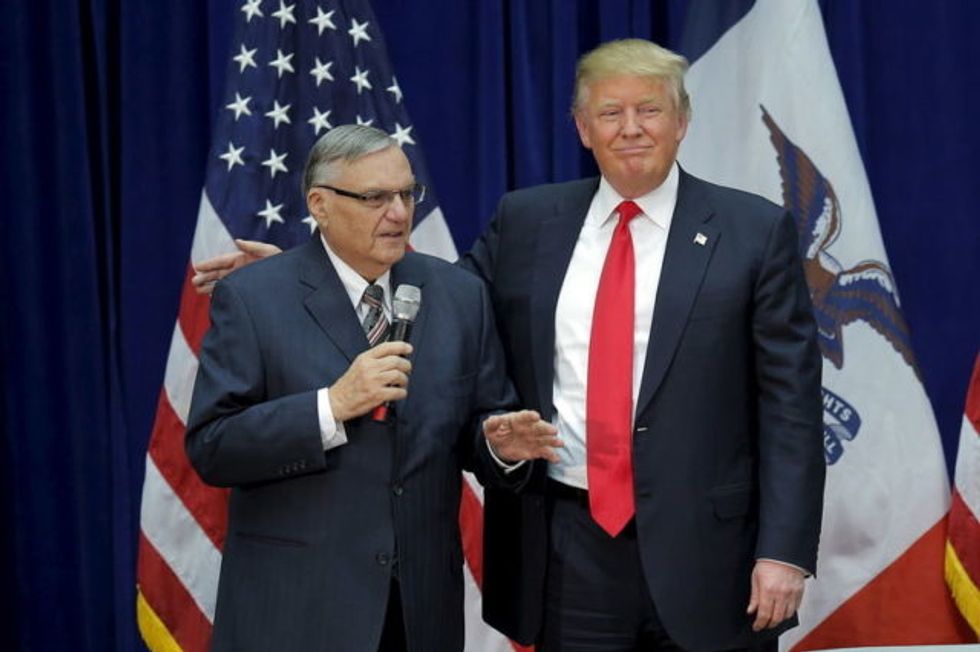 Reprinted with permission from Shareblue.
Trump is blaming Democrats for the release of a cop killer, but it was actually his ally Sheriff Joe Arpaio who played a pivotal role in his release.
Trump tweeted a web video falsely alleging that convicted cop murderer Luis Bracamontes was allowed to commit his crimes because of Democrats. An undocumented immigrant, Bracamontes killed two police deputies in 2014.
But after he was arrested and deported in 1997, when Bill Clinton was president, Bracamontes was arrested in Phoenix in 1998 and then released "for reasons unknown" by Arpaio's office.
Bracamontes was again arrested and deported in 2001, but he returned to the United States in 2002, when George W. Bush was president. It was after this last entry that he committed his murders.
Trump and his team omitted Arpaio's role in the saga from their propaganda video, choosing instead to lie and advance the Republican Party's racist fear-mongering in the final days of the 2018 campaign.
Arpaio is a long-time Trump ally, who was a key figure in promoting the racist, crackpot "birther" conspiracy that falsely alleged that President Barack Obama was not born in America. Trump was the most prominent supporter of the conspiracy theory.
The criminally racist Arpaio was pardoned by Trump after he illegally engaged in racial profiling through his office, even after the courts told him to stop. Arpaio was the sheriff of Maricopa County, Arizona, where he engaged in abusive behavior of inmates and sought the national spotlight with a series of embarrassing stunts.
Most recently, Arpaio ran for the Republican nomination for Arizona Senator and came in an embarrassing third place.
The cop killer at the center of Trump's web ad was released by Trump's friend and returned to America for his killing spree when Trump's party was in control.
The ad is false and is a deceptive attempt to whip up anti-immigrant sentiment, which Republicans are desperately relying on to hold on to power.
Published with permission of The American Independent.