Corbett Attorneys Compare Gays To 12-Year-Olds, As Governor's Poll Numbers Plummet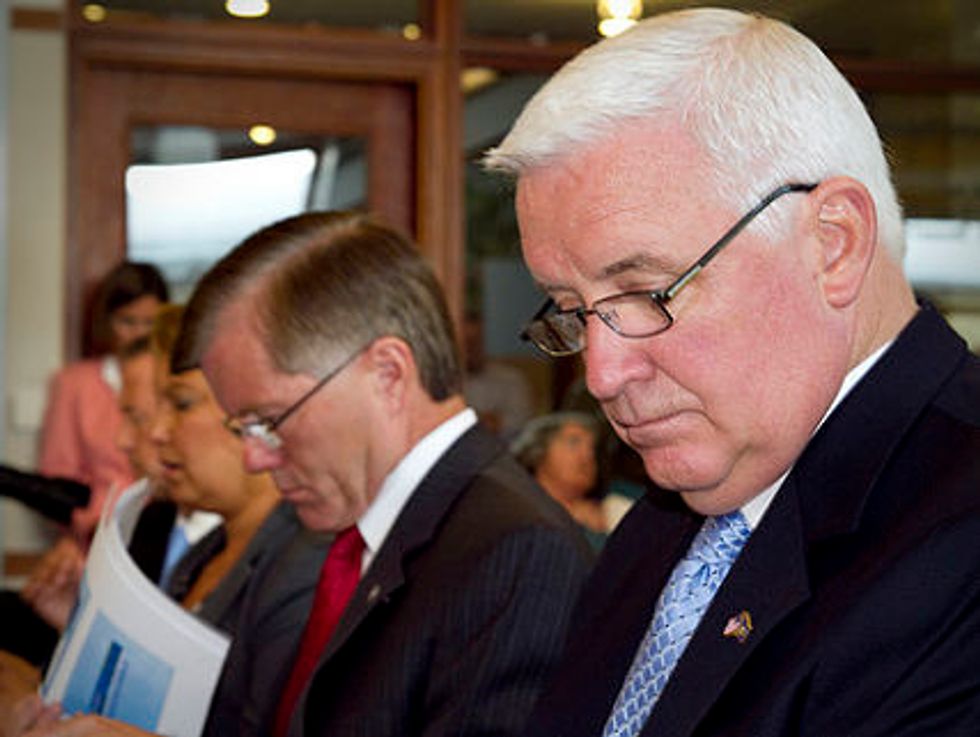 Pennsylvania Governor Tom Corbett (R) is dealing with yet another self-inflicted wound, after his administration's attorneys compared Pennsylvanians seeking same-sex marriages to 12-year-old children.
The Corbett administration has filed a lawsuit seeking to invalidate over 150 marriage licenses that Montgomery County has issued to gay and lesbian couples since July 24. Montgomery County Register of Wills D. Bruce Hanes, who issued the licenses, argues that the state's 1996 law defining marriage as between a man and a woman is discriminatory and unconstitutional.
In the state's court filing, Governor Corbett's lawyers argued that the same-sex marriage licenses hold no "actual value or legitimacy," and should therefore not be defended in court. But their choice of words has sparked outrage across the state:
"Had the clerk issued marriage licenses to 12-year-olds in violation of state law, would anyone seriously contend that each 12-year-old… is entitled to a hearing on the validity of his 'license'?" the state wrote, according to Philly.com.
The Corbett administration's tone-deaf comparison has predictably drawn criticism from Pennsylvania's LGBT advocates. In a Thursday morning statement, Equality Pennsylvania executive director Ted Martin acknowledged that Corbett must defend state laws, but slammed the governor's attorneys' insulting argument.
"The statements made by the attorneys do not simply defend the laws of the state; they deny loving, committed same-sex couples the dignity they deserve," Martin said. "We're talking about couples who have been together for decades, who have built families together, who have given back to communities across Pennsylvania. We're not talking about children."
This is just one of many controversies to hamstring Corbett's administration over the past several months. In March, reports emerged that Corbett and his wife had accepted over $11,000 in gifts from lobbyists and companies doing business with the state, giving the appearance of conflicts of interest. In April, he suggested that Pennsylvania's high unemployment rate could be explained by rampant drug use among Pennsylvania's unemployed. And in May, he said that he didn't have any Latino staff members because no Latinos want to move to the state capital of Harrisburg.
The almost nonstop controversy — along with Corbett's perceived failures on the economy and education — has clearly taken a toll on the first-term governor's political standing. According to a new Franklin & Marshall College poll, just 17 percent of registered Pennsylvania voters now believe that Corbett is doing an "excellent" or "good" job as governor, and just 20 percent believe he deserves re-election. Both numbers are down from last month. Dissatisfaction with the governor cuts across party lines, as only 7 percent of Democrats, 22 percent of independents, and 38 percent of Republicans say that Corbett deserves a second term.
Governor Corbett is seeking re-election in 2014; the most recent poll of the race found that U.S. Representative Allyson Schwartz or State Treasurer Rob McCord, both Democrats, would lead Corbett by double-digits.
Photo: chesbayprogram via Flickr.com