Correction: Obama Is Not A Liberal
@JamieStiehm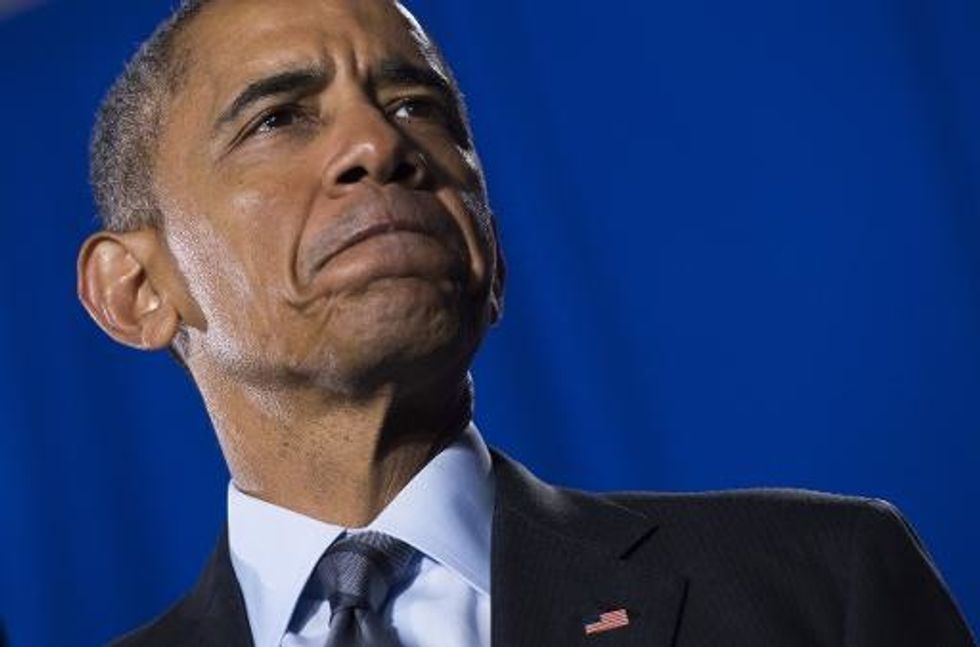 WASHINGTON — Let me count the ways that President Barack Obama is not a liberal.
Obama ran as a liberal Democrat in the 2008 presidential primary, edging out centrist Hillary Clinton from the left. The liberal campaign pose became a convenient fiction he deployed while running to succeed a "war president." Friends and foes are still caught up in that political fiction.
So let's be clear: Obama has not governed as a liberal, not for a single day, not even when he accepted the Nobel Peace Prize in 2009. In Oslo, he gave a speech defending military action, hinting that he did not deserve or even want the honor. It was as if he didn't want the world to see him anymore as a peace-loving liberal once he became commander-in-chief. He has eschewed liberalism in many ways since.
For starters, the national surveillance state — a beast created on his watch — springs to mind. It represents a huge loss of privacy and civil liberties for Americans, but Obama has not paid a price for it. Edward Snowden lives in exile for exposing the extent of government snooping at home. Abroad, leaders are furious that the National Security Agency spied on them, too.
For true liberals, such as Roane Carey, managing editor of The Nation, the revelations were a blow to their core beliefs. "That was one [terrible surprise] I didn't see coming," Carey said.
Second, the presidential embrace of Predator drones — in absolute secrecy — became Obama's "signature" weapon in the global war on terrorism, which he extended. A single drone attack is an act of war out of the blue that may result in taking out a terrorist or two. But it's not so clean and clinical. The damage we also inflict on civilians — say, causing the deaths of innocent village elders — is an uncounted cost of war. The spiral of anti-American anger could catch up with us, if it hasn't already.
Then there's the island jail of Guantánamo Bay, an albatross and human rights stain with dozens of detainees. Obama vowed to close it as a candidate. Now comes the president's penultimate year in office, and he hasn't spent the political capital needed to close Guantánamo, perhaps judging it a hopeless fight. But early on, the president had Democratic majorities in Congress.
On behalf of my tribe, the press, I note that the Obama administration's record of refusing Freedom of Information Act requests is surprisingly high. Press organizations such as The Poynter Institute say interviews and access to public agency documents and employees are too hard to get. This crystallizes the complaining from reporters who say the secrecy they run into is undemocratic — small d. There was an unwritten way in which democracy should work day to day, with a presumption of transparency. Contrary to its claims, the Obama administration's rigid stance toward the press violates the old ways and days. David Sanger of The New York Times is a critic of the "control-freak" administration's high walls.
Obama issues next to no pardons compared with other presidents, so when he pardoned 22 nonviolent drug offenders, it made news. But thousands are incarcerated with harsh sentences for nonviolent crimes. Why so little mercy? On the other side of paradise, precious few moneyed Wall Streeters who helped drive the financial crisis ever went behind bars.
Sadly, the post-9/11 "homeland security" behemoth assembled by George W. Bush settled into stone when Obama took office. Author James Risen, an investigative reporter for TheNew York Times, writes, "Obama performed a neat political trick: He took the national security state that had grown to such enormous size under Bush and made it his own." Facing arrest recently, Risen was pressed by authorities to reveal his source on an intelligence story but refused.
Finally, deep regret fills the space of something Obama didn't do, which is to convene a great national conversation about race 150 years after Abraham Lincoln won the Civil War. Said a Washington editor with a keen sense of history: "Obama had the chance, and he declined to take it, opting instead to follow the path of war and violence against an enemy largely of America's creation."
Obama came riding in on a liberal white horse. But there's no liberal in the White House.
To find out more about Jamie Stiehm and read features by other Creators writers and cartoonists, visit Creators.com.
AFP Photo/Jim Watson