Court Expert: Justices 'Cringing' Over Kavanaugh's Partisan Blowup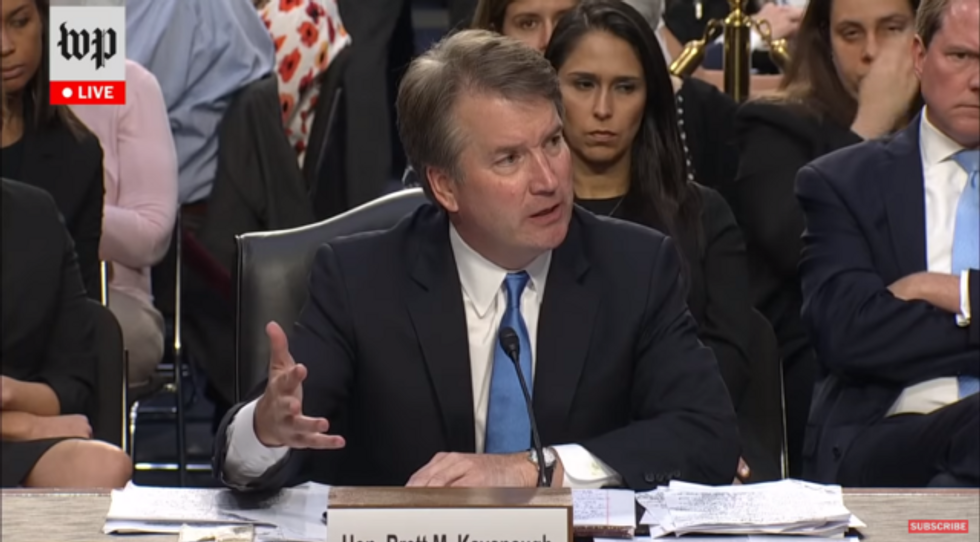 Reprinted with permission from AlterNet.
Throughout his confirmation hearings for the Supreme Court, Judge Brett Kavanaugh portrayed himself as an even-keeled and fair-minded jurist capable of distinguishing his own personal belief from matters of law. That facade was completely demolished on Thursday, however, when he testified about the sexual assault allegations against him and unleashed a fierce and rabidly partisan tirade, slamming Democrats who challenge his nomination and threatening retaliation for the treatment he has received.
It was a fiery display outside the norms of typical confirmation hearings, and though it seems to have impressed many Republicans, many others found it deeply disturbing.
Maria Coyle, a long-time correspondent covering the Supreme Court and law in the United States, argued Friday night on PBS NewsHour that it likely unnerved the sitting members of the Supreme Court.
"In terms of the court itself, I think most of the justices know Judge Kavanaugh, like him, respect him. They've hired many of his former clerks for their own chambers," she said. "But I have to believe there was a certain amount of cringing going on last night."
She continued: "Justice Kagan recently said in a public conversation that the court relies on, for its legitimacy, that the American people believe that it's decisions are made with a certain amount of integrity. So any time there is a partisan cast to any cases that come to the court, they worry about this, and they worry that they will be viewed as a partisan institution."
Coyle acknowledged that many Americans already view the court as an entirely partisan institution. But that only makes the problem she identified with Kavanaugh's statements worse: They add fuel to the fire.
"I think probably Judge Kavanaugh's comments last night, as well as his appearance on Fox [News] — which is associated with a certain political view — probably is a little worrisome in terms of how some people will view him if he is confirmed," said Coyle.
Watch the clip below:
"I have to believe there was a certain amount of cringing going on last night" from the current justices on the Supreme Court, @MarciaCoyle tells @IAmAmnaNawaz. pic.twitter.com/6s9zrVqdcb

— PBS NewsHour (@NewsHour) September 28, 2018
Cody Fenwick is a reporter and editor. Follow him on Twitter @codytfenwick.