CPAC Meeting In Hungary Promotes Assault On Liberal Democracy
@ShelbyJamerson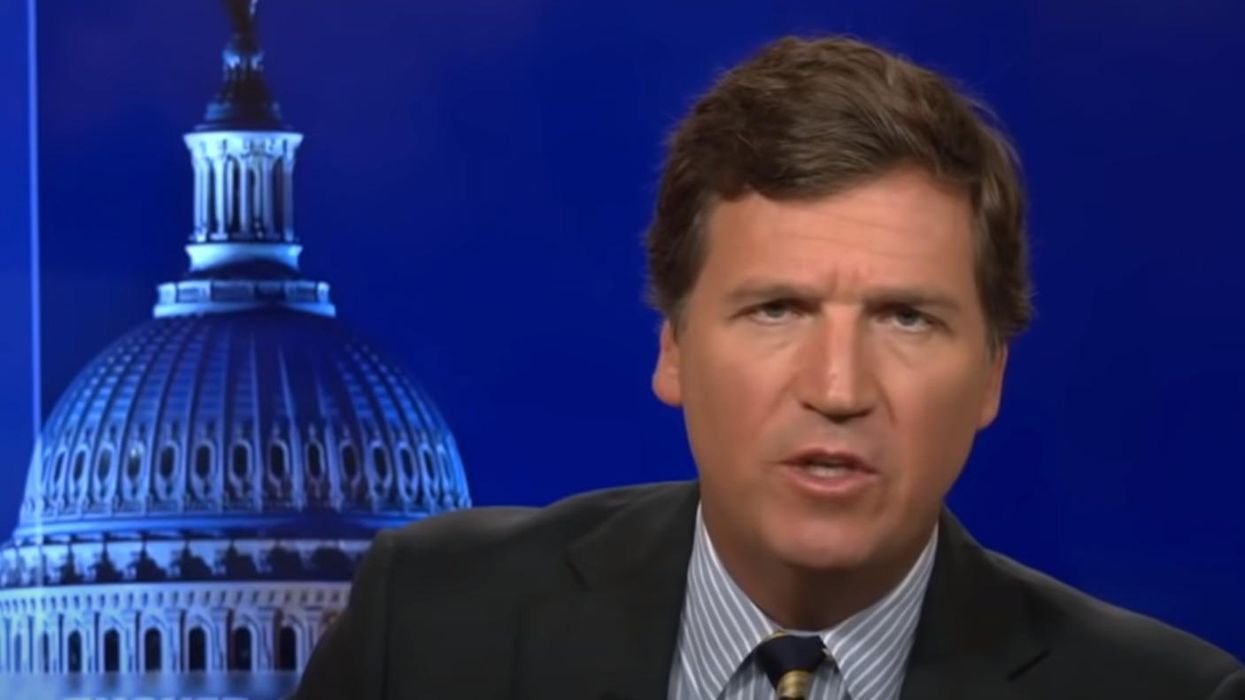 Youtube Screenshot
During a speech at the 2022 Conservative Political Action Conference in Hungary, Hungarian Prime Minister Viktor Orban called Fox News prime-time host Tucker Carlson his "friend" and told his audience that Carlson's show should be "broadcasted day and night."

Orban is a self-identified supporter of what he calls "illiberal" democracy and has rapidly consolidated power for his far-right party, Fidesz.
According to Orban, the secret to his political success was controlling the media, and he endorsed Carlson as the model to follow. "Have your own media," said Orban, also noting: "Only friend Tucker Carlson places himself on the line without wavering."
The nonprofit organization Reporters Without Borders has labeled Orban a "predator" to press freedom for his censoring of critics and his successful consolidation of previously independent media outlets under the control of friendly oligarchs. Fidesz now controls 80 percent of the country's media landscape, and any remaining independent outlets are denied access to official government information and labeled "fake news."
Carlson returned the strongman's praise in his prerecorded keynote address, celebrating Hungary as a "signpost to a better way" for America, a dog whistle to Hungary's racist, anti-immigrant politics.
Since his election in 2010, Orban has worked to silence free speech, banned LGBTQ content in schools, and enforced harsh immigration rules. Because of these policies, the nonprofit Freedom House downgraded the country from "free" to "partly free," making it one of the least free countries in Europe.
Orban's far-right politics are thinly veiled applications of the same "great replacement" conspiracy theory that has become front-page news in the United States. "Hungarians are an endangered species," he said as he stoked fears over immigrants to curtail and prevent further immigration. In 2015, the country built a wall along its border with Serbia to keep out mostly Muslim asylum-seekers, whom he characterized as "invaders" and a threat to national security, Christian identity, and Hungarian society. (Orban's smears of migrants should sound very familiar to anyone accustomed to Fox News' portrayals of the southern U.S. border.)
Human Rights Watch described people in Hungary's detention centers as being "kept in pens like animals, out in the sun without food and water, without any medical assistance." According to Vox, "this is all by design: Prime Minister Viktor Orban has said his goal is to discourage refugees from crossing into Hungary, even at the cost of treating them inhumanely."
Orban's "great replacement" rhetoric is uncannily similar to segments from Carlson's prime-time show. In fact, Carlson's video appearance at the convention comes on the heels of intense media focus regarding his role mainstreaming the great replacement theory in America, which motivated a shooter to massacre 10 people in Buffalo, New York, on May 14. His praise for Hungary under Orban's leadership is just another example of his support for the racist theory.
Orban wants to turn this ideology into a movement, and he sees Carlson's show as a model for right-wing media outlets. During his speech at CPAC, Orban urged conservatives in America and Europe to "find allies in one another and coordinate the movements of our troops" and to "take back the institutions in Washington and Brussels."
Carlson seems eager to help in these efforts. He praised the country's anti-immigration policies in 2019, saying that "Hungary's leaders actually care about making sure their own people thrive" and praised Hungary for "using tax dollars to uplift their own people" instead of "every illegal immigrant from the third world."
Despite broad international criticism for Orban's draconian policies, Fox News greenlit a special episode of Carlson's show last year that broadcast from Budapest, during which Carlson proclaimed, "If you care about Western civilization and democracy and families, and the ferocious assault on all three of those things by the leaders of our global institutions, you should know what is happening here right now."
Republicans chose to hold CPAC in Orban's Hungary, one of the world's most repressive right-wing countries. By Orban's own admission, a loyal media was key to his party's takeover and overhaul of Hungary's democracy. With midterm elections approaching, audiences should take Orban's endorsement of his "friend" Tucker Carlson as a warning.
Reprinted with permission from Media Matters.