Crazy: How Right-Wing Pundits And Politicians Distorted Bill Clinton On Obamacare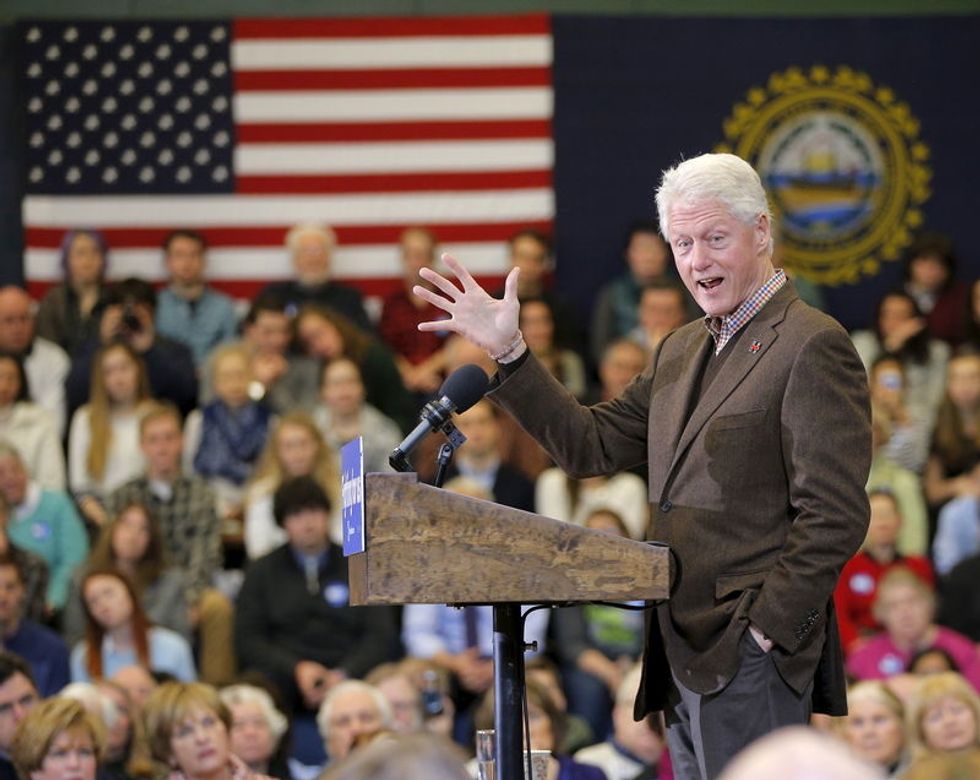 Bill Clinton should probably know by now that if reporters — not to mention his political adversaries — can snatch a quote out of context to embarrass him and his wife, most will not hesitate for an instant. That is what happened on Monday, when he spoke about health insurance costs and how to improve the Affordable Care Act during campaign stops in Michigan.
When the former president noted that middle-income families are seeing premiums double while coverage is reduced, he complained about our "crazy system" — adding that such unfair economic pressure on Americans who work hard "is the craziest thing in the world." Not Obamacare itself, although that was how many in the media — and Donald Trump, of course — tried to distort his comments.
What did Clinton really say? And what did his words mean? He was addressing actual problems with the system under the Affordable Care Act and proposing solutions, not suggesting that the original bill's reforms should be discarded. It is worth reading his remarks in full, since so many right-wing pundits and politicians have truncated what he said to fit their own partisan purposes and prejudices:
Now the next thing is, we got to figure out now what to do on healthcare. Her opponent said, 'Oh, just repeal it all. The market will take care of it.' That didn't work out very well for us, did it? We wound up with the most expensive system in the world and we insured the smallest percentage of people. On the other hand, the current system works fine if you're eligible for Medicaid, if you're a lower income working person, if you're already on Medicare, or if you get enough subsidies on a modest income that you can afford your healthcare.

 But the people that are getting killed in this deal are small businesspeople and individuals who make just a little too much to get any of these subsidies. Why? Because they're not organized, they don't have any bargaining power with insurance companies, and they're getting whacked. So you've got this crazy system where all of a sudden, 25 million more people have healthcare and then the people that are out there busting it — sometimes 60 hours a week — wind up with their premiums doubled and their coverage cut in half. It's the craziest thing in the world so here's the simplest thing — you raise your hands, you think about it — here's the simplest thing: figure out an affordable rate and let people use that — something that won't undermine your quality of life, won't interfere with your ability to make expenses, won't interfere with your ability to save money for your kid's college education. And let people buy in to Medicare or Medicaid. 

 Here's why: you can let people buy in for just a little bit because unlike where you are now, if you were on the other side of this, if you were an insurer, you'd say, 'Gosh, I only got 2,000 people in this little pool. Eighty percent of insurance costs every year come from 20 percent of the people. If I get unlucky in the pool, I'll lose money.' So they overcharge you just to make sure, and on good years, they just make a whopping profit from the people who are least able to pay it.

 It doesn't make any sense. The insurance model doesn't work here; it's not like life insurance, it's not like casualties, it's not like predicting flooding. It doesn't work. So Hillary believes we should simply let people who are above the line for getting these subsidies have access to affordable entry into the Medicare and Medicaid programs. They'll all be covered, it will not hurt the program, we will not lose a lot of money. And we ought to do it.
Remember, he was not criticizing Obamacare in any way that the Obama administration itself hasn't acknowledged — and certainly not in any way that his wife, the Democratic presidential nominee, hasn't already discussed. Indeed on another campaign stop in Pontiac, Michigan, just the day before, he had explicitly praised the president's achievement — as he did repeatedly back in 2012 and many times since then:
 I think [Obama's] healthcare bill has been a remarkable success for 25 million people, and for getting rid of pre-existing conditions, and the problems with it show why the president was right to recommend a public option in the first place because the only real problems I can see with it are small businesspeople and individual working people just above the subsidy line are having. Why is that? Because they're small, they're independent, they do have any market power vis a vis the insurance companies, and that's why Hillary said, "The change we need is not to wreck this thing and repeal it. It's done too much good. The change we need is to create an affordable option for the small business people and the working people who are not covered — that's what the public option is about." 
Creating a public option within Obamacare, possibly though expanding Medicare, is the same position that Hillary Clinton adopted during the Democratic primary. It was the same position she quietly advocated within the administration, despite the constraints of her office.It's not the strict single-payer vision of Bernie Sanders, but it is a progressive alternative to reforming the current system. Happily, several news outlets, from the Huffington Post and The Atlantic to Vox and Modern Health Care, sought to clarify rather than distort — but that won't stop Fox News, the Daily Caller, Breitbart.com, and the panoply of wingnut propaganda outfits from continuing to falsify this story.
Providing quality affordable health care to all Americans has been a primary objective for the Clintons dating back to their earliest days in national politics. No offhand phrase uttered in a stump speech will change that.