Credit Suisse Posts Heavy Loss After U.S. Tax Fine
@AFP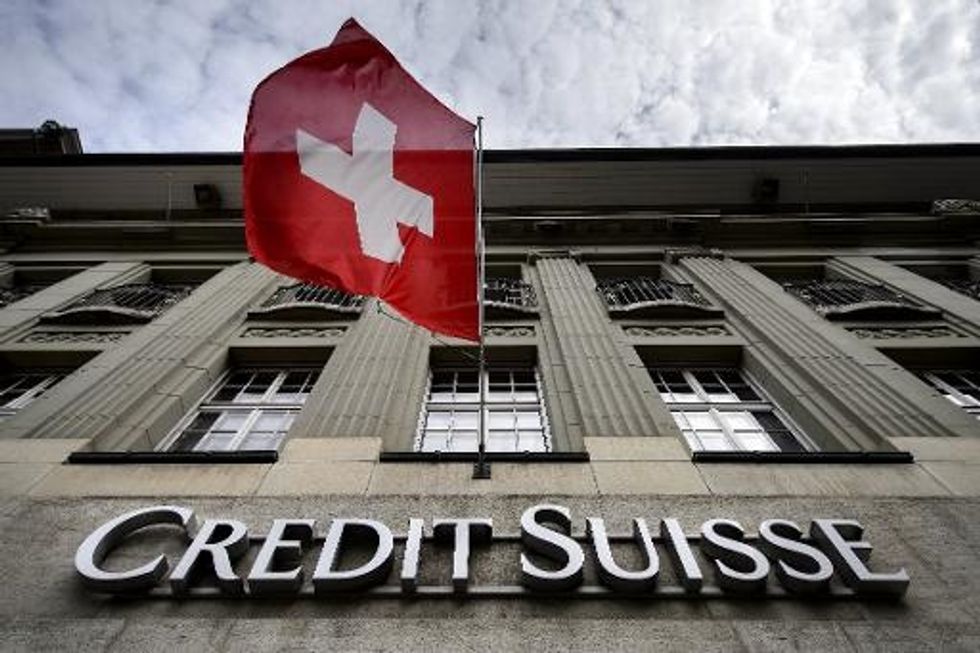 Zurich (AFP) – Credit Suisse posted an unexpectedly big net second-quarter loss on Tuesday as a huge U.S. tax evasion fine sent it deep into the red.
The bank revealed a negative figure of 700 million Swiss francs (576 million euros, $778 million).
The Swiss banking giant paid a $2.6 billion settlement to U.S. authorities in May over tax evasion charges.
The bank stood accused of helping thousands of wealthy Americans hide money in offshore accounts to escape the U.S. revenue service.
The bank's quarterly losses exceeded the forecasts of analysts who had expected them to average 598 million Swiss francs. Last year Credit Suisse posted a 1.04-billion-franc profit over the same period.
The U.S. fine heavily impacted the giant's private banking and wealth management divisions, which racked up pre-tax losses of 749 million Swiss francs, Credit Suisse said in a statement.
This was offset by corporate banking activities which generated a pre-tax profit of 752 million Swiss francs, on a par with the same period last year but down nine percent since the first quarter.
The bank remained upbeat about its performance so far this year.
"Our reported results for the second quarter and the first half of 2014 were impacted by the resolution of our most significant legacy litigation issue," said Brady Dougan, chief executive of Credit Suisse since 2007.
"During the quarter, we continued to see good momentum with clients, while at the same time making further progress in winding-down our non-strategic units," the American said in a statement.
"Our strategic results were solid, demonstrating the resilience of our business model notwithstanding subdued client trading activity in certain areas which impacted both Private Banking and Wealth Management and Investment Banking," he added.
Dougan underlined that Credit Suisse had generated net new assets of 11.8 billion Swiss francs, driven by growth in the Asia-Pacific and Swiss markets, which are both key for the giant.
That more than offset asset outflows of 2.9 billion Swiss francs related to cross-border business in western Europe, he said.
Analysts at investment firm Jefferies underlined that net new money was strong at Credit Suisse, saying that it "should alleviate fears of reputational damage post the U.S. guilty plea".
"The mix, however, was poor, with disappointing Private Banking trends and higher-than-expected costs," they said.
Credit Suisse, Switzerland's second-biggest bank, embarked on a massive restructuring in 2012, echoing a move by its top-ranked rival UBS.
Under that programme, Credit Suisse aims to save 4.4 billion Swiss francs by the end of 2015.
Credit Suisse has also decided to quit the commodities trading business, in which it was not a major player in any case.
"The restructuring of our macro business, including the exit from commodities trading, is expected to drive further capital, leverage and expense reductions," said Dougan.
Amid international pressure on Swiss banks to make amends for past practices of allowing and even helping foreign nationals hide assets, the sector has been undergoing a seismic shift.
Switzerland recently agreed to phase out its long tradition of banking secrecy over the next two years, caving to pressure from foreign governments which since the global financial crisis struck in 2008 have become increasingly eager to lay their hands on such hidden assets.
It reluctantly said it would open the way to automatic exchange of banking data, dropping a long-held conviction that accounts should be taxed but that all information about them should remain confidential.
AFP Photo/Fabrice Coffrini