Crimea Votes On Joining Russia Amid Soaring Tensions
@AFP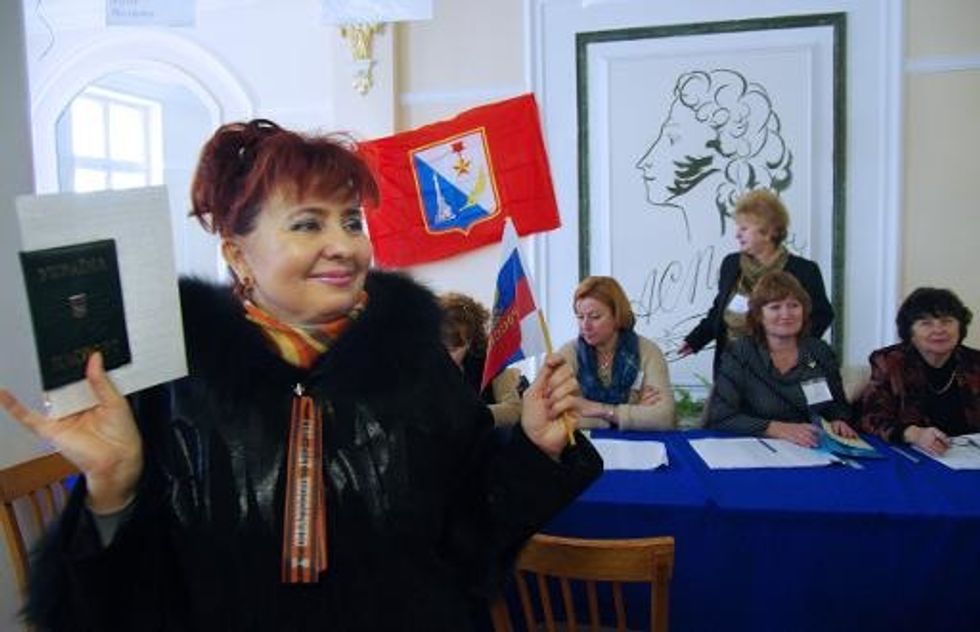 Simferopol (Ukraine) (AFP) – Crimeans voted Sunday in a referendum to join Russia as tensions escalated in eastern Ukraine in the worst East-West crisis since the Cold War.
Russia President Vladimir Putin vowed to "respect" the outcome of the vote in a region that is now under the de facto control of Russian forces despite an international outcry.
Russian flags were being flown everywhere from city buses to convoys of bikers roaming the streets as thousands of people went to the polls in the strategic Black Sea peninsula.
"This is a historic moment," Sergiy Aksyonov, the local pro-Moscow prime minister, told reporters after casting his ballot in the regional capital Simferopol.
Cossacks and pro-Moscow militias were patrolling outside polling stations and Russian troops guarded the unofficial border between Crimea and the rest of Ukraine but the atmosphere was largely celebratory.
However in the flashpoint eastern Ukrainian city of Donetsk, pro-Russian groups in favour of holding a similar referendum stormed the local headquarters of Ukraine's SBU security services and the prosecutor's office demanding the release of their self-appointed "governor," an AFP reporter said.
Ukraine's new government and most of the international community except Russia have said they will not recognise a result expected to be overwhelmingly in favour of Crimea's immediate secession.
Putin told German Chancellor Angela Merkel he would "respect the choice of Crimea's residents" and accused Ukrainian authorities of fanning tensions in mostly Russian-speaking eastern Ukraine.
Ukraine's interim President Oleksandr Turchynov, who last month replaced the ousted Viktor Yanukovych, in turn accused Russia of fanning tensions in eastern Ukraine as a way of justifying an invasion.
"The result has been pre-planned by the Kremlin as a formal justification to send in its troops and start a war that will destroy people's lives and the economic prospects for Crimea," he said.
There were signs of a possible easing in Crimea as Ukraine's defence ministry said its forces on the peninsula had reached a temporary truce with Russia to lift the blockade around Ukrainian bases.
But there was no sign of the agreement being implemented at the Perevalnoye base outside Simferopol, where AFP reports saw Russian forces still in place.
Tensions remained high in other parts of Ukraine's southeast, where three activists have been killed in the cities of Donetsk and Kharkiv in recent days.
Around 1,000 pro-Moscow activists rallied in Donetsk on Sunday to support Crimea's referendum and 2,000 turned out in Kharkiv with a large Russian flag and a sign reading "Our Homeland is the USSR".
Crimea is inhabited mostly by ethnic Russians and has been seized by Russian forces after last month's ouster of Ukraine's pro-Kremlin leader in February, sparking a security crisis on Europe's eastern border.
Some Crimeans who requested anonymity said they would spoil their ballots in protest and there was a call on social media for people to cook vareniki — Ukrainian dumplings — instead of going out to vote.
Crimean authorities denied irregularities but accredited journalists including AFP were prevented from entering some polling stations in the port city of Sevastopol and Simferopol, and several people were seen voting even before the polls had opened.
Foreign observers were present although the Organisation for Security and Cooperation in Europe (OSCE) said it would not monitor because it was not officially invited by Ukraine's national government.
Crimea's indigenous Muslim Tatar community, which was deported to Central Asia in Soviet times, largely boycotted the referendum.
"Of course we are not going to vote," said Dilyara Seitvelieva, a community leader in Bakhchysaray, an historic Tatar town.
"The situation is very dangerous," she told AFP.
Mostly ethnic Russians were seen casting their votes at a polling station in Bakhchysaray.
"We have waited years for this moment," said 71-year-old Ivan Konstantinovich.
"Everyone will vote for Russia," he said.
Voters can choose to become part of Russia or retain more autonomy but stay in Ukraine — a vote for the status quo is not an option.
Out of dozens of people polled by AFP, none said they were planning to vote for the second option.
Preliminary results were expected to be announced soon after polls close at 8 pm.
The referendum committee said turnout was at 64 percent two-thirds of the way through voting.
Rehearsals for planned celebrations have included the slogan "We are in Russia!" beamed on to the government building in Simferopol, leaving no doubt about the expected outcome.
In Sevastopol, home of Russia's Black Sea Fleet since the 18th century, the mood was celebratory and patriotic Russian military songs blared.
Preparations to become part of Russia — a process that could take months — are to begin this week if the referendum result is pro-Moscow.
Russian troops and pro-Kremlin militias took control of the strategic peninsula soon after Yanukovych fled Ukraine for Russia in the wake of three months of deadly protests in Kiev.
There has been no armed confrontation between Russian and Ukrainian forces but several incidents involving journalists and pro-unity activists condemned by Amnesty International as "extremely worrying".
While the West has been powerless to stop Crimea's annexation, Russia faces a painful round of sanctions against top officials that Washington and EU nations are set to unveil on Monday and it could be ostracised or even ejected from the Group of Eight (G8) leading world powers.
Local authorities are calling this a "Crimean Spring" but many Crimeans are concerned about a possible legal vacuum and economic turmoil.
One immediate worry is about the availability of cash and there have been long queues outside banks with Crimeans rushing to withdraw their money.
Crimea would not automatically join Russia after the vote and Ukraine's government has said it cannot survive since it depends on electricity, energy and water supplies from the mainland.
In Bakhchysaray, Anna Ivanovna, 70, said she had voted to join Moscow, but was apprehensive.
"Yes, we will be Russians. It's good but at the same time, at my age, it's hard to change countries," she said.
AFP Photo/Vasiliy Batanov