Cruz And Trump Make Final Appeals To Iowans
@reuters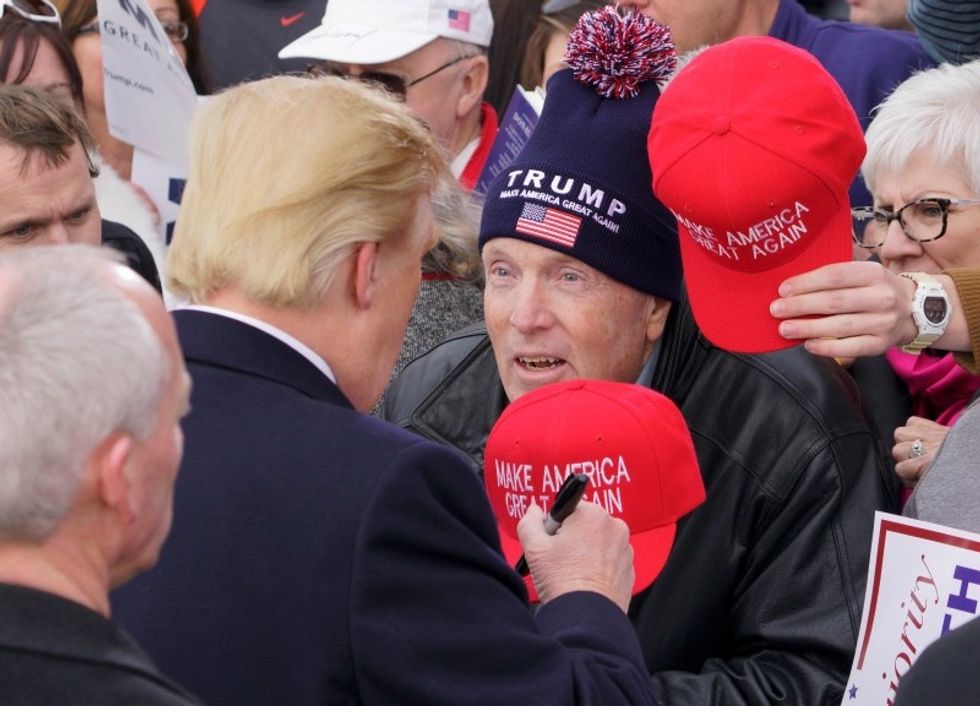 By James Oliphant, Amanda Becker and Steve Holland
AMES, Iowa — Republicans Donald Trump and Ted Cruz, locked in a tight race in Iowa just two days before the state's crucial U.S. presidential nominating contest, urged their supporters on Saturday to give them the first victory of the 2016 campaign.
Trump, the billionaire New York developer, and Cruz, the Texas senator, were among 10 Republicans and three Democrats campaigning in Iowa for their parties' nominations ahead of Monday's caucus sessions but much of the focus was on the fight between Cruz and Trump.
The influential Des Moines Register/Bloomberg Politics Iowa poll released on Saturday showed a tight race, with Trump receiving 28 percent of the support of likely Iowa caucus-goers and Cruz 23 percent. Senator Marco Rubio of Florida was overwhelmingly the third choice, at 15 percent.
In the Democratic competition, Hillary Clinton held a slight edge over Senator Bernie Sanders of Vermont, 45 percent to 42 percent.
The margin of error for the poll was plus/minus 4 percent.
On Monday, Iowans will gather in homes, gymnasiums, libraries, taverns and even grain elevators for caucuses to select their favorite for the Democratic and Republican presidential nominations. When they are finished, the race will take on a new dynamic and several candidates are expected to drop out altogether.
"This is your time," Cruz told a crowd of about 1,000 at a hotel ballroom. "This is the time for the men and women of Iowa to make a decision. We are inches away."
Across the state, Trump used stagecraft and blasted Cruz to enliven the crowd as he barnstormed through eastern Iowa. At the Dubuque airport, Trump's plane, with his name emblazoned on the side, did a fly-by before he spoke to a crowd of about 400, small by Trump standards.
"You've got to go out and caucus," Trump told them. "You've got to get out there. I don't care what happens. If your wife leaves you for another man, if you leave your wife because you don't like her, I don't care what it is. If you're sick, you've got to get out."
While Trump made his remarks before the release of the Iowa poll, he noted that other polls have shown his lead in Iowa more tenuous than in other states.
"I'm not used to 5 points," he said.
While at his event in Ames, Cruz refrained from attacking Trump but the New York developer was not so circumspect. He continued to suggest that Cruz may not be legally qualified to be president because he was born in Canada.
"How the hell can you run for president?" Trump said. "Ted has a big problem."
On the Democratic side, Clinton and Sanders, along with former Maryland Governor Martin O'Malley, agreed in principle to add four debates to their calendars, Clinton's campaign said, although the Sanders campaign said there remained disagreements over where they should be held. If the campaigns can find agreement, the first will be next week in New Hampshire, contingent on approval by the Democratic National Committee.
CLINTON ON GUN CONTROL
Clinton made a stop as well in Ames, where she spoke to a crowd of more than 1,100 at Iowa State University. She was introduced by former astronaut Mark Kelly and his wife, former U.S. Representative Gabby Giffords, who in 2011, was critically wounded in an assassination attempt in Arizona. In her remarks, Clinton praised gun-control measures recently taken by President Barack Obama.
"None of it will stick if it's not a voting issue, and as you go to caucus Monday night, please think about this," Clinton said.
Sanders, speaking at a college in Waverly, stuck to his familiar theme of reducing economic inequality and cited his fund-raising operation.
"I am proud to tell you that we have received almost 3 million individual contributions, more than any other candidate in history," he said, while criticizing Clinton, without naming her, for relying more heavily on wealthier donors.
The New York Times editorial board Saturday weighed on the campaign, endorsing Clinton for the Democratic nomination and Republican John Kasich for the Republicans. The Times called Clinton one of the most "deeply qualified presidential candidates in modern history."
The newspaper said Kasich, the governor of Ohio who is trailing badly in national polls, was "the only plausible choice for Republicans tired of the extremism and inexperience on display in this race."
The moderate Kasich will not be a factor in Iowa, where social and religious conservatives hold sway at the caucuses. Those voters seem to have largely cohered around the fiery Cruz, whose stump speech carries a distinct anti-establishment tone. Conservative commentator Glenn Beck introduced Cruz at the Ames rally.
Cruz is trying to bounce back from what many observers considered a rocky performance in Thursday's debate. With Trump boycotting the event over a disagreement with sponsor Fox News Channel, much of scrutiny fell on Cruz, who tussled with moderators and sniped repeatedly at Rubio.
Rubio also has much to gain from Monday's caucuses. A finish in the top tier could give him needed momentum going into the next nominating contest, the New Hampshire primary on Feb. 10.
He also was on the Iowa State campus, telling about 500 people that his campaign would be working to ensure they follow through with their support.
"We need your help. We want to stay in touch with you for the next 48 hours," Rubio said. "We want to make sure you go caucus."
(This story has been refiled to remove extraneous word in next-to-last paragraph)
(Additional reporting Jonathan Allen by Washington; Writing by James Oliphant; Editing by Bill Trott)
Photo: U.S. Republican presidential candidate Donald Trump signs autographs for supporters at a campaign rally in Dubuque, Iowa January 30, 2016. REUTERS/Rick Wilking