Cruz: "Patrol And Secure Muslim Neighborhoods"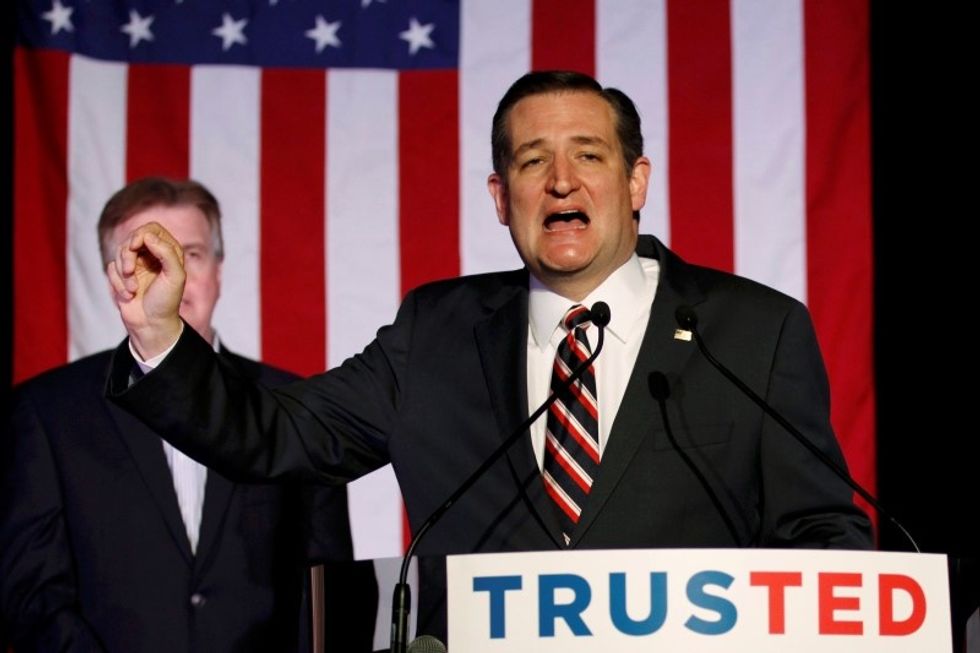 Responding to this morning's attacks in Brussels, Belgium, which killed 31 and injured scores more, Ted Cruz made a statement in which he called on the federal government to "immediately halt the flow of refugees from countries with a significant al Qaida or ISIS presence," and "empower law enforcement to patrol and secure Muslim neighborhoods before they become radicalized."
In Utah and Nevada tonight, Republican primary voters will choose between Donald Trump, Ted Cruz, and John Kasich. Cruz is leading in Utah, which is a proportional state if no one wins an outright 50%+1 majority, and winner-take-all if anyone does.
That might explain why Cruz is trying to, in Amanda Marcotte's words, out-fascist Trump.
That's a battle he's winning, since his announcement that Frank Gaffney would be advising his campaign.
Of course, manipulating the fear created by a terrorist attack is old hat by now: no matter that it's exactly what terrorists want.
No matter that neighborhoods aren't radicalized, individuals are.
And what better way to ensure that American Muslims are protected from the appeals of extremists than by alienating them from their own government, making them feel like pariahs in their own communities, militarizing their police forces, and vilifying their religion nearly immediately after it is used by members of the Islamic State to justify a mass killing?
Photo: Republican U.S. presidential candidate Senator Ted Cruz reacts to the primary election results from Florida, Ohio and Illinois during a campaign rally in Houston, Texas March 15, 2016.   REUTERS/Trish Badger