Cruz Pushes Short-Term Government Funding, Says Obama Is 'Not A Monarch'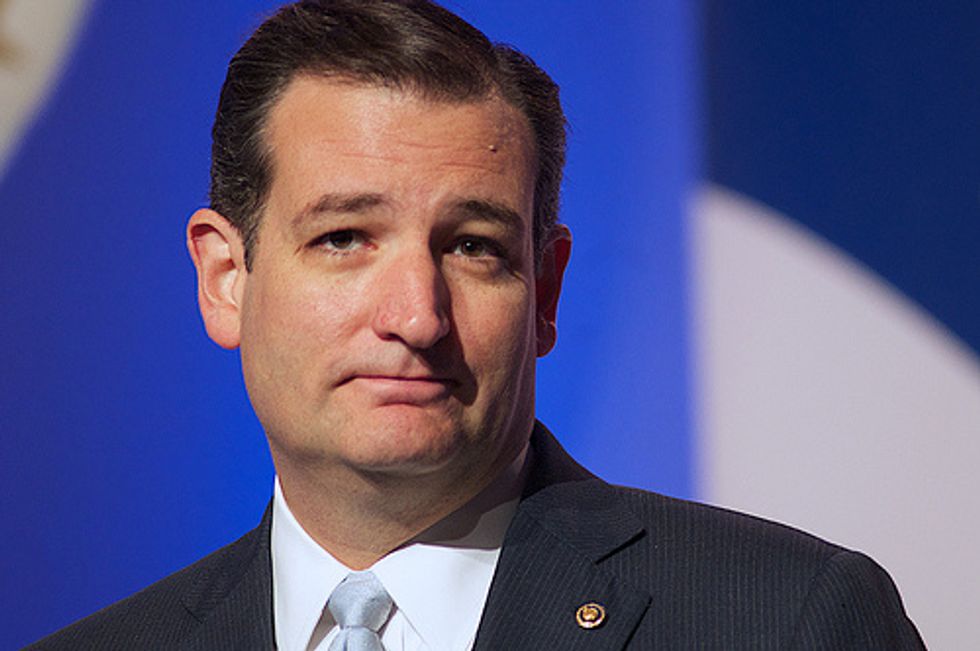 By Niels Lesniewski, CQ Roll Call (TNS)
WASHINGTON — Sen. Ted Cruz doesn't know if his effort to push off the debate on funding the government into next year will prove successful, but the Texas Republican is sure making an effort.
"Time will tell," Cruz said when asked if he thought momentum was building behind using a short-term stopgap spending measure next month. "I think a long-term omnibus or CR makes no sense. It hands over the decision-making authority of Congress to the president. I think what makes sense is a simple short-term CR to get out of the lame duck and into early next year."
Cruz said the Republican wave was a referendum on the expected executive actions on immigration policy by President Barack Obama.
"We'll have a new Congress that was just elected in November to take up the issues of the day, and in particular, to stand strong and united against the president unilaterally and illegally trying to extend amnesty to millions who came here illegally," he said.
"Unfortunately, it appears the president is angry and defiant towards the voters. It is my hope he will reconsider, and not begin this coming year by declaring war on the voters, rather that he will demonstrate fidelity to law and to the Constitution," Cruz said.
"The president is not a monarch. He does not get to decree my way or the highway, and if the Congress doesn't give me everything I want, I will impose it by fiat, Cruz said. "That's not the way the Constitution works."
The strategy of using a continuing resolution only funding the government's operations into the early part of the new calendar year has been widely panned by appropriators on both sides of the aisle, who are eager to get to work on the fiscal 2016 measures with Republicans in control on both sides of the Rotunda.
In an opinion piece for Roll Call, House Appropriations Chairman Harold Rogers (R-KY) wrote Monday about the effort to bring about a return to normalcy.
"The day-to-day work of the appropriations process isn't always headline-grabbing, but it is essential to the basic functioning of our government. It is the head-down, nose-to-the-grindstone legislation that Congress can and should enact, but that has been stymied in the past few years by internal political battles, and, frankly, a Senate that largely refused to participate in the process," Rogers wrote. "However, to get back to this regular order in the new Congress, we have to first clear the decks on the leftover, current-year appropriations work. We are now months behind in completing these annual bills, and the current temporary measure keeping the lights on in our government will expire on Dec. 11."
Separately, Rogers has offered up the possibility of rescinding funding for implementing any potential executive actions on immigration after the fact. Senate Majority Leader Harry Reid (D-NV) told Univision that a formal announcement of executive action by Obama could happen "as soon as this week."
Democrats on Capitol Hill, as well as the White House, have been pointing to previous executive actions and the use of discretion by executive departments when it comes to immigration enforcement.
"I don't think it's fair for me to dictate what the president should do. But I do believe that he should do everything he can to complement the law," Reid told Univision. "Remember, the thing that I'm so concerned about is all of this talk of, 'Why do you do this? It's unconstitutional. Why would he do this?' We can go back to Dwight Eisenhower, Republican President of the United States. Every President since Dwight Eisenhower made things get done on immigration by executive order. Ronald Reagan, Bush and Bush, so why are they screaming now? Republican Presidents have done it since Eisenhower."
Cruz was speaking with reporters outside a news conference featuring conservative opponents of the legislation known as the Marketplace Fairness Act, which would allow states and localities to collect sales taxes for Internet retail purchases from outside their home jurisdictions. The office of Speaker John A. Boehner (R-OH) has already made clear the House won't act on the measure this year, but for opponents, concerns linger that Reid might seek to include it in some end-of-the-year legislation.
"I am encouraged by the speaker's public commitment not to allow the Internet sales tax to come up for a vote, and this press conference is simply to build the coalition to hold that line," Cruz said. "I'm encouraged to see a broader and broader coalition coming together to keep the Internet free of crushing sales taxes."
Internet sales taxes are already charged on sales when companies have operations in the state the sales are levied. So companies like Best Buy and Walmart typically collect sales tax everywhere. Even when companies do not levy the sales tax, customers usually still owe the tax on online purchases but few pay it.
Photo: jbouie via Flickr