Cuba Policy Stumps Ben Carson In Florida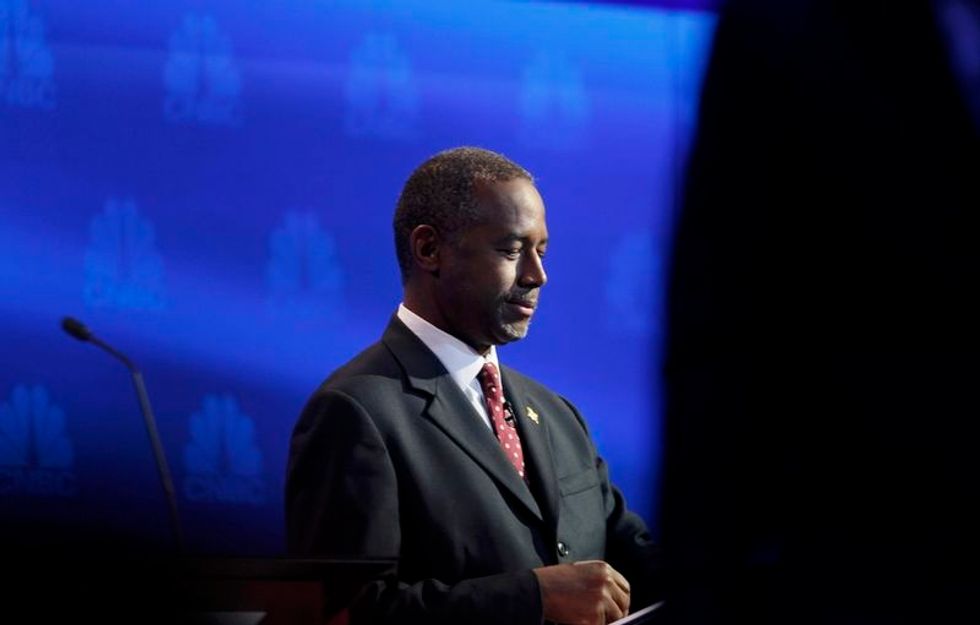 By Patricia Mazzei and Amy Sherman, Miami Herald (TNS)
MIAMI — Ben Carson has defied the traditional presidential playbook, taking time off from the campaign trail to promote his latest book and sign copies for hundreds of fans, even in Democratic strongholds like Tallahassee.
He heads to more unusual ground in South Florida on Thursday: West Kendall, a Latino bastion, and Fort Lauderdale, the seat of the bluest county in Florida. Carson leads hometown candidates Marco Rubio and Jeb Bush in the latest Florida polls, behind Donald Trump.
"I'm a little different than most of the candidates," Carson told The Miami Herald in a phone interview Wednesday.
Before Carson campaigns to Miami-Dade County's Cuban-American Republicans, though, he might have a little catching up to do.
In the Herald interview, Carson appeared stumped by questions about the so-called wet-foot, dry-foot policy, which allows Cubans who reach U.S. soil to remain here, and about the Cuban Adjustment Act, which allows Cubans who arrive in the U.S. to apply for legal residency after 366 days.
He was candid about not being up to speed.
"You're going to have to explain to me exactly what you mean by that," Carson said, asked about wet-foot, dry-foot. "I have to admit that I don't know a great deal about that, and I don't really like to comment until I've had a chance to study the issue from both sides."
On the Cuban Adjustment Act, he gave a similar response: "Again, I've not been briefed fully on what that is."
When a reporter explained the outlines of the policy, Carson said, "It sounds perfectly reasonable."
The reporter then informed him of abuses to the policy by Cubans who obtain residency and claim federal government benefits only to make frequent trips back to the island. The abuses have been documented by The South Florida Sun-Sentinel.
"I think the way to fix that is not so much to abolish the act, but dealing with the specific area where the abuse is," Carson said, noting that Medicare and Medicaid fraud is "huge — half a trillion dollars."
The retired neurosurgeon did speak in greater length about President Barack Obama's move to re-establish diplomatic relations with Cuba.
"I would certainly like to bring Cuba along, in terms of understanding how to treat people fairly. I think we've lost our leverage in doing so, because Raul Castro's 83 years old," Carson said (close: Castro turned 84 in June). "He can't be there much longer. They're going to have a change in regime. That would be the time to normalize relations." The U.S. trade embargo, he added, should be maintained.
Carson is not the first candidate from outside Florida to stumble in his initial encounter with Cuba policy. Four years ago, Republican Herman Cain decried "foggy foreign policy" in Miami — only to fail to respond to a Herald reporter's questions about wet-foot, dry-foot and the CAA.
In his 2012 book, "America the Beautiful," Carson wrote about visiting Cuba with his wife, Candy, and a group of business leaders.
"The many street vendors and performers in the main city squares create a festive facade, but having spoken to Cuban refugees, I could only sympathize with the masses of people and hope that someday they can experience true freedom," he wrote. "Although some people, such as the documentary filmmaker Michael Moore, extol the virtues of Cuban society, the tide of illegal immigration is from Cuba to America, not vice versa."
"Unfortunately, although Americans are free to leave this country any time they want to go live somewhere else, such privileges are not afforded to the average Cuban or those in many countries where the government controls their lives," Carson concluded.
(c)2015 Miami Herald. Distributed by Tribune Content Agency, LLC.
Republican U.S. presidential candidate Dr. Ben Carson pauses during a commercial break at the 2016 U.S. Republican presidential candidates debate held by CNBC in Boulder, Colorado, October 28, 2015. REUTERS/Rick Wilking