Cuba Removed From List Of State Sponsors Of Terror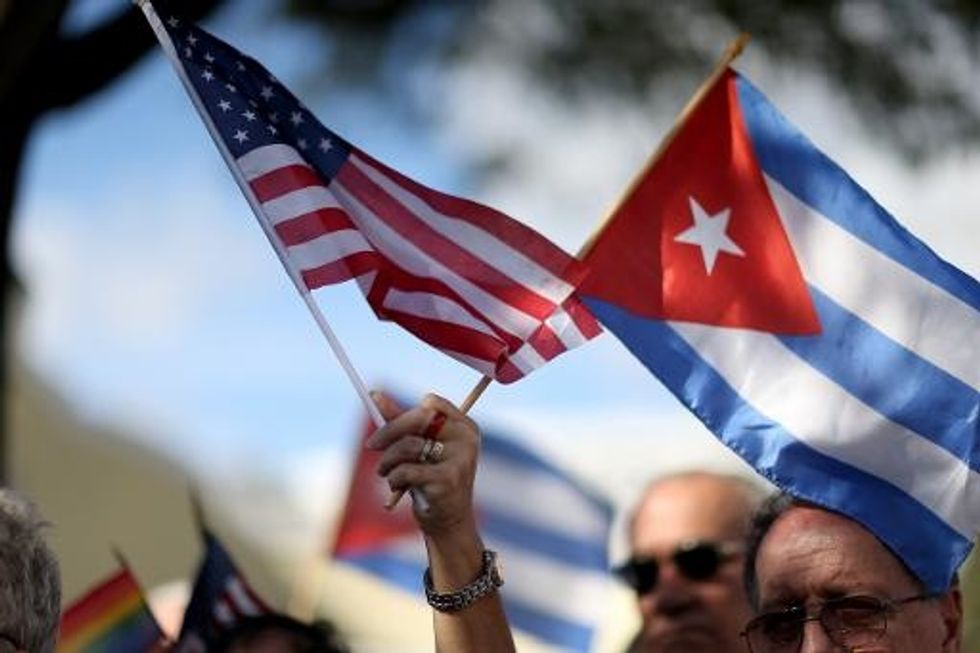 By Mimi Whitefield, Miami Herald (TNS)
MIAMI — After 33 years of designating Cuba a state sponsor of terrorism, the United States is removing its Caribbean neighbor from a list of terrorist nations in another sign of warming relations between the two countries.
President Barack Obama said a message to Congress on Tuesday saying Cuba would be removed from the list because it had not provided any support for international terrorism during the preceding six months and that Cuba had provided assurances that it would not support acts of international terrorism in the future.
The State Department began a review of whether Cuba should still have a place on the list of state sponsors of terrorism on Dec. 17, the day Cuba and the United States announced they planned to put more than a half century of hostility behind them and work toward normalizing relations. It forwarded its recommendation to the president last week.
In accordance with U.S. law, Obama is required to inform Congress 45 days before the directive takes effect. Congress doesn't have to validate his decision but it could decide to take action to override his recommendation.
Rep. Ileana Ros-Lehtinen, R-Fla., promptly condemned the action, calling it "a miscarriage of justice borne out of political motivations not rooted in reality."
But Maryland Sen. Benjamin Cardin, who became the ranking Democrat on the Senate Foreign Relations Committee after New Jersey Sen. Bob Menendez — an outspoken critic of White House Cuba policy — stepped aside, called the State Department's recommendation "an important step forward in our efforts to forge a more fruitful relationship with Cuba."
Pedro Freyre, a Miami lawyer, said removing Cuba from the list "means the removal of a whole range of legislative and legal restrictions."
A 2006 state law, for example, doesn't allow any money that goes to a Florida state university, including grants from private foundations, to be used to organize, direct, or coordinate travel to any country designated a state sponsor of terrorism. Scholars have complained that the restriction has complicated their research efforts.
Cuba's presence on the list made banks reluctant to handle the accounts of its diplomatic missions in Washington D.C. and at the United Nations. The two missions have been working on a cash basis for more than year after their former banker, M&T Bank, told them it was getting out of the business of handling the accounts of foreign missions.
No other bank has come forward because of fears of regulatory retaliation and they have had good reason to be cautious. The French bank BNP Paribas, for example, was fined $8.9 billion for concealing U.S. dollar transactions with Sudan, Iran, and Cuba, and other banks have received heavy fines for transactions involving countries on the list.
Cuba's removal from the terror list should make it easier for its missions to find a bank.
"Now that burden of regulatory risk will diminish — although it won't disappear," said Freyre, chairman of the Akerman law firm's international practice.
Removal from the list is also a first step toward Cuba's gaining "much-needed access" to financial markets and having representation in multilateral financial institutions, said Jason Marczak, deputy director of the Atlantic Council's Adrienne Arsht Latin America Center.
"Eventual membership in the International Monetary Fund and access to development assistance through the World Bank will be instrumental in facilitating Cuba's full integration into the international financial system and supporting a stronger economy in which Cubans can thrive and U.S. businesses can invest," he said.
But there are a number of hurdles along that path, including U.S. sanctions that "prevent the U.S. from voting for Cuba's ascension into international financial institutions," Marczak said. Congress would have to vote to lift them.
Craig Alexander, senior vice president and chief economist of Canada's TD Bank Group, said the new relationship with Cuba could also increase some Canadian companies' interest in doing business with the United States.
Canadian businesses active in Cuba have limited their U.S. business activities, he said. "Now they can engage more with U.S. companies without running into regulatory problems. This actually makes doing business easier."
Cuba was added to the list of state sponsors of terrorism on March 1, 1982, because of its training and arming of communist rebels in Africa and Latin America.
In its most recent report on worldwide terrorism in 2013, the State Department said: "There was no indication that the Cuban government provided weapons or paramilitary training to terrorist groups."
Opponents of removing Cuba from the terrorism list, however, have made much of two clandestine weapons shipments.
In 2013, a North Korean freighter coming from Cuba and about to transit the Panama Canal was found to be transporting two MIG-21 jets and other undeclared war materiel under sacks of brown sugar. The North Korean shipping company that carried the cargo was sanctioned by the United Nations for violating restrictions on trafficking of weapons systems but Cuba was not.
Last month a Hong Kong-registered vessel headed to Cuba carrying an unregistered cargo of ammunition and gunpowder was impounded in the Colombian port of Cartagena and the captain ordered arrested. China has insisted it was part of normal trade.
Ben Rhodes, a deputy national security adviser and one of the architects of the new Cuba policy, said removal from the list doesn't mean the United States is in agreement with a country's political system or foreign policy or what it does. "It's a very practical review of whether or not a government is sponsoring terrorism," he said.
The State Department's 2013 terrorism report concentrated most of its attention on the activities of the al-Qaida and Hezbollah terror groups rather than Cuba.
In the very short section on Cuba, it said: "Cuba has long provided safe haven to members of Basque Fatherland and Liberty (ETA) and the Revolutionary Armed Forces of Colombia (FARC).
But the report also noted that Cuba had hosted and supported peace negotiations between the FARC and Colombia government, and said Cuba's ties to ETA have become more distant.
The report also mentioned that the Cuban government continues to harbor fugitives wanted in the United States and provides support for them, but did not specify how many fugitives or name them.
Cuba acknowledges that it has granted political asylum to a small number of U.S. fugitives, including JoAnne Chesimard, a member of the Black Liberation Army who is known as Assata Shakur. On the FBI's list of most wanted terrorists, she was convicted in the 1973 murder of a New Jersey state trooper and fled to Cuba after a jail break.
Also believed to be living in Cuba is William Morales, the Puerto Rican separatist and bomb maker, who was convicted and sentenced to 99 years in connection with a 1975 blast that killed four people. He escaped from a New York prison ward in 1979 and lived in Mexico before heading to Cuba.
During the second round of talks between the United States and Cuba in February, Josefina Vidal, Cuba's chief negotiator, said Cuba didn't want to discuss returning people that now have political asylum. Once they are granted asylum, she said, "It can't be a part of this type of talks."
Cuba has said that the United States also harbors fugitives from Cuban justice such as Luis Posada Carriles, who has been accused of plotting the 1976 bombing of a Cubana airliner in which 73 people lost their lives.
Ros-Lehtinen said taking Cuba off the list denies justice for victims such as Werner Foerster, the trooper killed by Shakur, and the South Florida pilots of the 1996 shootdown of two Brothers to the Rescue planes as they approached Cuba.
"U.S. law is clear that a country cannot be removed from the SST list if it has not changed its policies and so long as the country is still supporting acts of international terrorism, but President Obama is yet again willing to circumvent the law by ignoring the Castro brothers continued policies in support of terrorism by providing safe haven to foreign terrorist organizations and repeated violations of international sanctions," she said in a statement.
Among the countries no longer on the list is North Korea, which was designated after a 1987 bombing of a South Korean airliner that resulted in 100 deaths. It stayed on the list from 1988 until 2008 when President George W. Bush removed the designation after North Korea agreed to take steps to disable its nuclear program.
But there have been calls to once again put North Korea on the list for various actions, including last year's cyberattack on Sony Pictures and threats against movie theaters and patrons. In January, the president imposed additional economic sanctions on North Korea.
A pending deal with Iran to curb its nuclear program could result in lifting of sanctions against Tehran if the framework holds up and Iran abides by its commitments.
(c)2015 Miami Herald, Distributed by Tribune Content Agency, LLC
A protester holds up an American and a Cuban flag in Miami, Florida on December 20, 2014 (AFP Photo/Joe Raedle)