Cuccinelli Slips In Polls As Virginians Grow Weary Of Government Shutdown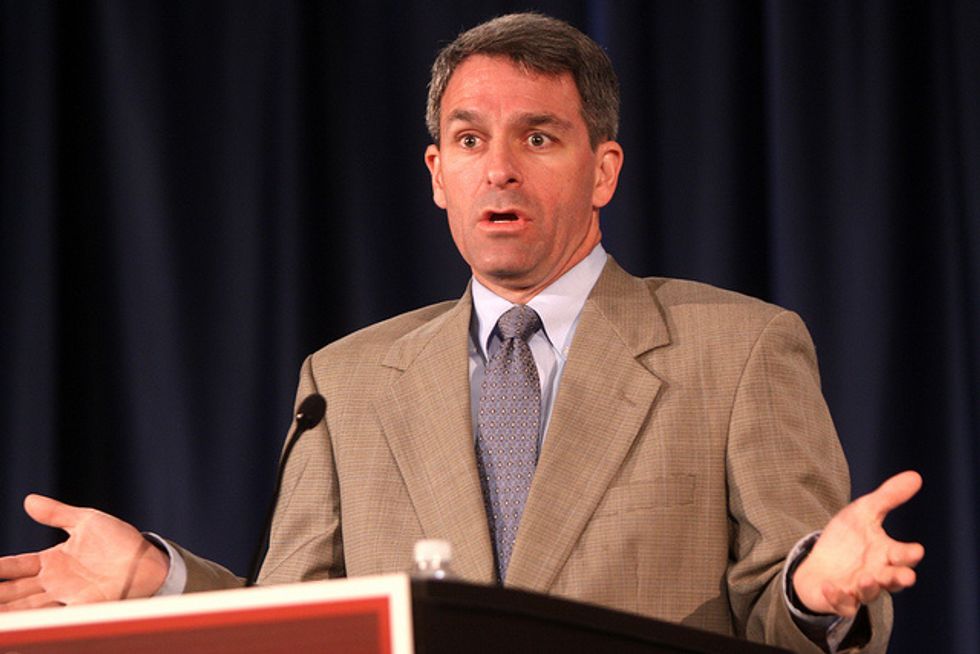 Recent poll numbers have confirmed what most pundits predicted last week: Appearing at a fundraising dinner with Senator Ted Cruz (R-TX) in a swing state like Virginia was a terrible decision by the Republican nominee for governor, Ken Cuccinelli.
A new Politico poll shows that his Democratic rival Terry McAuliffe is now leading Cuccinelli by 9 percentage points. Here's the breakdown:
As the charts show, McAuliffe's rise correlates with Virginians' attitude toward the government shutdown. As the shutdown has grown increasingly unpopular, so has Cuccinelli. Polls from only four days ago show a tighter race — with Cuccinelli trailing McAuliffe by only 5 points.
Cuccinelli's decision to appear at a dinner with shutdown architect Ted Cruz may further account for his declining numbers. The McAuliffe campaign certainly believes Cuccinelli's dinner company weighs on Virginia voters.
"Ken Cuccinelli's event with Ted Cruz reinforced what many voters already knew: Cuccinelli cares more about his reputation with the Tea Party than Virginia jobs impacted by the shutdown," said McAuliffe spokesperson Josh Schwerin. "The more voters learn, the more they side with Terry's bipartisan focus on jobs and against Cuccinelli's divisive focus on Tea Party priorities."
Despite reports that Cuccinelli went out of his way to "shun" Cruz at the Richmond fundraising dinner, the McAuliffe campaign wants to make it clear to voters that Cuccinelli has not publicly renounced Senator Cruz. In a press release, the McAuliffe campaign quoted an October 1 Washington Post story to make this point:
"Cuccinelli's campaign declined to denounce Cruz but also sought to clarify Saturday's dinner. 'It's not a campaign event,' Richard T. Cullen, a spokesman for the campaign, said. 'We work with Ted Cruz. We work with a lot of conservatives who are coming to the state and campaigning for Ken.'"
While Election Day in Virginia is just under a month away and the range in polling data makes the outcome unpredictable, one thing is now clear: Campaigning with Ted Cruz is not a smart political move for Republicans in 2013.
Photo: Gage Skidmore via Flickr