CVS Plans To Rebuild As Baltimore Works To Help Riot-Torn Businesses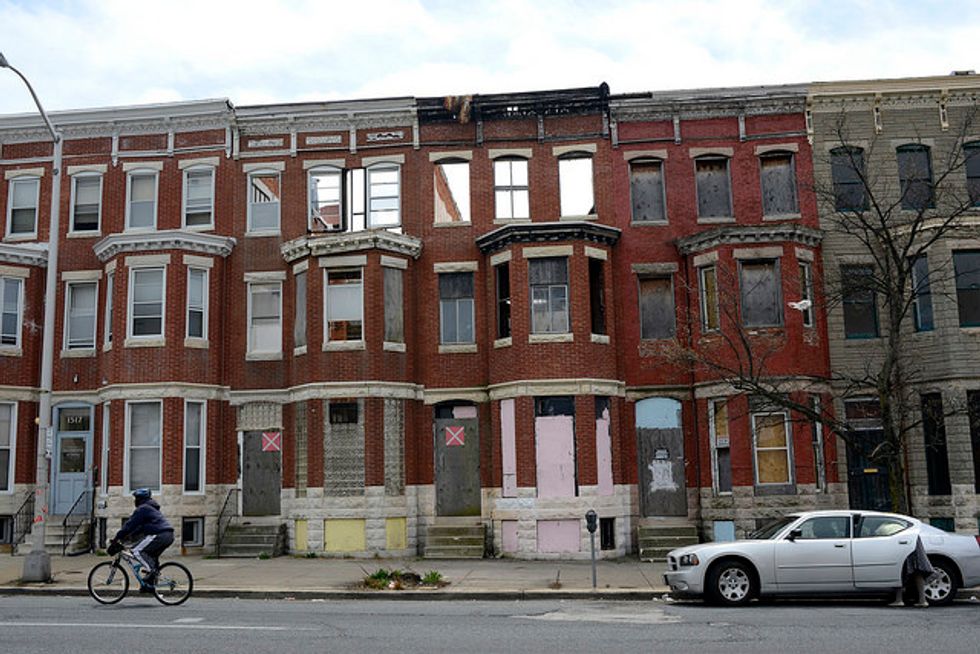 By Natalie Sherman, The Baltimore Sun (TNS)
BALTIMORE — CVS Health said Monday it remains committed to Baltimore and plans to rebuild as the city launched a website designed to help businesses reopen.
Looted and burned, the CVS store at Pennsylvania and North avenues was one of more than 235 businesses damaged in the violence that shook the city last week, said Baltimore Development Corp. President William H. Cole IV. While much of the damage was done in Penn North and from Mount Vernon into downtown, the mayhem affected neighborhoods around the city, including Pigtown, Highlandtown and Hamilton.
The Penn North drugstore was vital to the community, which is considered a food desert for its lack of fresh food options for residents. Five CVS stores in the city were damaged, but only the store in Penn North and another on West Franklin Street remain closed.
Cole said CVS committed Monday to reopening its stores.
"We have a long history of serving inner-city communities and are 100 percent committed to serving our patients and customers in Baltimore," said CVS spokeswoman Carolyn Castel on Monday. "We are working diligently to formulate our rebuilding plans."
She declined to be more specific about those plans, saying the company hopes to make an announcement in the near future.
City leaders asked business owners hurt by the rioting to enter contact information on the new website, BaltimoreBusinessRecovery.org, which went live last week and is designed to connect businesses to city, state and federal resources. Each business will have a Baltimore Development Corp. staff person to provide assistance and act as a point of contact with the city for procedures such as permitting.
"Our No. 1 goal right now is to identify every business that was impacted and help them to get open again," Cole said.
Baltimore Mayor Stephanie Rawlings-Blake, who will visit affected businesses in Penn-North, Monument Street and Mount Vernon Tuesday, asked city agencies to expedite permitting for businesses affected in the riots, said Colin Tarbert, deputy mayor for economic and neighborhood development. Fees will be waived on a case-by-case basis, depending, for instance, on whether insurance will cover the cost, he said.
Cole said the city still does not know how many workers have been displaced and it is too early to put a dollar figure on the physical damage, but anecdotal reports make it clear the toll is high.
At Sneaky Feet on Eastern Avenue in Highlandtown, looters caused about $175,000 worth of damage, stealing the inventory of sneakers, and smashing computers, video systems and other parts of the store, said owner Mario Diaz.
The shop hasbeen closed since April 27, and Diaz said he is not sure if he will be able to reopen — it partly depends on the outcome of a meeting Tuesday with his insurer, as well as what kind of loans are available.
"If we don't have money, we can't do anything," he said. "A big company — for them, it's probably not that difficult to reopen — but for somebody who has only one, it's not easy."
Cole said the city is looking to identify resources for loans.
The city hopes to use the recovery website, which is available in Spanish and Korean, to centralize offers of assistance. It has urged other businesses to participate in the city's Hire One Youth program, which started in 2012 and connects young people to summer jobs in the private sector.
"We've seen the generosity of people in the city who have stepped forward in numerous ways to help, and a lot of those folks that are stepping forward are businesses saying, 'How can I help?' " said Kevin Harris, a Rawlings-Blake spokesman. "This is a ready-made, easy program that's readily available that those businesses can tap into and help, not just in the short term but long term."
Nick's Rotisserie on Washington Boulevard sustained $8,000 to $10,000 in damage, between physical damage, looted food and a stolen cash register when it was struck Tuesday night, estimated owner Romano Fennoy. He expects insurance to cover some of the damage, but other help — like a carpenter sent over by a neighboring business — was critical to being able to reopen by Friday.
"The support for me was so overwhelming I couldn't believe it," said Fennoy, who opened the restaurant in 2007. "I just wish all areas would lend helping hands like those that have lent helping hands to me."
(The Baltimore Sun's Richard Gorelick contributed to this article.) (c)2015 The Baltimore Sun, Distributed by Tribune Content Agency, LLC.