Dallas Police Chief Debunks Conservatives' 'Good Guy With A Gun' Myth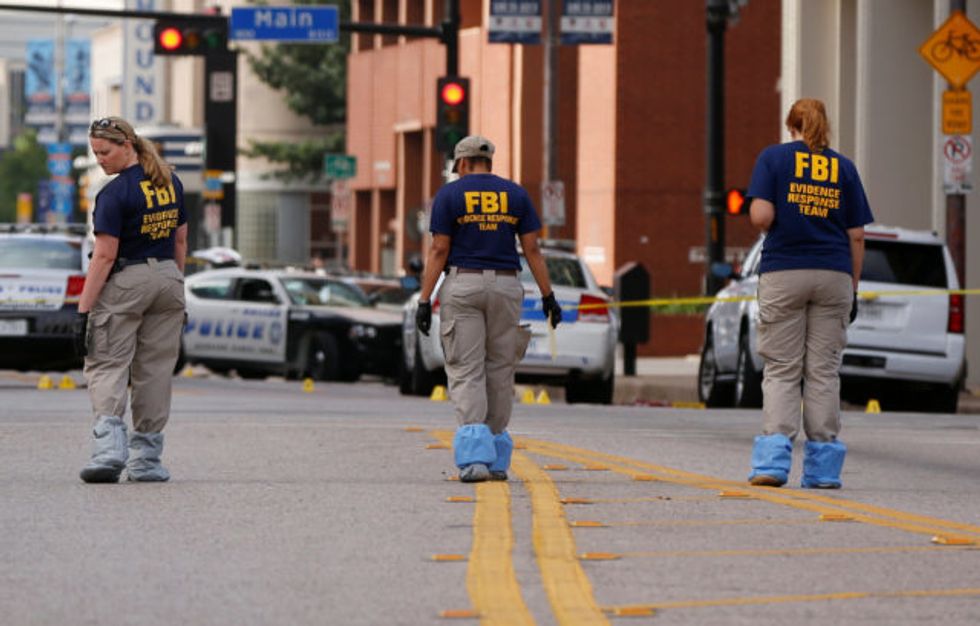 The Dallas police chief stepped into America's fierce gun rights debate on Monday when he said Texas state laws allowing civilians to carry firearms openly, as some did during a protest where five officers were killed, presented a growing law enforcement challenge.
Dallas Police Chief David Brown also gave new details about his department's use of a bomb-carrying robot to kill Micah Johnson, the 25-year-old former U.S. Army reservist who carried out last Thursday's sniper attack that also wounded nine officers.
A shooting in Michigan on Monday underscored the prevalence of gun violence in America and the danger faced by law enforcement, even as activists protest against the fatal police shootings of two black men last week in Louisiana and Minnesota.
Two sheriff's bailiffs were shot to death at a courthouse in St. Joseph in southwestern Michigan, and the shooter was also killed, Berrien County Sheriff Paul Bailey told reporters.
By Monday evening, protesters were marching again in several large American cities, including Chicago, Sacramento, and Atlanta, where news footage showed a number of protesters being arrested after street demonstrations north of downtown.
President Barack Obama and others reiterated their calls for stricter guns laws after last month's massacre at a gay nightclub in Orlando, Florida, but many conservatives responded that such measures could infringe on the U.S. Constitution's protection of the right to bear arms.
Texas is known for its gun culture and state laws allow gun owners to carry their weapons in public. Some gun rights activists bring firearms to rallies as a political statement, as some did at Thursday's march in Dallas.
"It is increasingly challenging when people have AR-15s (a type of rifle) slung over, and shootings occur in a crowd. And they begin running, and we don't know if they are a shooter or not," Brown said. "We don't know who the 'good guy' versus who the 'bad guy' is, if everybody starts shooting."
Seeing multiple people carrying rifles led police initially to believe they were under attack by multiple shooters.
Brown did not explicitly call for gun control laws, but said: "I was asked, well, what's your opinion about guns? Well, ask the policymakers to do something and I'll give you an opinion."
"Do your job. We're doing ours. We're putting our lives on the line. Other aspects of government need to step up and help us," he said.
'SIMPLY MISTAKEN'
Rick Briscoe, legislative director of gun rights group Open Carry Texas, said Brown was "simply mistaken" in viewing armed civilians as a problem.
"It is really simple to tell a good guy from a bad guy," Briscoe said. "If the police officer comes on the situation and he says: 'Police, put the gun down,' the good guy does. The bad guy probably continues doing what he was doing, or turns on the police officer."
Police used a Northrop Grumman Corp Mark5A-1 robot, typically deployed to inspect potential bombs, to kill Johnson after concluding during an hours-long standoff there was no safe way of taking him into custody, Brown said.
"They improvised this whole idea in about 15, 20 minutes," Brown said.
"I asked the question of how much (explosives) we were using, and I said … 'Don't bring the building down.' But that was the extent of my guidance."
The incident is believed to have been the first time U.S. police had killed a suspect that way, and some civil liberties activists said it created a troubling precedent. Brown said that, in the context of Thursday's events, "this wasn't an ethical dilemma for me."
The attack came at the end of a demonstration decrying police shootings of two black men in Baton Rouge, Louisiana, and near St. Paul, Minnesota. Those were the latest in a series of high-profile killings of black men by police in various U.S. cities that have triggered protests.
In the shooting near St. Paul, the Star Tribune newspaper reported that the officers had pulled over 32-year-old Philando Castile because one of the patrolmen thought he and his girlfriend matched the description of suspects involved in a robbery.
In Dallas, a vigil was held for the slain officers on Monday evening.
In Chicago, images and footage on social media and news stations showed about 500 protesters marching through downtown after holding a quiet sit-in in Millennium Park that spilled into the streets and a rally near City Hall.
In Atlanta, media footage showed a number of handcuffed protesters being loaded onto a police bus surrounded by armed officers and emergency vehicles with lights flashing. Television station WSB-TV reported that police started arresting demonstrators marching on Peachtree Road at about 8:30 p.m.
In Sacramento, about 300 people were marching peacefully on Monday evening. Earlier in the day, in an incident not linked to protests, Sacramento police said officers fatally shot a man carrying a knife after he charged at police.
Johnson was in the U.S. Army Reserve from 2009 to 2015 and served for a time in Afghanistan. He had been disappointed in his experience in the military, his mother told TheBlaze.com in an interview shown online on Monday.
"The military was not what Micah thought it would be," Delphine Johnson said. "He was very disappointed. Very disappointed."
The Dallas police chief, who is black, urged people upset about police conduct to consider joining his force.
"Get off that protest line and put an application in, and we'll put you in your neighborhood, and we will help you resolve some of the problems you're protesting about," Brown said.
(Additional reporting by Jon Herskovitz in Austin, Texas, Fiona Ortiz and Justin Madden in Chicago, Dan Whitcomb in Los Angeles, and David Beasley in Atlanta; Writing by Daniel Wallis, Scott Malone and Eric M. Johnson; Editing by Will Dunham, Peter Cooney and Paul Tait)
Photo: Members of the FBI Evidence Response Team survey the crime scene two days after a lone gunman ambushed and killed five police officers at a protest decrying police shootings of black men, in Dallas, Texas, U.S., July 9, 2016. REUTERS/Shannon Stapleton