Damage But No Casualties As Arthur Hit Some, Missed Some NC Beaches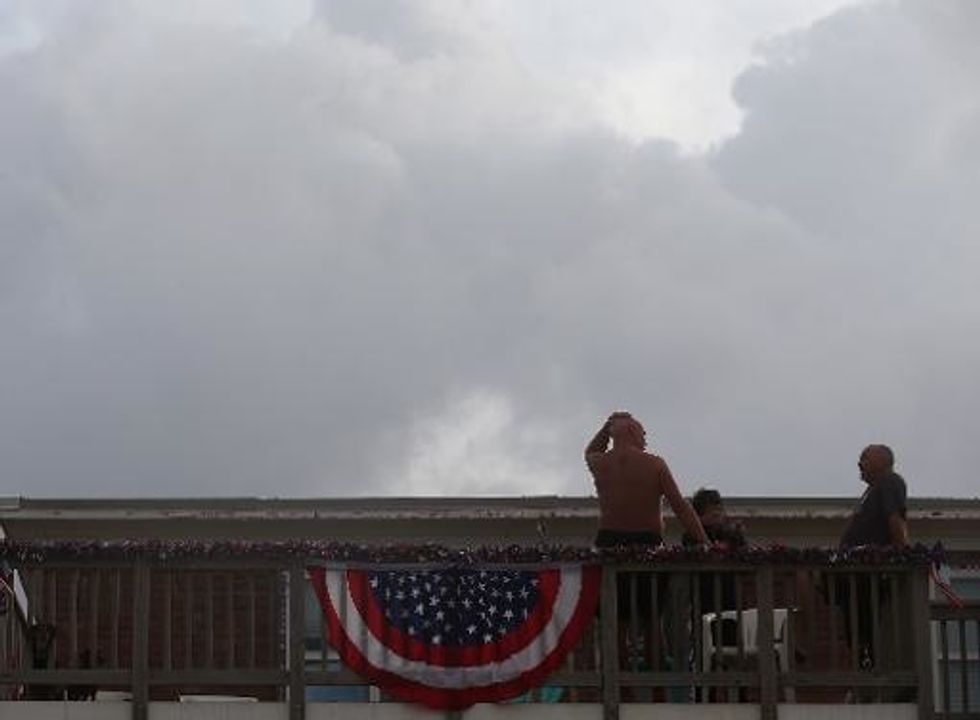 By Anne Blythe, The News & Observer
RALEIGH, N.C. — The day after Hurricane Arthur roared ashore at Shackleford Banks with 100-mph winds whipping, the season's first hurricane left dramatically different legacies on opposite ends of the North Carolina coast.
Along the southern beaches, hotel clerks were as sunny as the clear, blue skies — busily checking in vacationers whose Fourth of July plans were salvaged from a storm that had threatened to wreak more havoc than it actually did.
On the northern barrier islands, already fragile from decades of beach erosion, a string of spring nor'easters and damage from hurricanes Irene and Sandy, the mood was darker.
Residents and business owners were relieved that the fast-moving storm blew through without leaving any reports of serious injury or extensive damage in its wake. But N.C. 12, a fragile transportation artery for the Outer Banks, was closed because of a pavement buckling near a temporary Pea Island bridge. Bonner Bridge, a heavily traveled link to Hatteras Island, remained closed until sonar safety scans could be conducted to determine the integrity of the 2.7-mile structure across Oregon Inlet.
"We have no vacancies," Sarah Bailey, a busy hotel clerk at Atlantis Lodge on Atlantic Beach, reported late Friday afternoon. "We had some people cancel, but as soon as they did, somebody else called and booked the room."
About 100 miles away, Jane Metacarpa, owner of the Sand Bar and Grille in Buxton, was not planning to open up her restaurant Friday. She lost sleep as the hurricane winds battered outside her Hatteras Island home, whipping up worries about lost business from factors beyond her control.
"Once somebody called me this morning and told me the restaurant was OK, I went back to sleep," Metacarpa said Friday afternoon. "Overall, we dodged a bullet. We have to be glad. It could have been so much worse. We're extremely fortunate. But business-wise, this is about the worst time this could have happened."
The Fourth of July weekend, according to Carol Dawson, the owner of two motels, a deli and a clothing store on Hatteras Island, is the one that helps islanders "get their bills paid."
She estimates that a loss of business on Thursday, Friday and Saturday could cost her at least $30,000.
Dawson has been lobbying for years for beach replenishment on Hatteras Island and for a new bridge to be built across Oregon Inlet — two politically charged issues that have put environmentalists and some of the islanders at odds.
"It's beautiful here now," Dawson said Friday afternoon. "It's in the 80s and there are no winds. People would be loving it here, but it's a ghost town. The business community here — we're crippled. We're suffering from economic injury."
North Carolina Governor Pat McCrory, who met with reporters Friday morning, was more optimistic, relieved that the Category 2 hurricane had left no casualties or serious injuries in its wake.
"That puts a smile on all our faces," McCrory said.
There were reports of some beach erosion and debris from artificial reefs, minor damage to coastal homes and docks, and some downed trees inland.
With plans to celebrate the Fourth of July in Southport, McCrory said he had pulled off the green emergency management shirt he sported before Hurricane Arthur's landfall at 11:15 p.m. EDT Thursday and put on his "beach shirt." The eye of the storm moved offshore by 4:30 a.m. Friday.
"North Carolina beaches are open for business," he declared.
"Hurricane Arthur produced heavy rains and strong winds, but we are fortunate to have seen minimal impact to our North Carolina's coastal communities and beaches," McCrory said.
About 83,400 Duke Energy customers were without power at some point during the storm with the largest number in Carteret County.
Rainfall was moderately heavy in some areas. Parts of Brunswick, New Hanover and Onslow counties got more than 4 inches, according to the National Weather Service.
The American Red Cross reported Friday that it was closing all of its shelters along the state's coast.
"The Red Cross will work to determine where help is needed and begin mobile feeding, distribution of relief supplies, and emotional support to those affected by the storm," Barry Porter, chief executive for central and Eastern North Carolina, said in a news release.
The outer bands of Arthur's rain were east of I-95 at 7:30 a.m., and on the southern coast, the sun was out in Brunswick and New Hanover counties and up the shore on the Crystal Coast. By noon, there was no precipitation in any part of North Carolina.
McCrory cautioned beachgoers, however, about rip currents and urged all to heed the instructions of lifeguards and look at their warning flags.
"We do want people to enjoy the beach, but if the local authorities say don't get in the water, don't get in the water," he said.
Justin Waterfield, an employee at Frisco Rod and Gun in Frisco, a small Hatteras Island community, said he hoped things would get back to normal soon on the barrier islands, too. Typically, the store would be packed on the Fourth of July with customers getting fishing and hunting supplies to take across the street to the beach access area. Though he lamented the loss of business, he celebrated the larger losses avoided from the first hurricane of the season.
"I stayed up the whole night," Waterfield said. "It was a lot of wind, but it was nothing like what we were expecting."
AFP Photo/Mark Wilson