Advertising
Start your day with National Memo Newsletter
Know first.
The opinions that matter. Delivered to your inbox every morning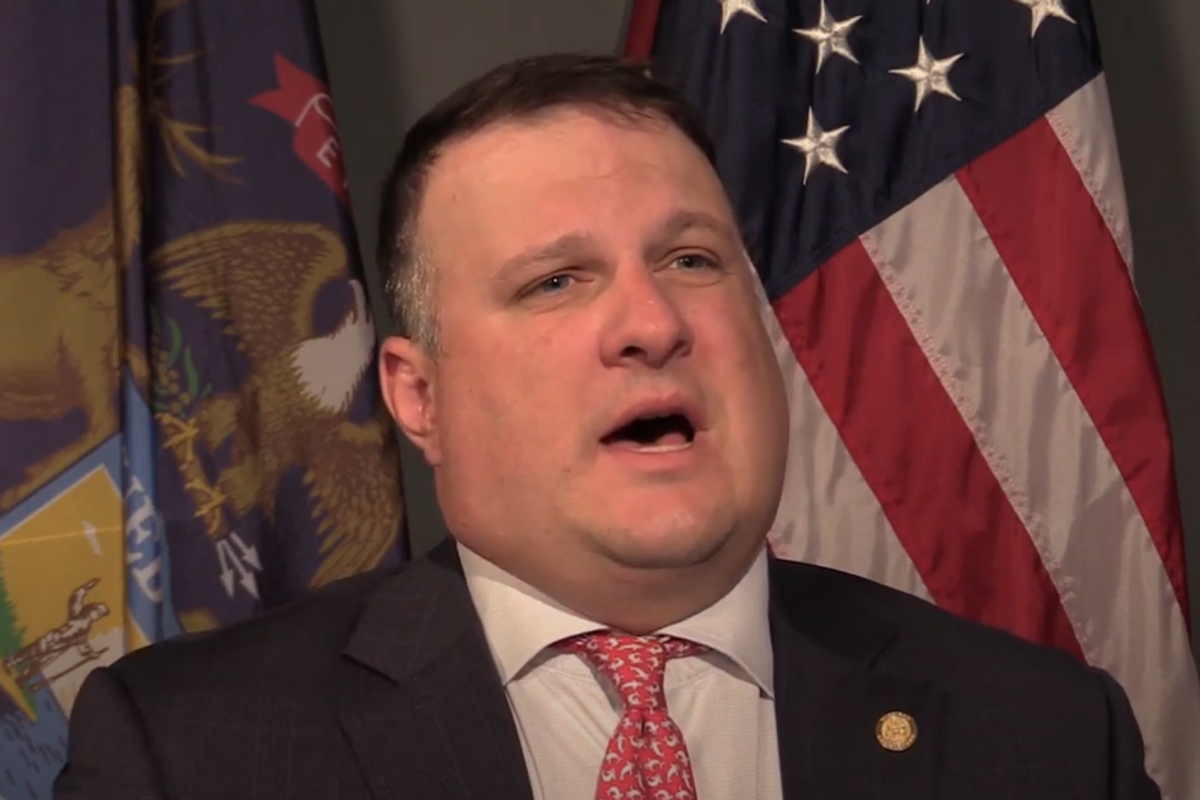 The Michigan legislature is currently considering bills designed to keep guns out of the hands of dangerous individuals. Records provided to the American Independent Foundation show that one of the leading opponents of gun safety legislation in the Michigan House has a history of threatening others with gun violence.
House Minority Leader Matt Hall, a Republican who represents a southwest Michigan district around Kalamazoo, is a graduate of Western Michigan University. During his time there, according to police records obtained through a public records request, he admitted to sending death threats to a student at a college in Maryland, where his girlfriend was studying.
In a signed statement, Hall wrote:
"On December 3, 2001 I sent two separate e-mails to [redacted] at Washington College. The e-mails were threatening to kill him. I thought he had sent me threatening instant messages, but discovered he didn't."
In one email, Hall wrote:
YOU BETTER NOT GO TO THE CHRISTMAS PARTY TOMORROW NIGHT! JUST A WORD OF ADVICE!! THE SOUTH WILL RISE AGAIN AND WE DON'T LIKE YOUR KIND TREATING LADIES LIKE [redacted] WITHOUT DIGNITY. SHE IS A FINE LADY YOU DON'T NEED TO BE SAYING SHIT ABOUT HER! WE ARE GOING TO IMPOSE OUR SOUTHERN WAYS ON YOU! I'VE GOT A SHOTGUN RIFLE AND I JUST PUT A BULLET IN IT WITH YOUR NAME ON IT!
In another, he told the student: "YOU HAD BETTER WATCH OUT!! WE DON'T LIKE YOUR KIND HERE IN WC! YOU WON'T FEEL VERY CROMBIE WHEN WE ARE DONE WITH YOU! BY YOU BLOCKING US ON IM WE ARE JUST MORE ANGRY!!! CLOSING TIME IS COMING SOON! BETTER SAY YOUR PRAYERS!!! STAY AWAY FROM [redacted]"
In his statement to the police, Hall wrote: "I don't have a shotgun or have a bullet with his name on it. I wasn't going to harm him. I had no intention to hurt him. I realize it was unacceptable and inappropriate. I am sorry for causing him stress. I will not threaten anyone else."
The file indicates that the case was sent to the Western Michigan University Office of Student Judicial Affairs to be handled within the university. It does not indicate how or whether Hall was punished, but his campaign bio notes that he graduated from Western Michigan University and its affiliated law school.
Hall did not immediately respond to a request for comment from the American Independent Foundation.
In the aftermath of a mass shooting in February at Michigan State University that left three students dead and more injured, Democratic Gov. Gretchen Whitmer and the Democratic-led Michigan Legislature enacted a series of bills to combat gun violence.
These included stronger background checks, safe storage requirements, and extreme risk protection orders, commonly known as red flag laws, to temporarily disarm those judged to be a danger to themselves or others.
Bills that would prevent anyone convicted of domestic abuse from owning or possessing firearms and ammunition for eight years after completing their sentences are working their way through the Legislature.
"This is about preventing domestic violence survivors from experiencing further domestic violence and making sure people convicted of misdemeanor domestic violence can't have a gun for a period of years," Democratic Sen. Stephanie Chang, who sponsored the proposals, told the Michigan Advance in July.
The Republican minority has opposed these gun safety efforts. In an Aug. 9 press release, since deleted from the Michigan House Republicans' website, Hall framed himself as "a Leading Defender of our Second Amendment Rights":
It's no secret that many left-wing activists are pushing radical infringements on constitutional freedoms. You may have heard of extreme ideas such as banning so-called "assault weapons" or holding local gun shops liable if someone else commits a crime. I'll always stand against these radical proposals to interfere with your right to bear arms, and if Democrats bring up any of them for a vote in the Michigan House of Representatives, I will proudly vote "NO."
Earlier this year, I voted "NO" on "red flag" laws — which would take away law-abiding Michiganders' constitutionally protected firearms and their ability to defend themselves, while violating citizens' right to a fair legal process. I also voted "NO" on burdensome mandates requiring universal background checks and registration for private gun sales.
In a post in March 2022, Hall touted legislation to lower the penalties for those carrying concealed pistols with expired licenses.
Ryan Bates, the executive director of End Gun Violence Michigan, said in a statement: "This year, the legislature has made historic progress on gun safety measures. It's concerning to learn that a legislative leader who opposed some of those initiatives has made violent threats in the past. Now is the time when all our leaders in Lansing need to unite around protecting our communities from gun violence."
Reprinted with permission from American Independent.

Rep. Lauren Boebert is getting the kind of attention that even she presumably doesn't like. Last week she was kicked out of a Colorado theater for vaping, recording the show, and other disruptive behavior. After Boebert denied vaping, the theater released security footage showing her doing just that—and more. She and her date were fondling each other in ways that had to be uncomfortable for their neighbors.
To her credit, Boebert has apologized for her behavior. However, not content with the explanation that Boebert is who she has always appeared to be, some on the right have turned the incident into a conspiracy theory: Boebert was set up.
The New York Post emphasized that her date was a Democrat who owns a bar that's hosted at least one drag show, and many took this as evidence of Boebert's hypocrisy, while others used it to bolster the notion that she was set up. The latter claim is showing up all over social media, led by so-called journalist and Pizzagate conspiracy theorist Liz Crokin. "It turns out Lauren Boebert's mystery man is a Democrat bar owner," Crokin tweeted. "If I was a wagering enthusiast, I would bet this guy was paid to set her up."
Crokin laid out an elaborate scenario: "She's coming off a divorce, and she's vulnerable. This guy comes into her life, charms her, seduces her and then probably gets her liquored up and takes her out in public. Stage set." Honestly, Boebert probably is vulnerable as she divorces her longtime husband, and she gets to be privately messy over that if she wants to. But this was public misbehavior that impacted other people and ended, according to reports, with her repeatedly busting out the classic, "Do you know who I am?" That's a statement of entitlement: I get to disrupt other people's theater experience because I'm important.
Next, Crokin moves to the conspiracy that the stage was supposedly set for: "He then instigates her by fondling her in a theater that just happens to have night vision cameras right on them. Then the whole incident is released to the public in what looks like high-definition video in an attempt to harm her reputation." Of course, Boebert did not need to be persuaded into bad behavior. Even if you didn't know who she was, she would stand out in the theater's security video as the person vaping, waving her arms above her head, and taking flash photos. No one else visible in the video, which shows many rows in the theater, appeared to be behaving that way. (While the video is impressive for night vision, high-definition it is not.) Additionally, Boebert being kicked out of the theater and asking, "Do you know who I am?" had gotten plenty of attention before the video emerged. The vaping and taking pictures and disruptive behavior had already been publicly reported based on what the people around her in the theater were saying.
Crokin concluded: "This is all way too convenient. Whether her date was a part of it or not, this seems like a well-coordinated setup. These types of tactics and traps are used all the time, and I would know." A well-coordinated setup? It kind of seems like there just happened to be a camera on Boebert being Boebert. If she had sat through the show without vaping and taking photographs and groping, they could have released video showing her in actual high definition through the entire show and it wouldn't have made a splash. And you'd think a conspiracy theorist like Crokin would be aware of how often we are under surveillance in this day and age.
Boebert herself doesn't seem to be embracing the conspiracy theory. Though she joked ruefully to TMZ that "I learned to check party affiliation before you go on a date," she had nothing but positive words about the man in question, calling him "a wonderful man" and a "great man, great friend" although they've "peacefully parted."But Crokin's "Boebert was set up" theory went viral, with a stream of responses showing how eager some people are to believe the elaborate conspiracy over the idea that a woman with a history of minor arrests who spent the 2022 State of the Union yelling and heckling the president might not be the best-behaved person in a theater, either.
Boebert's unruliness, her disrespect in political settings, is what her fans like about her. No one should be surprised that it's not all a political calculation and that she really is that way.
Reprinted with permission from Daily Kos.