'Death And Mr. Pickwick' — A Novel Rich Enough For Dickens To Steal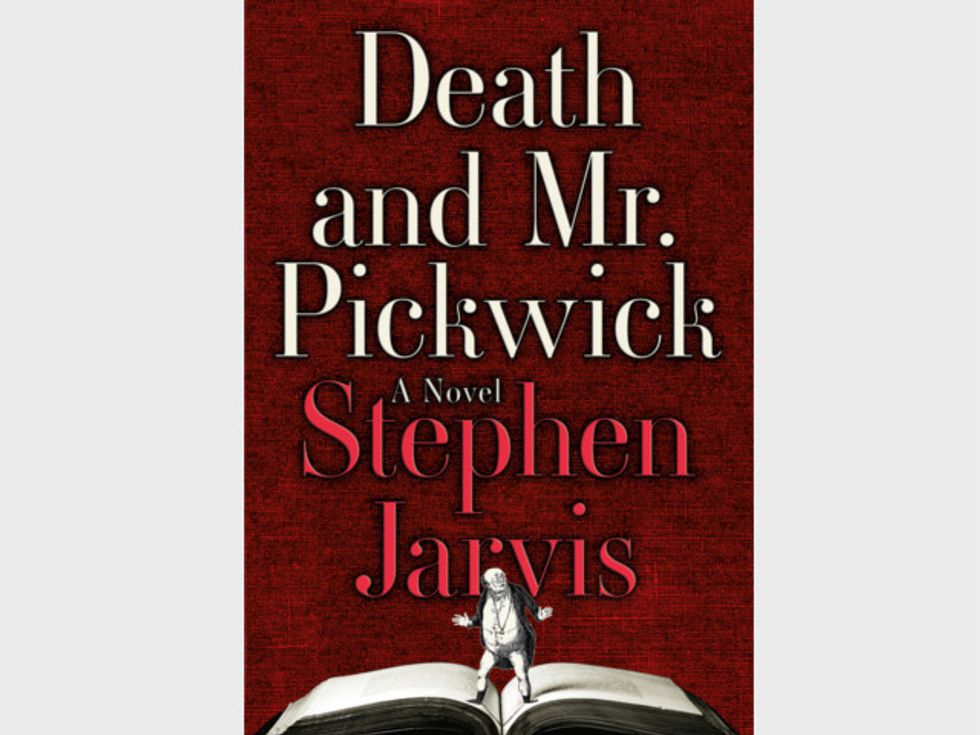 By Mike Fischer, Milwaukee Journal Sentinel (TNS)
Death and Mr. Pickwick by Stephen Jarvis; Farrar, Straus and Giroux (816 pages, $30)
——
How can I convince you to lose yourself in first-time novelist Stephen Jarvis' magnificent, 816-page Death and Mr. Pickwick?
Perhaps by reminding you that The Pickwick Papers — the greatest phenomenon in literary history and, during its first century, the world's best known book after the Bible — was an equally big book by another rookie novelist named Charles Dickens?
If, that is, Dickens really deserves being remembered as the creator of the legendary Samuel Pickwick, whose famous image — round and bespectacled head, big belly, black gaiters — is even recognized by those who have never read the book describing his picaresque travels around England.
Calling Dickens' authorial claim "the greatest literary hoax in history," Jarvis weaves a staggering amount of research into a gripping, fictionalized presentation of his emphatically non-fictional argument: Dickens stole both the concept as well as various scenes and characters in Pickwick — including the fat man himself and his three companions — from Robert Seymour, the caricaturist who illustrated this serialized novel's first two issues.
When the young and relatively unknown Dickens was approached about providing text to accompany Seymour's illustrations, Seymour was a famous caricaturist — we'd say cartoonist — drawing every third political caricature in Britain, along with hundreds of illustrations satirizing everything from Shakespeare to sporting life.
Three days after the only known meeting of Seymour and Dickens — between publication of the first and second parts of Pickwick in April 1836 — Seymour shot and killed himself.
Examining Seymour's surviving artwork and life while poking holes in the shifting and contradictory accounts by Dickens and his allies of how Pickwick began, Jarvis leaves little doubt in my mind that for all Dickens' undeniable genius — and I'm on record calling him the "greatest English novelist" — Seymour had much more to do with Pickwick than Dickens ever admitted.
Watching Jarvis make his compelling case is reason enough to read Death and Mr. Pickwick. But that account doesn't begin to describe this novel's breathtaking shape and scope.
Much like Mr. Pickwick and his book, that shape is round, full and apt to wander off on long tangents; if you're looking for a tight story, this novel isn't for you.
Many of those tangents involve the real-life sources for the interpolated tales in The Pickwick Papers itself. One illustrative example: The jarring story of a pantomime who drinks himself to death is reborn in Jarvis' novel as the slightly fictionalized story of Joseph Grimaldi and his alcoholic son, both famous clowns in the early nineteenth century.
That story is in turn entwined with Seymour and Dickens' immersion in the same period's vibrant culture, featuring a huge cast of colorful characters — from bootblacks to philandering prime ministers — worthy of any Dickens novel.
Jarvis devotes particular attention to the publishing business, packing his account with real-life cameos involving printers, woodcutters and engravers as well as publishers, editors, writers and illustrators, at a time when London teemed with stores selling books and magazines — and when people eagerly queued up for the latest installment of Pickwick as it was released each month.
In a novel that often mirrors The Pickwick Papers while expressly invoking Borges' Pierre Menard, Author of the Quixote, all of this comes our way through discussions between two contemporary men: an older one who has spent his life amassing a trove of Pickwickian material and a narrator, "employed to produce the work which I lay before you now."
Unlike Dickens' treatment of the ill-fated Seymour, this younger writer pays continual homage to his companion. And like The Pickwick Papers, they both pay homage to a vanished age of eccentrics — extending back through the Age of Johnson to Cervantes — when neither the novel nor life were as moralistic, rule-bound or plot-driven as they would become.
"It is the lie of novels," our narrator tells us toward the end of this wild ride, "to pretend that life has plot. The truth of life is like 'Pickwick': that one thing just follows another." In this exhilarating novel — so boldly backward that it's actually forward — Jarvis stakes a winning claim that we need more novels like it.
(c)2015 Milwaukee Journal Sentinel. Distributed by Tribune Content Agency, LLC.