Death Toll Rises To 14, Reports Of Missing Reach 176 In Washington Mudslide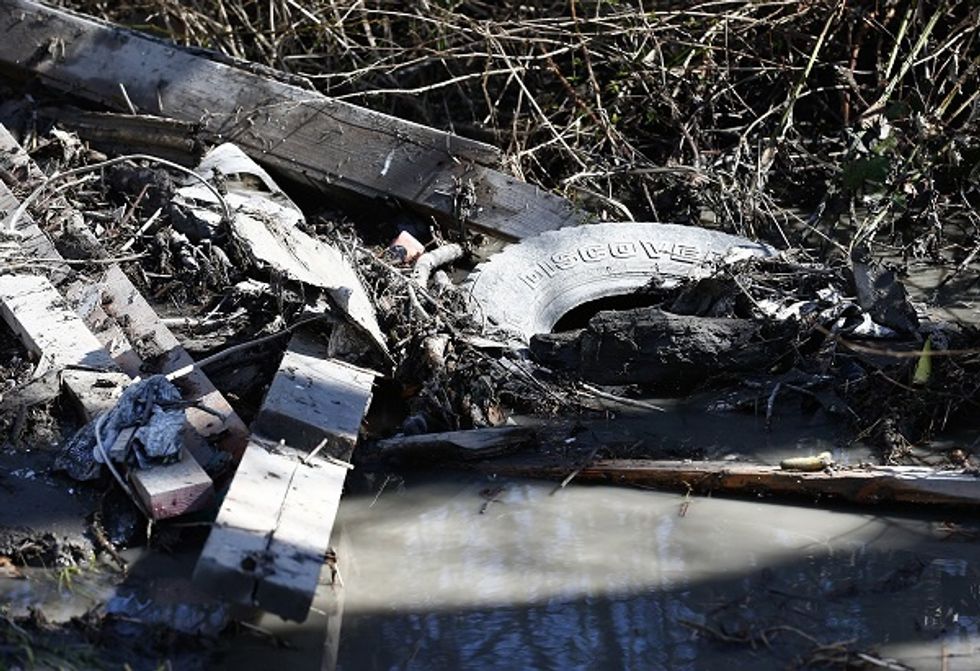 by The Seattle Times
SEATTLE — Rescuers in Washington on Monday found six more bodies in a milewide swath of mud and debris that plunged from a Snohomish County hillside, as reports of those still missing jumped to 176.
So far, 14 people have been confirmed dead after the massive mudslide came down from above the North Fork of the Stillaguamish River, crossed over it, plowed through homes and onto Highway 530 about 11 a.m. Saturday.
Search conditions are dismal. Crews have at times been kept from the area out of fear more of the cliff above might crumble. And when they can look, "in areas it's like quicksand. Sometimes it takes five minutes to walk 40 or 50 feet and get our equipment over these berms," said Travis Hots, chief of Snohomish County Fire Districts 21 and 22.
The National Guard is expected to arrive early Tuesday to aid the search.
As the search progressed slowly, the names of missing people reported to authorities increased dramatically.
Sunday, there were reports of 18 people missing. Monday morning, John Pennington, who heads the county's Department of Emergency Management, said they were sorting through a list of 108 reports, with obvious duplicates removed. By Monday evening, that number had reached 176.
Pennington said that sounds discouraging, but he emphasized that some reports are vague and it is likely there are several about the same person. He encouraged people to continue calling in with names, photos and descriptions of people who might have been in the mudslide's path.
"Candidly, the 176 names … I believe very strongly is not going to be a number that we're going to see in fatalities. I believe it's going to drop dramatically," Pennington said. "But it doesn't make the process any easier."
Rescuers Monday used aircraft, hovercraft, heat-sensing equipment and dogs to look through mud that is 20 feet deep in places and contaminated by chemicals and bacteria. "It's very tedious and slow-going," Hots said.
They are working in areas where there are most likely to be survivors, such as in houses and cars.
"When we do find a void space, it's difficult to search because buildings have been collapsed and crushed," Hots said. He said the mud is so compressed in houses that it's like trying to scrape out concrete.
Pennington said there are 59 vacant lots in the slide area, and 49 more lots had structures — meaning a house, a cabin or some type of possible dwelling. Of all the structures, 25 were likely occupied full-time.
Dayn Brunner, after fighting the urge to dig through the mudslide wreckage Sunday, gave in to the temptation Monday along with his sons, brothers, cousins and friends. His sister, Summer Raffo, 36, is missing somewhere in the mud. "I can't stay at home not doing anything," Brunner said.
He said officials told them they had to leave, but they refused. "They said just be careful and call us if you need us."
Other family members and friends of the missing gathered in the nearby towns of Darrington and Arlington, waiting for news and talking about their loved ones. Often, they spoke in the past tense.
Nobody has been found alive in the debris since Saturday.
"Most of us in these communities believe that we will not find any individuals alive," Pennington said Monday evening. "But I'm a man of faith and I believe in miracles."
Still, he said, "we are moving toward a recovery operation" rather than a rescue.
Pete Bellomo, of Bellevue, spent the day in Arlington, trying to find out any information about his daughter, Shelley, and her longtime partner, Jerry Logan. He did not hold out hope they would be found alive.
"No, no, I don't think there's any chance of that … but I haven't been informed of anything yet," he said.
Shelley Bellomo, 54, "loved living by that river," where she could watch the bald eagles flying by, her father said.
"It was a beautiful location. I never thought (a mudslide) could fall all the way across 530," he said.
Logan was "an all-around handyman" who helped one neighbor build a barn and installed a deck for another, Pete Bellomo said.
Also missing is 13-year-old Jovon Mangual, his half-sisters Kaylee Spillers, 5, and Brooke Spillers, 2, and his stepfather, Billy Spillers.
The children's mother, Jonielle Spillers, a nursing assistant, and Jovon's 4-year-old half-brother, Jacob Spillers, are alive.
The Spillers moved from Seattle to Oso about two years ago, said Jovon's father, Jose Mangual, a staff sergeant in the U.S. Army.
Billy Spillers, a chief petty officer in the Navy, is stationed at the naval base in Everett and the family liked the property in Oso "because it was more countrylike and they liked the house," Mangual said.
Billy Spillers and the children were apparently at home watching TV when the mudslide happened, according to Mangual, who said he spoke with Jacob about what happened. The boy said he was on the second floor of the house.
"Jacob told me he got out when nobody else was able to get out," Mangual said.
Jonielle Spillers was working when she learned of the slide. Blocked from reaching home because of the slide, she called hospitals, which is how she found Jacob.
Thomas Durnell, 65, was at his Oso home when it was destroyed by the slide.
Deb Durnell, his wife, was working Saturday morning and is safe, according to her daughter, Pam Keller.
Carrie Milburn, a friend of the couple, said they moved there after marrying in 2010.
Seth and Christina Jefferds have lived in their house in Oso for years
Seth Jefferds, a volunteer firefighter, was not home at the time of the slide and arrived to find his house flattened and his wife and her 4-month-old granddaughter, Sanoah Huestis, missing, said his brother-in-law, Dale Petersen.
Sanoah Huestis lived with Christina and Seth Jefferds.
Sanoah is just "a very, very cute child," said Seth's father, Peter Jefferds.
He described Christina Jefferds as "very charismatic, loving. A great woman."
Northwest Smile Design, a dental office in Marysville where Christina Jefferds worked, posted on its website Monday that she and Sanoah Huestis had died, calling her "a steadying and calming force in times of stress … a true friend."
Seven people injured in the slide were being treated at area hospitals Monday.
At Harborview Medical Center in Seattle, 22-week-old Duke Suddarth was in critical condition but improving. His mother, Amanda Skorjanc, 25, was in satisfactory condition, the hospital said Monday afternoon.
Three men, ages 81, 58 and 37, were all in serious condition there, though their names were not released.
At Cascade Valley Hospital in Arlington, one woman was in satisfactory condition. Skagit Valley Hospital in Mount Vernon reported a 68-year-old man was in stable condition.
Photo: Lindsey Wasson/Seattle Times/MCT