Questions Chris Wallace Should Ask In The Final Debate — But Probably Won't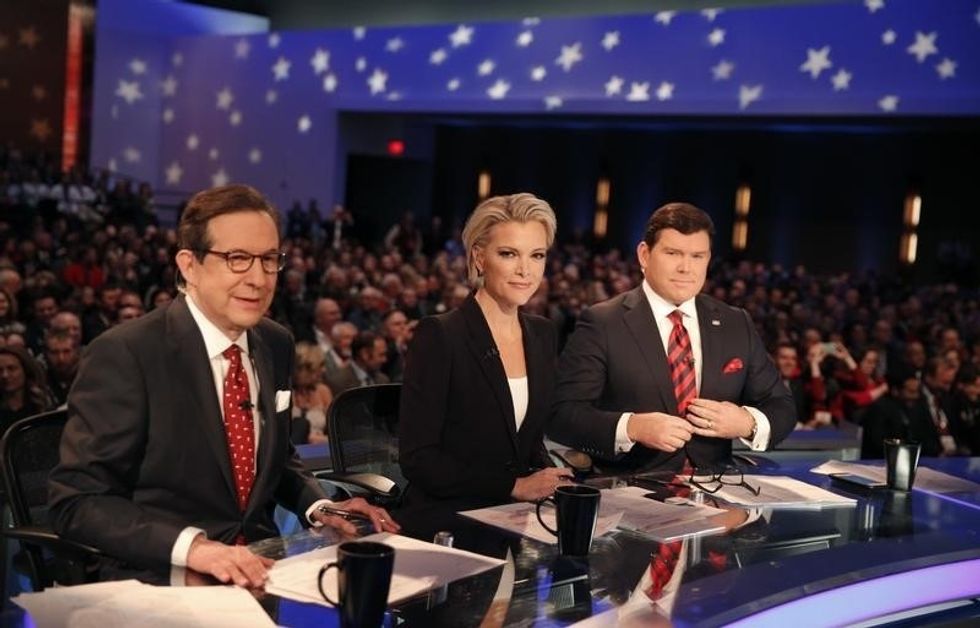 On October 19, moderator Chris Wallace of Fox News will have the last opportunity in a 2016 presidential debate to ask either candidate a direct and meaningful question about abortion — an opportunity that, if history is any guide, will likely be ignored.
Throughout this election cycle, reproductive rights advocates have been pushing for debate moderators to #AskAboutAbortion. Unfortunately, given the history of debate questions asked about reproductive rights topics since 1960, if Wallace does ask about abortion it will most likely be framed in the context of the candidates' faiths or preferences for judicial nominees.
On October 12, the Commission on Presidential Debates released the topics for the third and final presidential debate — a list that includes debt, immigration, the economy, and the Supreme Court. Although abortion is not among the given topics, it could play a significant role in any comprehensive conversation about the candidates' policies for addressing economic insecurity or even immigration.
Here are the debate questions Chris Wallace should — but probably won't — ask about abortion in the final debate:
1. Debt And Entitlements
The intersection between entitlements and federal support for reproductive health care is both substantive and significant in the wider landscape of abortion access advocacy.
Since 1977, the Hyde amendment has restricted federal funding — and in particular, Medicaid funds — from supporting abortion services. The amendment has been re-enacted annually to prevent the use of federal funds for abortion care, except in cases of rape, incest, or to protect the life of the mother.
Because of its restrictions, the Hyde amendment has created a significant barrier for low-income patients attempting to access safe and legal abortion care. In a July 2016 study, the Guttmacher Institute found that the "number of women potentially affected by the Hyde Amendment is substantial" given the significant number of women dependent on federally subsidized medical services.
As Medicaid is an entitlement program, asking about abortion in the context of entitlements would be particularly appropriate given that both Democratic presidential candidate Hillary Clinton and her Republican counterpart, Donald Trump, have taken an explicit stance on the Hyde amendment.
As Rebecca Traister explained in New York magazine, Clinton was the first presidential nominee to speak out against the Hyde amendment when she decided to "publicly do battle" against the restriction in January. The Democratic Party also formally adopted repealing the Hyde amendment as a priority in its platform — marking the first time a major political party has targeted the anti-choice restriction on this scale.
In contrast, Trump has committed himself to making the Hyde amendment "permanent law" in order to prevent "taxpayers from having to pay for abortions."
2. Immigration
Abortion access is also a fruitful topic for discussion in the context of U.S. immigration policy, particularly the impact of reproductive health care policies that disproportionately affect Latinas and mixed immigration status families living in the border state of Texas.
Disparate access to health care coverage is an issue impacting many immigrants — both documented and undocumented — in the United States. As the Kaiser Family Foundation explained in a January 2016 brief, "Immigrants, particularly those who are not citizens, historically have faced disproportionate barriers to accessing health coverage and care." These findings affirmed a 2014 study done by the Pew Research Center which concluded that "Hispanic immigrants are more than twice as likely to not have health insurance as Hispanics born in the U.S."
In particular, Latinas' access to reproductive care is significantly impacted not just by the Hyde amendment but also by the financial and logistical barriers created by anti-choice restrictions in states, like Texas, that have a high percentage of Latinos.
An independent analysis of Texas' 2014 abortion statistics data by the Texas Observer pointed out the disparate loss of access to abortion experienced by Texas Latinas after the anti-choice law HB 2 went into effect. As Alexa Garcia-Ditta reported, "In 2013, over 24,000 of Texans who got abortions were Hispanic; in 2014, that number decreased by 18 percent to under 20,000." In comparison, she noted, there was "a 7.7 percent decrease among black Texans who got abortions" and a "6.7 percent drop among white Texans, after the law went into effect."
In an amicus brief to the Supreme Court, the National Latina Institute for Reproductive Health (NLIRH) argued that the additional barriers to abortion access created by HB 2 would be particularly devastating to undocumented women, who would face "[b]order patrol agents and internal immigration checkpoints" when forced to travel farther for health care due to clinic closures.
3. Economy
Chris Wallace could use the economy category as an opportunity to discuss the myriad financial obstacles individuals confront when trying to obtain abortion care.
As Salon's Christina Cauterucci explained, "Studies show that poor women take up to three weeks longer than other women to secure an abortion" partly because of the time necessary to gather the money for the procedure. In a July 2015 report, the National Women's Law Center noted that low-income persons are also put at a substantial financial disadvantage because they "may have to postpone paying for other basic needs like food, rent, heating, and utilities in order to save the money needed for an abortion."
This financial challenge of covering the cost of an abortion adds to the usual barrage of anti-choice restrictions already complicating access to abortion care. Between mandatory waiting periods, long wait times to get an appointment, and the great distances many patients must travel to reach a clinic, abortion care is already out of reach for many — circumstances media frequently ignore or underestimate when talking about abortion.
Given the numerous financial considerations that can make both abortion and wider reproductive health care inaccessible, Wallace should use the economy category during the debate to ask the candidates a substantive question about abortion care.
4. Supreme Court
In a recent report, Media Mattersanalyzed all abortion questions asked in presidential or vice presidential debates from 1960 to 2012 and found that 56 percent of questions were framed around religion or used abortion as a litmus test for judicial appointments. Media Matters found that since 1960, a total of 34 moderator or panelist questions cited abortion, and 23 of those were framed in terms of religion or judicial appointments or presented abortion in a stigmatized and negative way.
This framing for questions is ineffective, unilluminating, and ultimately fails to provide the American public with any understanding of how presidential candidates would support or inhibit access to essential reproductive health care.
The second presidential debate was a good example of the limited and ineffective nature of this framing. During the October 9 debate, the only mention of reproductive rights came during a question about the nomination of Supreme Court justices — when Clinton mentioned that her ideal nominee would support upholding Roe v. Wade.
Questions like this — although useful in a limited sense — clearly do not go far enough in pressing candidates to explain and defend their positions on an essential reproductive health issue and the ramificiations of upending abortion law. As a possible solution, the reproductive rights advocacy group Ultraviolet has been conducting acampaign encouraging individuals to submit questions about the issues that "have taken a backseat in the news coverage this election" but that "they think are the most important questions facing women."
In a petition, NARAL Pro-Choice America further explained why it is essential that Chris Wallace take advantage of the final opportunity to ask about abortion in a 2016 presidential debate:
Donald Trump has said women should be punished for accessing their right to abortion, and suggested doctors who provide abortion care be thrown in jail.

A candidate's position on abortion speaks to their position on gender equality, to whether or not they think all people, regardless of gender, should be able to plan their families and determine their futures for themselves. Such a crucial issue cannot be left unaddressed on the national stage this election year.
Reprinted with permission from Media Matters.
Photo: Fox News Channel anchors and debate moderators (L-R) Chris Wallace, Megyn Kelly and Bret Baier await the start of the debate held by Fox News for the top 2016 U.S. Republican presidential candidates in Des Moines, Iowa January 28, 2015. REUTERS/Carlos Barria