WHO Declares Nigeria Ebola-Free In 'Spectacular Success'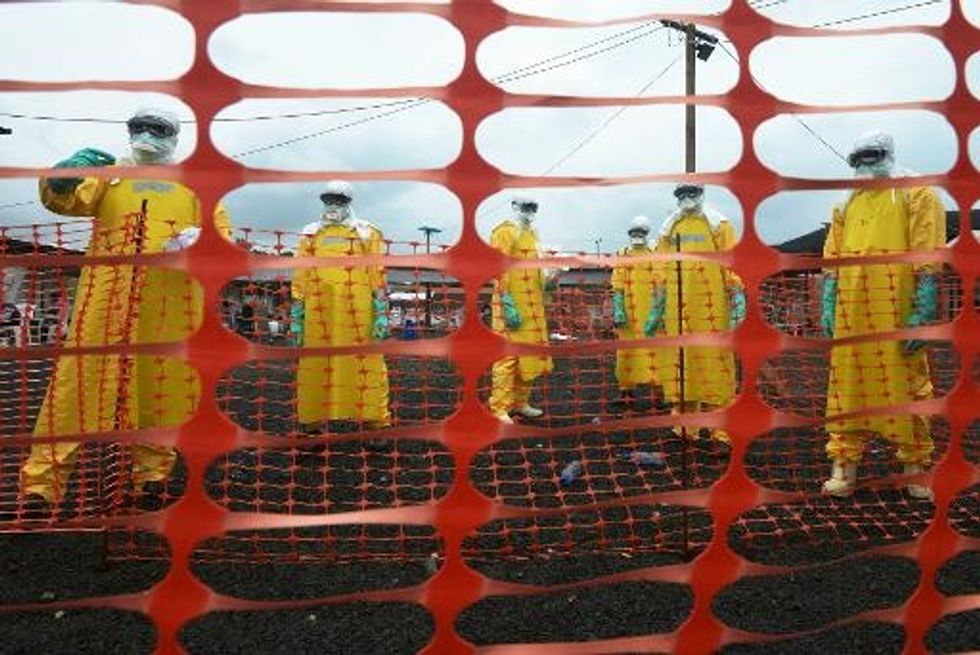 By Zainab Junaid and Helen Maguire, dpa
LAGOS/LUXEMBOURG — Nigeria was declared Ebola-free by the World Health Organization (WHO) on Monday after recording no new confirmed cases for 42 days, which is twice the incubation period for the deadly Ebola virus.
"This is a spectacular success story that shows that Ebola can be contained," WHO said in a statement. "The story of how Nigeria ended what many believed to be potentially the most explosive Ebola outbreak imaginable is worth telling in detail."
The U.N. organization attributed Nigeria's success to the country's rapid adaptation of a polio eradication plan to fight the Ebola virus, including information campaigns and international support.
Nigeria confirmed 19 Ebola cases, seven of whom died, giving the country a fatality rate of 40 per cent — much lower than the approximate 70 per cent seen elsewhere, WHO said.
All Ebola infections in Nigeria have been traced back to Liberian-American Patrick Sawyer, who arrived in Lagos on July 20 and died five days later.
The number of people living in the city — about 21 million — and the daily commuting of thousands of people made it particularly difficult to contain the virus.
But with assistance from WHO, the U.S. Centers for Disease Control and Prevention and other organizations, government health officials managed to track down nearly everyone who had contact with infected people.
The authorities provided "ample financial and material resources, as well as well-trained and experienced national staff," WHO said.
An innovative polio eradication campaign was adapted to the Ebola outbreak, with cutting-edge technologies such as GPS systems for contact tracing, while the authorities staged information campaigns and introduced compulsory screening at airports and ports.
"If a country like Nigeria, hampered by serious security problems, can do this … any country in the world experiencing an imported case can hold onward transmission to just a handful of cases," WHO Director General Margaret Chan said.
On Friday, WHO also declared Senegal free of Ebola.
European Union foreign ministers agreed Monday to appoint an Ebola coordinator to oversee efforts by member states, France announced, at talks in Luxembourg on how best to respond to the outbreak.
"This coordinator … will make sure on the one hand that the action is effective on the European level and that each country does what is necessary," said French Foreign Minister Laurent Fabius, adding that the name will be chosen in the coming days.
The ministers also recognized the need for "urgent additional assistance" to tackle the outbreak.
Britain has called for the EU and its 28 member states to double their financial contribution to as much as 1 billion euros (1.32 billion dollars), to help fund extra beds and isolation facilities in the worst affected countries.
"There is a major health crisis here; we have got a very short window to get on top of it and prevent the uncontrollable spread of this disease," British Foreign Minister Philip Hammond said ahead of the Luxembourg talks.
German Foreign Minister Frank-Walter Steinmeier had proposed establishing such a team of "white helmets" — experts, medics and healthcare workers who could be summoned to tackle similar outbreaks in future.
Dutch Foreign Minister Bert Koenders said the Netherlands is providing a frigate to deliver aid to West Africa, in response to a United Nations request, and has stepped up its humanitarian aid to the region.
Discussions on the Ebola outbreak are also expected to dominate a summit of EU leaders on Thursday.
One British volunteer who survived Ebola after contracting it in Sierra Leone flew back to the country to resume his work, British media reported Monday. Will Pooley, a nurse, will continue working at a hospital in the capital of Freetown. Scientists still do not know whether someone can be sickened by the Ebola virus twice.
In Belgium meanwhile, the country's main airport began screening passengers arriving from Ebola-hit countries for fever on Monday, a spokeswoman for Brussels Airlines told dpa.
The United States, Canada, Britain, France, and the Czech Republic are also conducting screenings for fever.
The WHO's latest update reported nearly 9,000 confirmed and probable cases in seven affected countries — Guinea, Liberia, Nigeria, Senegal, Sierra Leone, Spain, and the U.S.
There have been about 4,500 deaths.
AFP photo/Dominque Faget
Want more global news? Sign up for our daily email newsletter!