Defense Begins Last Chance To Save Life Of Boston Marathon Bomber Tsarnaev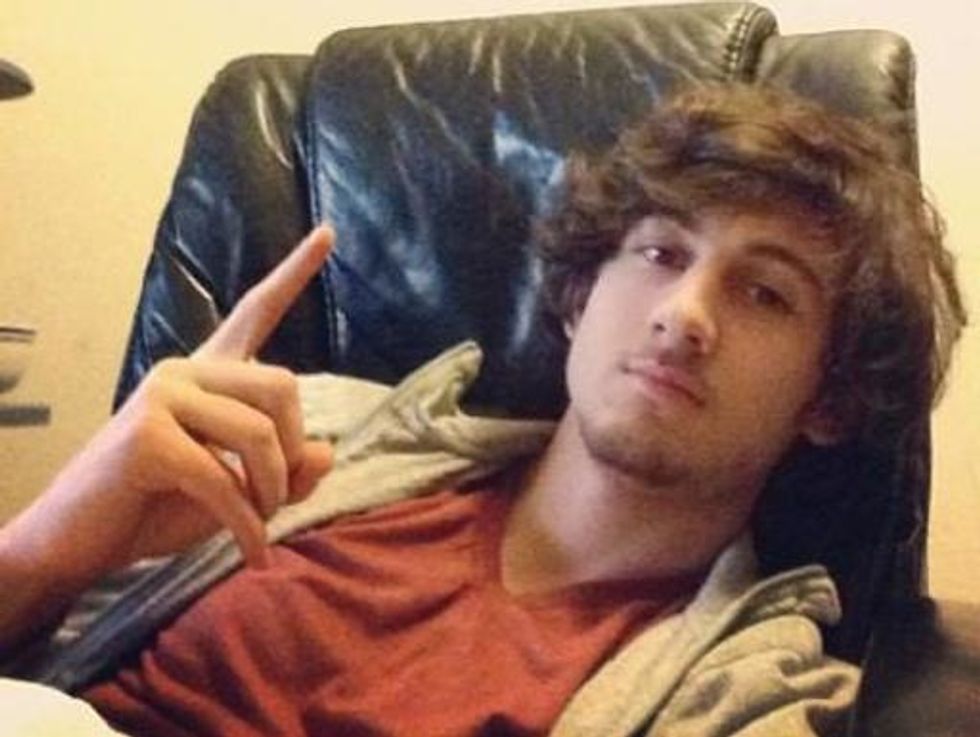 By Richard A. Serrano, Tribune Washington Bureau (TNS)
BOSTON — Hoping to save Dzhokhar Tsarnaev from the death penalty, lawyers for the convicted Boston Marathon bomber aggressively portrayed his older brother, Tamerlan, as the brains and muscle behind the 2013 terrorist attack, revealing for the first time that Tamerlan initially planned to strike in Russia but returned to this country because he could "not find a holy war" there.
Defense attorneys also argued to the jury that a sentence of life in prison with no chance of parole would be an even harsher punishment for the 21-year-old Russian immigrant, who after the attack that left three people dead and more than 260 others wounded had voiced a desire to die as a martyr.
Showing jurors pictures of the federal "supermax" prison in Colorado — where Tsarnaev would probably serve out his sentence — defense attorney David I. Bruck zoomed in on a picture of a small window grate that he said allowed just a small amount of sunlight each day.
"He goes there and he's forgotten," Bruck said. "No more (media) spotlight, like the death penalty brings. His legal case will be over for good, and no martyrdom. Just years and years of punishment, day after day, while he grows up to face the lonely struggle of dealing with what he did."
For much of the day, the defense focused on Tamerlan Tsarnaev's activities, promising to reveal classified FBI reports about the older brother's six-month trip to Russia.
"In January 2012," Bruck said, "Tamerlan left his family to go to Russia and 'go into the forest' to join radical jihad fighters. He had been planning to wage jihad in Russia. He told people he had gone overseas to die, but returned because he said he could not find a holy war."
The defense also displayed emails Tamerlan sent from Russia to Dzhokhar, describing his growing religious beliefs.
"I am doing well," he told his younger brother. "I am educating myself more and more. In order for an Islamic society to emerge, Islamic spirit and thinking must reign amongst the population. And here in the Caucasus there are still very many people who live in ignorance."
In another email to Dzhokhar, Tamerlan praised former al-Qaida leader Osama bin Laden as a "lion with a tender heart." He attached a link to articles describing bin Laden's "Apocalyptic Dream of America." Tamerlan told his brother the articles were "a must read."
When he returned to Boston, Bruck said, Tamerlan "was picking fights with people about religion. He was aggressive and extreme, and walking around dressed in flowing white robes like a Muslim sheik. …Tamerlan was a very tough guy, a boxer. He was suspended from high school and arrested for assaulting a fellow student, and he assaulted his girlfriend."
Bruck said Tamerlan scanned the Internet, viewing pictures of Middle East massacres and insurgents. Tamerlan, Bruck said, wanted to learn about "men who must stand up and fight. That was his world."
Defense witnesses testified they noticed a change in Tamerlan after he returned from Russia.
A former acquaintance, Robert Barnes, said he ran into Tamerlan at Angelo's Pizza in Cambridge, Mass. Tamerlan wore a beard and a long white robe, he said, and boasted that he no longer drank alcohol or smoked pot. "I can't or don't do that stuff anymore," he told Barnes.
Barnes said Tamerlan "had some criticisms about what the United States government does abroad. … He was definitely very passionate about it."
Loay Assaf, a visiting iman at a Cambridge mosque, said Tamerlan interrupted Friday services twice.
Once Tamerlan shouted at him as the iman discussed the upcoming November 2012 elections, Assaf said. "The older brother stood up and he was shouting at me. He was so angry and saying, 'This is not Islamic, this is wrong.' He kept repeating this."
In January 2013, Assaf was comparing the Rev. Martin Luther King Jr. with the Prophet Muhammad when Tamerlan jumped up, screaming.
"He was fired up. Very hot," Assaf said. "You could see his face was red. … Even his stance was a fighting stance. You could tell he was a boxer. And he kept saying, 'This is not Islamic,' 'This is not right' and 'You're a hypocrite.' "
Judith Russell, a Rhode Island registered nurse and Tamerlan's mother-in-law, said: "Over time, he became much more religious. He would talk about it every time."
The family opposed his six-month trip to Russia. "We thought it was very selfish because it was a vacation, basically," she said.
Gina Crawford of Rhode Island, a close friend of Tamerlan's wife, Katherine, said she texted her shortly after the Boston bombings.
Katherine told her "Tamerlan was at home in Cambridge," Crawford said. Then Katherine added about the Boston attack, "A lot more people are killed in Syria."
(c)2015 Tribune Co., Distributed by Tribune Content Agency, LLC.
Photo: Handout image shown to jurors on March 18, 2015 in Boston, courtesy of the US Department of Justice, shows an evidence photo of Dzhokhar Tsarnaev at his home in Cambridge