Defense Says Pistorius Was In A Vulnerable State When He Fired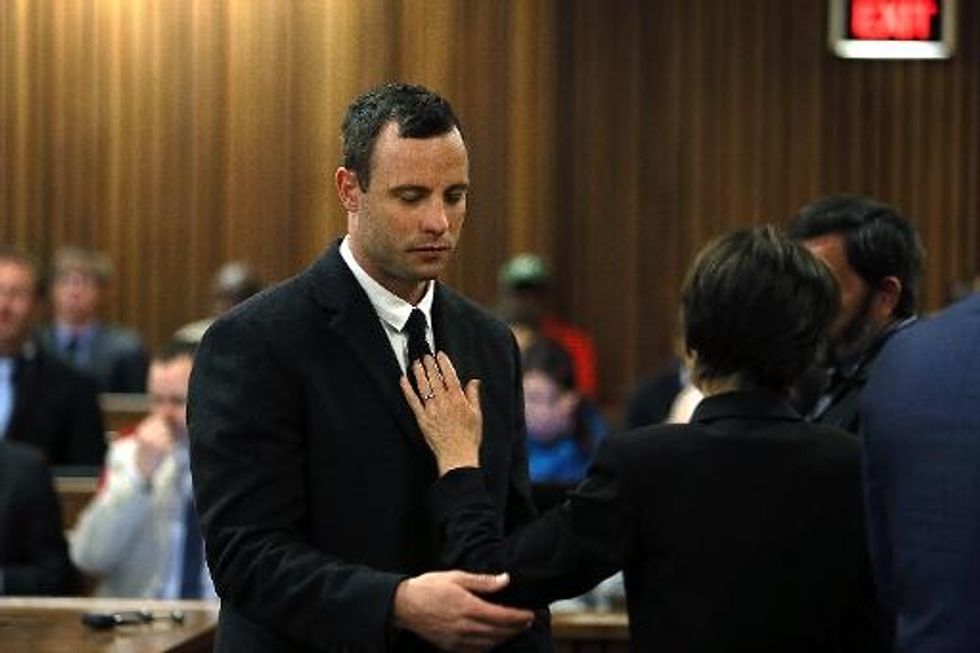 By Robyn Dixon, Los Angeles Times
PRETORIA, South Africa — South African Olympian Oscar Pistorius should never have been charged with murder, but at most negligent killing, his lawyer Barry Roux told Pretoria's High Court Friday.
Pistorius fatally shot his girlfriend, Reeva Steenkamp, who locked herself in the toilet off his bathroom in February last year. Pistorius fired four expanding bullets, designed to cause maximum tissue damage, through the door, killing Steenkamp, but he claims he mistook her for a burglar and never intended to fire the gun or kill anyone.
The state case is that he shot her after an argument — but the prosecution argues that even if he foresaw firing four bullets into the cubicle would kill a burglar, he's still guilty of murder.
Roux said Pistorius was argumentative as a witness — and should not have been — but said he was anxious because the prosecutor, Gerrie Nel, had originally accused him of putting on his artificial legs to fire the shots.
"Was he argumentative? Yes my lady. Should he have been? Absolutely not but he was apprehensive," Roux said. He said there were "two Oscars": The athlete's powerful, confident exterior concealed a deeply anxious individual.
Roux conceded that Pistorius, who has pleaded guilty to charges of reckless use of a firearm, was negligent in handling a gun in a restaurant named Tashas, which went off in his hands, and suggested the Glock pistol may have been faulty.
Judge Thokozile Masipa chimed in that Pistorius asked to handle the gun.
Roux said the court had to decide whether Pistorius acted unconsciously, based on the athlete's assertion he never intended to pull the trigger — or whether he acted reflexively but partly consciously.
He said the shot happened as the highly anxious Pistorius stood at the bathroom door, loaded gun in hand, knowing he might have to shoot.
"Now you're standing at the door, you're vulnerable, you have the effects of a slow burn over many years. You're anxious. You're trained as an athlete to react to sound. He stands now with his trigger ready to fire if necessary," Roux said, bringing his hand down on his lectern with a dramatic bang.
He said some people would pull a trigger, startled by a sound, and others might not. Roux added that sports medicine doctor Wayne Derman, who argued that Pistorius pulled the trigger in response to being suddenly startled, was a highly credible witness.
Roux referred obliquely to South African cases where battered women successfully argued temporary insanity when, flooded with emotions, they snapped and killed their partners after years of abuse.
For Pistorius, there was a similar "slow burn" he said, which came from years knowing that he could never run away from a fight.
"You're a little boy, you experience daily that you cannot run away. You do not have a flight response. Over time you get an exaggerated fight response. That's the slow burn. That constant reminder, I do not have legs, I cannot run away. I am not the same," Roux said.
He said this explained why Pistorius approached the noise he says he heard in the bathroom with a loaded gun, rather than retreating.
Pistorius testified he shot when he heard a noise from the toilet that made him think someone was coming out to attack him, although the door didn't open.
"When he heard that sound in his vulnerable state," asked Roux, "was that shot reflexive alone, or was it a reflexive shot combined with a cognitive process?"
If it was just a reflexive shot, it meant that Pistorius lacked criminal capacity at the time he fired, Roux said. (Temporary criminal incapacity is recognized by South African courts and means an accused was temporarily insane when he or she acted — but it is rarely successful.)
But Roux argued that if the court found Pistorius was consciously thinking when he fired, then it must examine the athlete's thought process, as he sought to defend himself.
Summing up the defense case, Roux spent much of the day attempting to raise reasonable doubt about the prosecution's contention that Pistorius killed Steenkamp after a row. He said the What's App message that Steenkamp sent Pistorius saying he sometimes scared her, came amid many other loving messages.
Roux laid out a detailed timeline, designed to discredit the state's case that the gun was fired at 3:17 a.m. The defense said the shots happened before 3:15 a.m. and that the sound of bangs at 3:17 a.m. was Pistorius breaking down the toilet door with a cricket bat to get Steenkamp. Neighbors reported hearing a woman screaming before 3:17 a.m.
Roux argued this was Pistorius screaming. The state's main pathology witness said it would have been impossible for Steenkamp to scream after she was shot.
"Now the state must make the second sounds the gunshots, and ignore the first sounds and the cricket bat," Roux said. He said the evidence of most of the witnesses supported Pistorius' version, but spent some time attacking the credibility of anesthetist Dr. Johan Stipp, who testified he heard a woman screaming, intermingled with the sound of a man's voice.
Roux said Stipp's evidence "was not only unreliable but untruthful. He so desperately wanted to assist the state."
AFP Photo/Alon Skuy
Interested in world news? Sign up for our daily email newsletter!