Defiant Bo Denies Bribery Charge As China Trial Opens
@AFP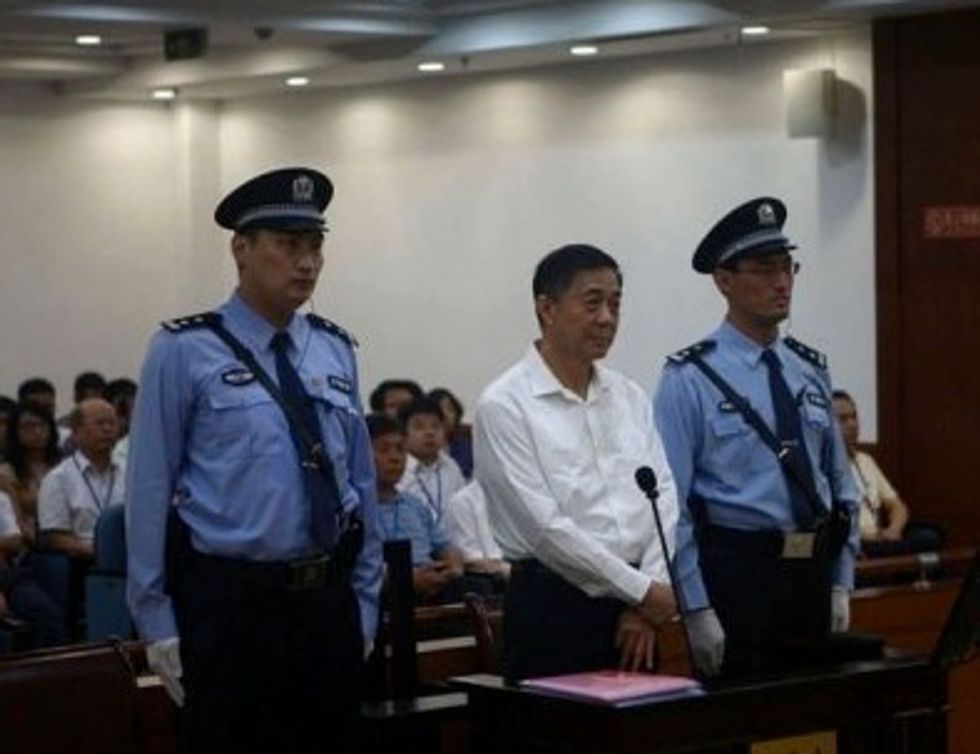 JINAN, China (AFP) – Ousted Chinese politician Bo Xilai lashed out at his long-awaited trial Thursday, contesting bribery charges arising from a lurid murder and corruption scandal that has shaken the country's communist leadership.
Bo, who was tipped for top office ahead of a once-in-a-decade leadership transition last year, accused a key prosecution witness of "selling his soul", while describing purported testimony from his wife Gu Kailai as laughable.
Bo faces charges of bribery, embezzlement and abusing his political powers to cover up Gu's murder of British businessman Neil Heywood in 2011, according to the Intermediate People's Court in Jinan, in eastern China, which released regular transcripts on its Twitter-like weibo account.
But rather than following standard procedure for Chinese political trials — where the accused tend to confess — Bo went on the offensive as he appeared in public for the first time in about 18 months, wearing an open-necked white shirt.
He denied accepting more than 1.1 million yuan ($180,000) in bribes from Dalian businessman Tang Xiaolin, saying he had "confessed against his will" while under interrogation by the Communist Party's feared internal disciplinary body.
"I was not at all aware about the details of the matter," the 64-year-old said. "My mind was blank at the time."
Tang, he said, was "utterly corrupt and a liar", countering that the businessman himself had committed "major crimes" of embezzlement and bribery.
"He's simply trying to get his punishment reduced," Bo said. "That's why he bites around like a mad dog."
The judge told him: "Defendant, the court reminds you, you can't use language slandering the dignity of the witness."
Bo also denied accusations that he accepted money and gifts worth 20.7 million yuan — including a villa in southern France — from Xu Ming, chairman of private conglomerate Shide Group, calling them "untrue".
Bo said he was "completely unaware" of the French property, adding "the whole process was made up".
The court said in a statement that Gu — in connection with the bribery charges — had provided evidence that she took tens of thousands of dollars at a time from safes at the couple's homes.
But Bo described her purported testimony as "hilarious".
"How could she say for certain that I put the $50,000 or $80,000 into the safes?" he asked.
It was not clear whether the court's transcripts were complete, as no independent observers or foreign media organisation were inside the room and no audio feed provided.
Despite Bo's apparent vigorous defence, analysts said authorities had clearly decided to let him speak out and his doing so could serve to bolster the official line that he was being given a fair trial.
Willy Lam, an expert on Chinese politics at the Chinese University of Hong Kong, said: "I think the authorities will say that they have tried to give him an opportunity to defend himself.
"This live transcript of the trial, it could be used by the authorities to say that they're now trying to be more transparent, trying to ensure that justice is done and so forth.
"So it gives some credence to the spin which Beijing is trying to give this, that means that they are now more willing to observe the rule of law and so forth."
Nonetheless Bo's refusal to admit the charges contrasted with previous political cases in China including those of both Gu and Bo's former police chief Wang Lijun, who confessed at their trials last year.
Gu was last year given a suspended death sentence — normally commuted to life imprisonment — for Heywood's murder. Wang, whose flight to a US consulate blew the scandal open, got 15 years in jail for various crimes.
As well as the bribery charges, prosecutors said Bo embezzled 5.0 million yuan of public funds. Bribes were received through Gu and their son Bo Guagua, they said.
The charges come under a law that prescribes a minimum of 10 years in jail, the court said, but analysts say his punishment has almost certainly been decided in advance.
Bo was mayor of Dalian, governor of Liaoning province and national minister of commerce before becoming the top communist official in the southwestern megacity of Chongqing, and one of 25 members of the ruling party's Politburo.
Authorities are touting the trial as proof of their intent to crack down on corruption.
But the scandal, which erupted in the build-up to a leadership handover that saw Xi Jinping elevated as party chief last year, also exposed the high-flying lifestyles and murky dealings of China's factionalised political elite.
Analysts say Bo's revival of the trappings of China under Mao Zedong — including mass concerts singing "red" songs — in Chongqing alarmed sections of the top leadership, who saw the campaigns as a brash return to a bygone era of strongman rule.
But Bo's populism still draw supporters — one man held up a portrait of Mao outside the court and another onlooker surnamed He openly praised the fallen leader in front of a row of police.
"If this were a matter of justice, would they be so nervous?" he said, referring to the security personnel who blocked roads around the court entrances.
The trial continues Friday.
Photo Credit: AFP