Deficit As A Share Of GDP Shrinks Below Averages Under Reagan and G.H.W. Bush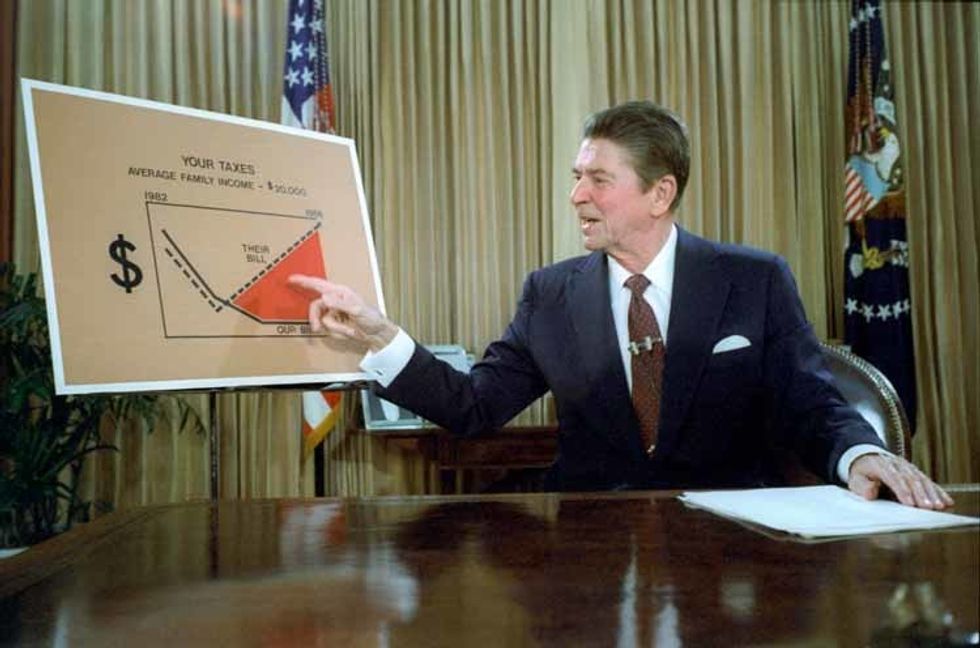 The budget deficit is now at its lowest point since 2008, according to the Treasury Department.
Government spending exceeded revenues by $680.3 billion in fiscal year 2013, down more than 37 percent from FY 2012's budget of $1.09 trillion and down 51 percent from its peak in 2009.
While the deficit is still historically large in pure dollar amounts, it's actually lower as a share of gross domestic product, the key measure of the output of the entire economy, than the average deficits racked up by both Presidents Ronald Reagan and George H.W. Bush, as economist Justin Wolfers pointed out Thursday morning.
Reagan grew the average deficit to 4.2 percent after inheriting Jimmy Carter's average of 2.7 percent. George H.W. Bush averaged deficits that were 4.3 percent as a share of GDP. George W. Bush inherited Bill Clinton's surplus and still ended up with deficits that averaged 3.4 percent as a share of GDP, leaving President Obama a deficit that was larger than 10 percent as a share of the economy.
Even before this year, the deficit was already falling at its fastest rate since World War II. Revenues collected by the Treasury accounted for 79 percent of this year's deficit cut. The 13.3 percent growth in government receipts comes from ending some of the Bush tax cuts and from job growth, with 1.6 million workers added to payrolls this year. The automatic cuts known as the sequestration played a smaller role, as government spending dipped by 2.4 percent.
The budget debate has focused on eliminating the short-term deficit, with most Americans under the misconception that government spending and the deficit are growing.
But economic growth is the key to balancing the budget, notes former Clinton and Obama advisor Larry Summers.
"Data from the CBO imply that an increase of just 0.2 percent in annual growth would entirely eliminate the projected long-term budget gap," he noted recently in the Washington Post. "Increasing growth, in addition to solving debt problems, would also raise household incomes, increase U.S. economic strength relative to other nations, help state and local governments meet their obligations and prompt investments in research and development."