A National Sanctuary Campaign Rises To Defy Trump's Xenophobic Agenda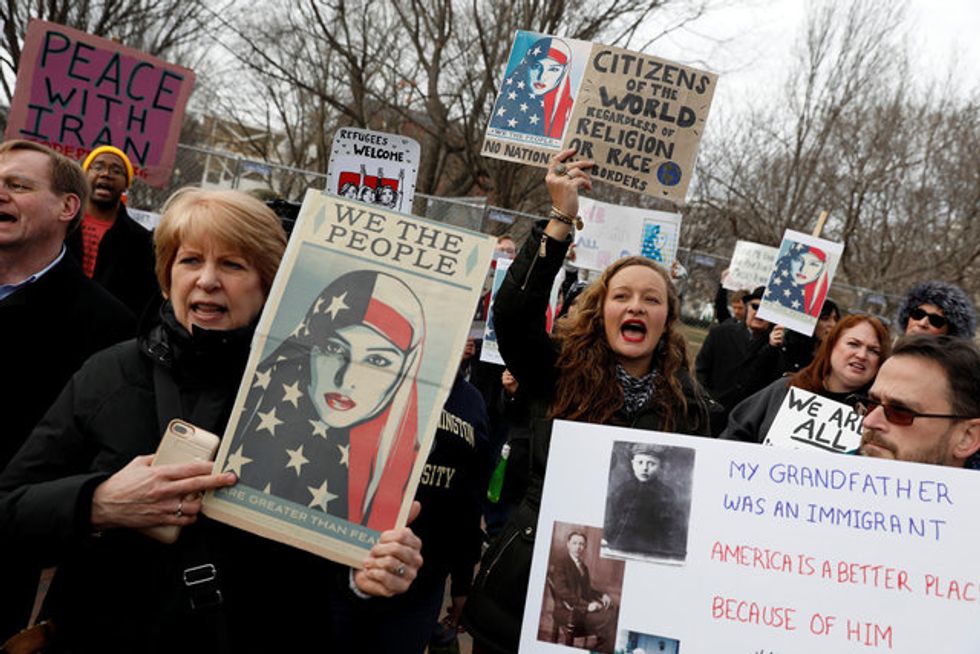 Reprinted with permission from AlterNet.
Defying a multi-pronged assault from the Trump administration, Black, Latino, and migrant organizations gathered inside Chicago's city hall on Thursday to demand that officials expand existing sanctuary policies so that they materially defend the safety and well-being of all residents.
"Sanctuary in Chicago today means a commitment not just to symbolically defy Trump but to actually transform our city's policies to stop targeting us for imprisonment, risk of removal, and state violence at the hands of police and aggressive immigration agents," said Tania Unzueta, who hails from Organized Communities Against Deportation (OCAD) and Mijente.
Erupting into chants of "Undocumented, unafraid!" the groups were part of a nationwide push to take on the rising tide of fascism and white supremacy in the United States through escalating mobilizations and organizing. Many of those taking to the streets, reaching out to their neighbors, and packing public assemblies across the country come from communities directly targeted by the White House.
While the mayor of Miami took just one day to cave to the Trump administration's demands, calls like the ones issued in Chicago are part of a larger groundswell of support for a radical expansion of sanctuary. "If Trump seeks to strip us of sanctuary, then we must defy him," wrote Marisa Franco, an organizer with Mijente and #Not1More Deportation, in a Truthout article published Wednesday. "And our defiance must not simply recreate what existed, but instead expand, reimagine and breathe life into its possibilities."
"We have multiple targets on our backs," Franco continued. "There is no time for our ideas of sanctuaries to be exclusive. Sanctuaries must include not only undocumented people, but also non-immigrant Muslims, LGBTQ people, Black and Indigenous folks, and political dissidents. Trump cares nothing for our survival, and he is willing to persecute us."
'Hostile political climate and incriminating narrative'
Crowds packed Chicago's city hall just one day after Donald Trump issued an executive order targeting hundreds of jurisdictions across the United States that, to some degree, limit cooperation with federal immigration authorities. The decree instructs authorities to cut off federal grants to jurisdictions with sanctuary provisions, "except as deemed necessary for law enforcement purposes." As the Center for Tax and Budget Accountability points out, it is not immediately clear whether Trump has the authority block such funding without congressional approval, but this has not stopped the executive order from unleashing fear and resistance in those locations targeted.
"The hostile political climate and incriminating narrative developed and advertised by the U.S. government via executive orders, legislation, and propaganda are creating unsafe living conditions across the US," Mayra Jaimes Peña, a San Francisco-based immigrant justice organizer with Causa Justa/Just Cause, told AlterNet. "The values sanctuary cities hold need to be expanded to be inclusive of Muslim, Black, Asian, LGBTQIA, and any other communities who are being attacked by the xenophobic Trump administration."
The order also takes the outrageous step of mandating that the Department of Homeland Security, on a weekly basis, publish a list of "criminal actions" allegedly committed by undocumented people, while calling for a dramatic increase of immigration officers. In addition, the decree revives the discriminatory "secure communities" federal program and instructs DHS to deport undocumented immigrants who "have been charged with any criminal offense, where such charge has not been resolved" or who "in the judgment of an immigration officer, otherwise pose a risk to public safety or national security."
These provisions will almost certainly initiate a dramatic escalation of discrimination, racial profiling, and criminalization of those who are undocumented, or merely perceived as such. Furthermore, because the crackdown hinges on the targeting of people with criminal convictions, it will disproportionately impact black immigrants and refugees. As a report released in 2016 by the Black Alliance for Just Immigration notes, "Black people are far more likely than any other population to be arrested, convicted, and imprisoned in the U.S. criminal enforcement system—the system upon which immigration enforcement increasingly relies."
Compounding this discrimination, Trump is expected to roll out a series of orders targeting Muslims and people from Africa and the Middle East by blocking visas issued to nationals of Iraq, Syria, Libya, Yemen, Somalia, Iran, and Sudan. The United States is currently bombing or has recently bombed all but one of these countries, directly contributing to the violent displacement of those who will be categorically denied safe haven.
Other decrees further codify Trump's white supremacist and xenophobic campaign pledges. In the week since taking office, he has dealt orders to immediately start constructing a wall on the U.S.-Mexico border, slash health care access, and advance the Keystone XL and Dakota Access Pipelines, over the sustained resistance of indigenous water protectors.
The decree targeting sanctuary cities comes amid concerns that already-existing sanctuary cities and towns were not doing enough to protect their residents under the Obama administration, which oversaw an unprecedented number of deportations and erected family immigrant detention centers that continue to imprison children with their mothers.
For this reason, those calling for an expansion of sanctuary are not merely seeking a return to Obama era policies. They are going on the offensive, meeting Trump's executive orders with their own demands to improve on what came before. "We are fighting for the widest idea of sanctuary, and that vision, that aspirational demand, is under profound attack," writes Franco.
Trump's executive orders are poised to escalate existing racism and violence. South Asian Americans Leading Together (SAALT) recently released a report which found that levels of violence and hate speech targeting South Asian, Muslim, Sikh, Hindu, Arab, and Middle Eastern people are at their highest levels since the immediate aftermath of the September 11, 2001 attacks.
Addressing reporters on Wednesday following Trump's order to build a wall, Jude Ssempungu, a board member of the Chicago-based United African Organization, proclaimed: "We are proud to stand with our allies to express collective indignation in the face of racist attacks by the Trump administration." He added, "Now, more than ever, we need each other."
"We are facing an attack on Latino immigrants, Mexicans and Central Americans, Arabs, Muslims, Black communities, women, and queer people," Hatem Abudayyeh, the executive director of the Arab American Action Network, told AlterNet. "Because people in Chicago have for a long time been building relationships, it is easier to come together in moments like this. The theme of the day is resistance—not being afraid and intimidated."
Reimagining sanctuary to include everyone
Chicago Mayor Rahm Emanuel says he will stand up against Trump, declaring on Wednesday, "We're going to stay a sanctuary city. Wherever you came from, you're welcome here."
But in Chicago, Emanuel's existing sanctuary policies exclude many of those targeted by Trump's decrees. Individuals named in the city's shadowy gang database, as well as people who have certain criminal convictions or charges, or who are simply named in a criminal warrant, are left out of the protections.
Furthermore, despite Chicago's sanctuary status, government forces continue to aggressively detain and deport undocumented immigrants, prompting OCAD, the Chicago Religious Leadership Network and the #Not1More Deportation Campaign to demand a civil rights investigation into Chicago Immigration and Customs Enforcement last August. The groups report that, during one raid carried out last February, Chicago ICE "pretended to be local police officers concerned about a close friend of the family who had supposedly been in an accident. This is how they got Reynold Garcia, the father, out of his church where he was seeking solace after his family had been detained."
"To me, sanctuary means feeling protected, feeling safe, and feeling like the city has my back," Unzueta told AlterNet. "The reality is that, when it comes to people with criminal records and police interactions, Chicago's not [a] sanctuary city."
To defend sanctuary, groups including OCAD, Black Youth Project 100, and Asian Americans Advancing Justice say the city must immediately pursue "the decriminalization and alternative processing of crimes of survival, DUIs disproportionately policed in Black and Latino neighborhoods, incidents at schools, drug-related offenses and more." The organizations also call for the elimination of the gang database and the "reallocation of city resources from law enforcement to community institutions that provide long-term safety, such as schools, clinics, and hospitals." And finally, they demand the "Welcoming City" ordinance be amended to "prevent collusion with federal deportation agents."
"It's not enough to not cooperate with immigration agents for only some undocumented immigrants. It's not enough for the city to rely on this 'good immigrant, bad immigrant' dichotomy that uses alleged criminal or gang involvement as a marker of exclusion," said Janae Bonsu of BYP 100. "While Rahm Emanuel has pledged that Chicago will remain a sanctuary city, the bar for what `sanctuary' means has been set way too low."
Emanuel already faces public outrage over an epidemic of police killings, violence, and racism. A September 2014 report prepared by We Charge Genocide found that black residents are 10 times more likely to be shot by the CPD than their white counterparts. Earlier this month, the Department of Justice released its own investigation, which echoed the We Charge Genocide report, concluding that the Chicago Police Department is perpetrating harassment, "unreasonable" killings and systematic civil rights violations against the people of Chicago.
According to Bonsu, an expansion of sanctuary requires an investment in black futures by diverting public resources away from the police and towards schools, mental health services, and other public goods.
'Protect and defend ourselves and each other'
Chicago is not alone in calling for a radical expansion of sanctuary. Grassroots organizers with Movimiento Cosecha and Mijente are working with their networks to defend and expand sanctuary under the Trump administration. They are joined by organizations and people across the country, including a student movement demanding sanctuary campuses at colleges and universities.
Paulina Helm-Hernandez is the Atlanta-based co-director of the queer liberation organization Southerners on New Ground. She told AlterNet, "We're calling on Mayor Kasim Reed to repeal all city laws and policies that degrade, discriminate and cause harm against undocumented individuals and their families, Black lives, people of color, women, Muslims, immigrants and refugees, trans and queer people, and poor people."
Atlanta organizers are demanding "an end to the use of city resources in the detention and deportation of our immigrant communities including:  Atlanta police participation in ICE (Immigration Customs Enforcement) raids, transfer or hold requests, the 287(g) program, and any newly formed federal deportation and removal programs," explained Helm-Hernandez.
"It's clear that southern communities will have to protect and defend ourselves and each other from the political regression and repression the Trump regime is only beginning to unveil," Helm-Hernandez told AlterNet. "Part of our push back to this tyranny must include local organizing and resistance. SONG is working with our members and coalitions all across the South to build and expand towns and cities that we can call sanctuary."
Communities are already reporting violations of existing sanctuary policies. Peña told AlterNet, "in San Francisco today we already witnessed ICE agents coming into a Latino community organization and requesting their compliance with the detainment of an individual. Community organizations are hubs for vital survival resources. ICE presence is unacceptable, a direct violation of our Sanctuary City policy, and increases fear."
"Sanctuary cities are standing on the side of justice and are creating an environment of inclusivity," continued Peña. "It is necessary to expand that model beyond immigration issues and encompass all communities under attack."
Marcia Olivo, an organizer with the Miami Workers' Center and a member of the Grassroots Global Justice Alliance, told AlterNet that, even where politicians acquiesce, communities will continue to fight. "The action taken by Mayor Gimenez has serious implications for women: domestic workers, survivors of domestic violence," said Olivo. "Many of them have been calling us, coming to the office full of fear and anxiety. We condemn his decision and hold him responsible for the lives he is going impact in Miami-Dade."
Sarah Lazare is a staff writer for AlterNet. Follow her on Twitter at @sarahlazare.
IMAGE: Activists gather outside the White House to protest President Donald Trump's executive actions on immigration in Washington January 29, 2017.  REUTERS/Aaron P. Bernstein