DeLay, At His Court Proceedings, Says Democrats Have Not 'Slowed Me Down One Iota'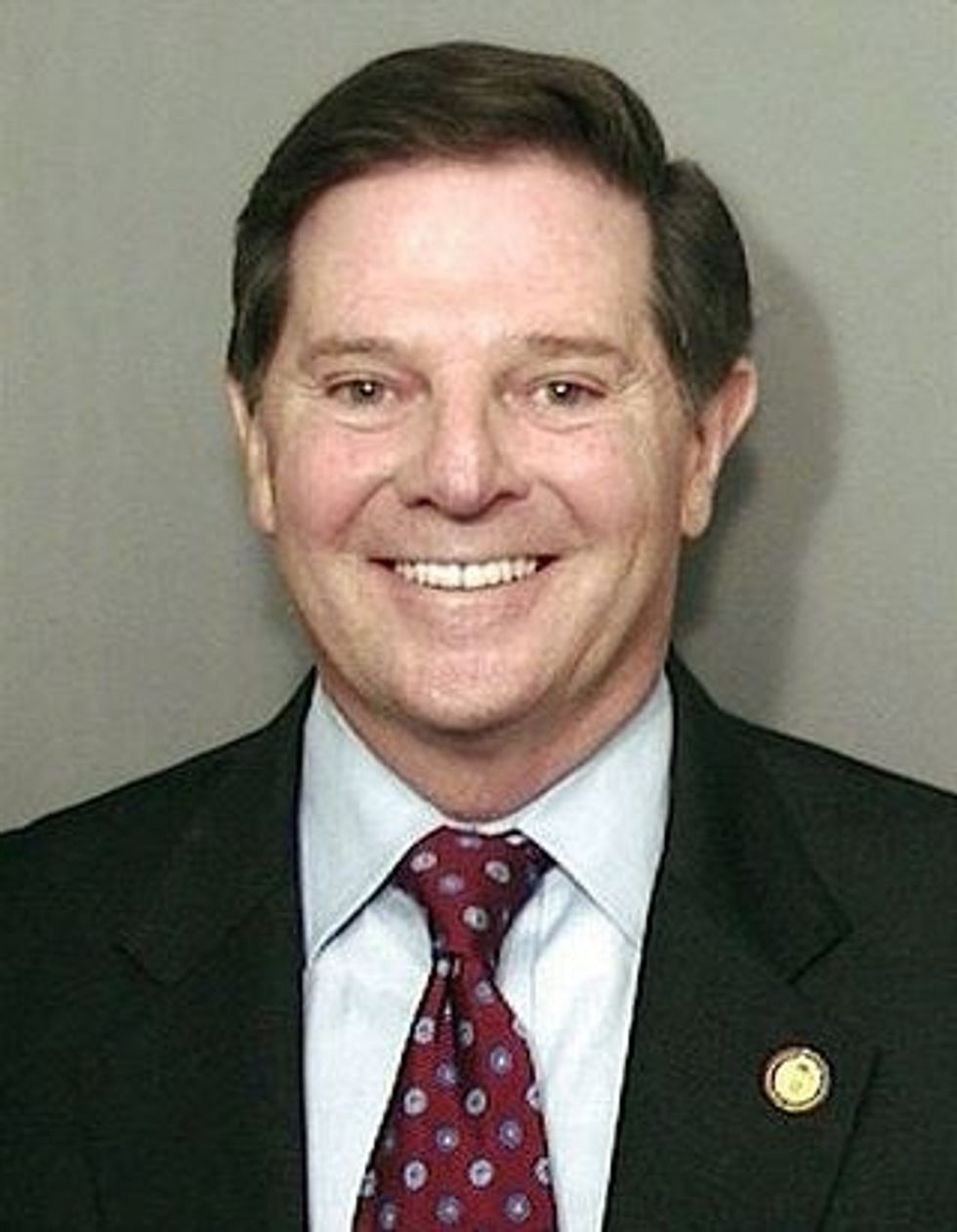 By Laylan Copelin, Austin-American Statesman
AUSTIN, Texas — Former U.S. House Majority Leader Tom DeLay, flashing a bit of "The Hammer" persona, returned to court Wednesday to hear oral arguments over his 2010 money laundering and conspiracy convictions.
DeLay, nicknamed "The Hammer" for his combative style in Congress, told reporters he continues to be active in politics behind the scenes after retiring eight years ago because of the felony indictments.
"The Democrats, nor the left, have slowed me down one iota," said DeLay, flanked by his family and lawyers. "Nothing has changed other than maybe I can get a job."
Last fall, the 3rd Court of Appeals in Austin threw out DeLay's felony convictions and three-year prison sentence, but Travis County prosecutors are trying to get the state's highest criminal court to reinstate the 2010 jury verdict. A decision isn't expected for months.
DeLay's lawyer, Brian Wice, complained about the "prosecutorial posse" of former Travis County District Attorney Ronnie Earle and his "hand-picked" successor, Rosemary Lehmberg, both Democrats who have pursued the case since 2003.
"There is a fine line between prosecution and persecution, and these folks crossed it a very long time ago," Wice said.
DeLay's lawyers have accused Earle of misconduct before, but that allegation has gone nowhere in the courts.
In 2002, DeLay's Texans for a Republican Majority political action committee traded $190,000 of corporate money, which can't be given to Texas candidates, for the same amount of legal donations from an arm of the Republican National Committee. The RNC gave its money to seven Texas candidates chosen by DeLay's committee.
On Wednesday, Travis County prosecutor Holly Taylor told the Texas Court of Criminal Appeals that the 3rd Court of Appeals ignored evidence supporting the verdict and failed to defer to the jury's judgment.
Wice said that DeLay couldn't be guilty of conspiring to launder money because the corporate donations weren't illegal.
"You can't take a series of legal acts and manufacture a crime," he said. "Unless these (corporate) funds are dirty at the inception, Tom DeLay is not guilty of money laundering."
Taylor disputed that, saying the corporations gave the money knowing that it would help elect DeLay's choice of candidates.
"This is a big criminal scheme based on illegal acts," she said.
In 2002, the political landscape in Texas was very different from today's Republican dominance.
Despite DeLay's power in Congress, his political committee was having trouble raising legal donations in Texas because Austin-based lobbyists didn't want to offend Texas House Speaker Pete Laney, the last powerful Democratic leader in Austin.
DeLay's associates turned to raising money from national and out-of-state corporations that had business before Congress.
Under state law, corporations couldn't give directly to Texas candidates, but they could cover the administrative overhead of political action committees such as Texans for a Republican Majority.
The committee, however, had no office or other overhead except salaries for political consultants or polling expenses.
In the final weeks of the campaign, DeLay's committee had a surplus of corporate money that was about to go unspent. That's when DeLay's associates negotiated the $190,000 swap with the RNC.
On Wednesday, several judges focused on whether the corporate donations were "criminal proceeds" necessary in a money laundering case. They cited the testimony of several corporate donors who testified they didn't intend to violate Texas law.
Taylor dismissed the testimony as self-serving, noting that DeLay's committee told the donors how it would spend money, including one brochure that said: "Rather than just paying for overhead, your support will fund a series of productive and innovative activities designed to increase our level of engagement in the political arena."
Photo: Jimmy Bramlett via Flickr
Interested in national news?Sign up for our daily newsletter!